NCHN Blog
Member Q&A with Jon Smith, The Hospital Cooperative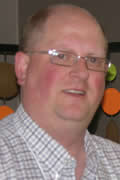 Jon Smith is Executive Director of The Hospital Cooperative in Pocatello, Idaho. His network, The Hospital Cooperative, has been a member of NCHN since 2002. Jon currently serves as Vice President of the NCHN Board of Directors and served previous terms as Treasurer. He has been very involved in NCHN through his Board service, as well as participation on various committees. This week, we caught up with Jon to uncover the best kept secrets at THC and to find out exactly how he manages to stay so involved with NCHN while also serving as Executive Director of a successful health network.
Q: The Hospital Cooperative was founded in 2000 and has been a NCHN Member since 2002. In 2012, THC won the NCHN Network of the Year award for its use of technology, adaptability, and innovation. THC has also been recognized locally. What keeps your network sustainable and progressive?
A: We have only one focus, helping our member hospitals provide better care tomorrow to their patients than today. What this means is that as they change as organizations and the needs they have or their patients have change, we are able to refocus and view these changes as a new challenge and opportunity. This allows The Hospital Cooperative be always be relevant and valuable to them and provides the network with chances to be creative and think outside of the box.

Q: In addition, you have been very involved with NCHN, serving your 3rd year as a Board officer, participating in Committees, and attending NCHN events. We sometimes hear that members lack the time to get the most out of their membership. How do you make time to contribute substantially to NCHN while managing your network, which clearly demands a large portion of your time?
A: NCHN has been invaluable to my progress as a leader and subsequently to the progress of The Hospital Cooperative. Very few people understand the dynamics that we all work with as part of NCHN in managing networks, managing multiple masters with multiple personalities (including my own!) and multiple needs, NCHN provides us the connection to discuss with others that do understand the language we speak and challenges that we are facing. This has helped me to grow as a thinker, manager of programs and people, and as a leader. I have learned so much from all of the other members of NCHN that I feel that it is my duty to give back where I can. My Board members also support my involvement as they now that it helps the network and they understand the value they all receive from professional partnerships

Q: How did your network come into being and what is its purpose? What are the unique needs of the communities you serve and how did those needs lead to the development of your network and its programs?
A: For many years, the regional hospital CEO's met to discuss trends and frankly, "those things that kept them up at night" about health care. It was always very informal, but they saw the awesome work that was being done in Northern Utah at the time by Tim Cox and decided that being "wildly independent" did not mean that you can't work together sometimes to create better care for people and help or community-based hospitals survive. They were successful in obtaining a HRSA Network Development Grant in 1999 and formalized the Public Hospital Cooperative of Southeast Idaho in 2000 as a 501c3 entity. Originally, the network was focused on county-owned hospitals need for education and group contracting and while the name of the organization has changed to The Hospital Cooperative to better describe our varied membership (CAH and PPS members in Idaho and Wyoming that are both county-owned and privately owned for profit) and we have added member hospitals, these two original areas of focus are still at the forefront. Additionally, networking, the provisional of technical assistance, development of technology, and programs that are owned and operated by the membership have been added as needed by our members and their patients.

Q: What programs does THC offer and what kind of results have you witnessed in your service area?
A: Here is a brief summary of some of our programs: mobile MRI service, various group contracts for members to access that allow for financial and operational improvement, peer networking, leadership and other education, telehealth network services, health information exchange (in development currently), PHO and broker services for health insurance, technical assistance, community-based programs focused on improving care and awareness.

Q: From your perspective, what is THC's biggest accomplishment to date?
A: I believe that the continued support and dedication of our member hospitals to the direction of The Hospital Cooperative is our biggest accomplishment to date. With so many things changing in health care and networks opening and closing either due to grant funds running out or the commitment of the membership, this is what I am the most proud of. We have created some great programs over the years, but if you asked each of the hospitals they would all say that they truly value The Hospital Cooperative and are better off because of our efforts.
Q: What are your short-term (e.g., 6 mo. – 1 year) and long-term (e.g., 5 year) goals for the network?
A: We have a variety of goals for The Hospital Cooperative just like everyone else. Short-term include: gaining more knowledge about the ACA, beginning child/adolescent psychiatry using telehealth, evaluating opportunities presented by Idaho developing a state health insurance exchange, and providing needed education in billing, coding, and clinical documentation for our membership. Long-term goals include: completion of our health information exchange connecting all of our members together, development of a mobile echo program modeled after our current mobile MRI program, and development of greater staff depth for the network.
Q: What other networks do you view as excellent models and are there any networks that you consistently look to for support or knowledge?
A: The network that I go back to is the Nevada Rural Hospital Partners (NRHP). They have had great leadership under Robin Keith previously and now Joan Hall both of whom created great consistency in very different ways, but it is really the staff that have worked for these two wonderful ladies have made them a model for what we have done over the years (whether they know it or not!). I would also say that I rely upon most of the other networks around the country for support and knowledge, we have some really smart people out there, so I just try to pay attention. Steve Stoddard (Southwest Idaho Community Health Network) and Carol Wilson (North Idaho Rural Health Consortium) have been rocks for me over the last 10 years and collectively we have been able to really help one another here in Idaho. Thanks guys!
Leave a Comment