NCHN Blog
Chairs of Network Leadership: Part II (From the Executive Director, September 2014)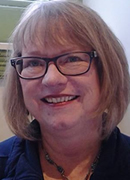 Chairs, Chairs, Chairs – we all use them every day! Did anyone besides Mary Ann Watson, Tennessee Rural Partners, think about the chairs in your network? Mary Ann said that she was going to propose a "chair inventory" around their network! I am curious to see if anyone else conducted a "chair inventory." Did you find any programs in need of discarding, re-branding and/or reviving, or maybe even ready to be passed off to another organization to manage? Tell us about your chair inventory. If you didn't see Mary Ann's response to my article last month, you can read it here.
I must confess, I bought another chair. My plan with this series on Chairs and how they relate to Network Leadership was to start with the first chair I purchased, way back in the early 1970s! But then I bought this chair and thought, hmmm, maybe it makes more sense to start here and work backwards.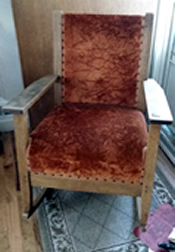 So, please meet my newest chair! See? It is a nice sturdy vintage oak rocker! Did I need it? No, but it was one of those deals that was just too good to pass up! I was at a live auction a couple of Saturdays ago and this chair, made by Grand Rapids Bookcase & Chair Company came up for sale. It reminded me of "mission oak" furniture and another similar, (non-rocker) chair I had bought in Virginia a few years ago. (And yes, I still have that chair.) So, when no one would bid on this rocker, I started it at $5.00. The auctioneer promptly got a $10.00 bid, but then no more bids seemed forthcoming. Could this antique oak rocker really sell for just $10.00? I just couldn't image such a criminal thing happening to the chair, so I bid $15.00, thinking now someone else will surely see the value in this chair and continue bidding. Seems that no one else saw the value of the chair and I would become its new owner.
So, fast forward to later in the morning when Michael, my husband came back to check on me and how things were going and I introduced him to our new chair. First question, "Do we need this chair?" Of course not, but could I let it go for just a mere $10.00? I don't think so! Do not worry, we will find a use for it or a new home. So far, it is still sitting just inside our front door. I haven't found a home for it in our house and I'm still thinking about what I am going to do with this chair?!
This chair will represent "Durability" in our leadership series. It is durable, sturdy, heavy, well-constructed, dependable, and was very cost effective! Do you find yourself considering potential new programs or services for your network that seem like such a great value that you can't pass them up? I bet you do. But will your members appreciate your great savings? Will they participate in the program or purchase the service from the network? Do you need a program or product that is similar to one you already have? Maybe you even have a few similar programs or products that members are not taking advantage of or currently using. If so, could a new program spark some interest?
Sometimes it just takes a little bit of a different look to get someone's attention. Sometimes it can be something that your members are already familiar with, but maybe not used. Sometimes we just have to try another style of bringing services, products, or items to our members. In this eNews you will read about a new project that NCHN just released, our "Tools and Strategies for Managing Health Networks" website. We are so excited about this resource and thank all the members over the years that have answered questions, submitted examples and templates, and provided resources and support to their peers! Now you can find those items in one place.
Why don't you pull up a chair and take a few minute and review the new site? And while you are doing so, let us know what you think. We would love some feedback on the website - what's missing, what's great, what would make it more usable, anything you can tell us to make the site the best resource for health networks – tell us.
Let us hear from you! Tell us about your newest "chair" (program). I'm sure other network leaders would like to know what their peers are doing and this is a great platform to share! Especially those of you that have received a recent HRSA grant. Tell us about the new program or service you will be launching.
And, by the way, would anyone be interested in a good vintage oak rocker? I have one looking for a home!
Rebecca J. Davis, Ph.D.
Executive Director
Leave a Comment