NCHN Blog
Member Q&A with Pat Schou, Executive Director at Illinois Critical Access Hospital Network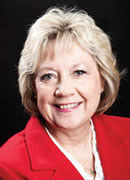 For this feature, we interviewed Pat Schou, Executive Director of Illinois Critical Access Hospital Network (ICAHN). Last month, she received the 2013 Calico Leadership Award at the National Conference of State Flex Programs. The Calico Leadership Award is presented annually by the Technical Assistance and Services Center (TASC), a program of the National Rural Health Resource Center, to an outstanding rural health leader. We caught up with Pat to congratulate her and find out more about what's going on at ICAHN.
Q: In July 2013, you were recognized as the recipient of the 2013 Calico Leadership Award. When did you start working with ICAHN and what methods have brought you the greatest success in working with your member hospitals?
PS:I actually was the first employee of ICAHN as the Illinois Department of Public Health (IDPH) had transferred both the Flex and SHIP grant programs to the new ICAHN organization. I managed Flex and SHIP so it made sense for me then to work for ICAHN in 2003. There was no executive director when ICAHN was established as I assisted its development in my role as Flex coordinator with IDPH. After several months of operation, the ICAHN Board, comprised of nine CEOs, decided to hire an executive director to handle the duties and management of the organization. I had to interview and was fortunate to be selected as the first executive director of this new network. There were 18 critical access hospital members when ICAHN began in 2003 and signed the original Articles of Corporation. So…I started work for ICAHN in June 2003.
I believe my success with growing the network can be attributed my personal relationship with the hospital CEOs and their staff members since I assisted each of the hospitals convert to CAH status. I have maintained a close relationship with hospital CEOs and staffs for all 51 and now 52 CAHs. Second, I believe my knowledge of the CAH program and hospital operations helped build my credibility as a leader. Third, I believe a network leader must be accessible and be good at follow up.
Q: ICAHN is a hospital network. How many member hospitals do you have? How are services coordinated?
PS: 52 members. ICAHN has a staff of 16 employees and consultants who provide services and/or support to the members.
Q: As stated in the award release, "ICAHN supports all CAHs in the state of Illinois to improve quality, finances, operations and health system development." What kind of programs does ICAHN offer?
PS: ICAHN administers both the SHIP and Flex program for the Illinois Department of Public Health Center for Rural Health. In that role, ICAHN is responsible for writing the state application, managing the grant expenses and developing and implementing the many program activities. These individual activities help and support critical access hospitals by providing grant project funding to the hospitals for community engagement services, education and training, hospital operational improvement through financial management programs or ICAHN or partner organizations will provide services such as HCAHPS, quality improvement training or community health assessment programs to the hospitals.
Q: At present, are you working on new initiatives or working on sustaining your existing programs? If you are considering a new program/s, what are these and how do you anticipate that they will impact your members?
PS: ICAHN is now an approved HCAHPS vendor and plan to add a coding service. ICAHN also is working on care transition programs for both inpatient and outpatient areas and expanding our IT services to our hospitals. We will are adding an existing education consortium as a LLC and creating a rural health clinic organization.
Q: What are the key elements in your success as a network? As you cover the state, what tools are invaluable to you in reaching all of your member hospitals?
PS: ICAHN has a very active list serve program for its member hospital staffs. There are now more than 45 different list serves and hundreds of emails pass through these list serves daily sharing new ideas and problem solutions to peer hospitals. In addition, we have quarterly meetings/round tables for our various hospital departments and services and involve the membership in planning those meetings as well as identifying educational programs and new services. It is critically important to engage your members at all levels so they feel like it is their organization – network staff provides the support so together, members and staff are successful.
Comments on 'Member Q&A with Pat Schou, Executive Director at Illinois Critical Access Hospital Network':
Leave a Comment