NCHN Blog
Member Q&A with Chris Hopkins, Montana Health Network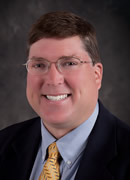 For this feature, we interviewed Chris Hopkins, NCHN President and Vice President of Strategy and Business Development with
Montana Health Network
in Miles City, Montana. In 2010, Montana Health Network was recognized as the Outstanding Health Network of the Year. In addition to his role as VP of Strategy and Business Development within his network, Chris is an active NCHN member, serving as an officer on the NCHN Board, as well as participating in numerous NCHN activities and committees. From 2012 - 2013, Chris served as the Chair of the 2013 Conference Planning Committee. Read on for more about his work with MHN, and his thoughts on NCHN.
Q: Last month, NCHN wrapped up its 19th annual conference in New Orleans. You served as Chair of the Conference Planning Committee. A lot of work always goes into planning the conference, and you oversaw all aspects of it. From your perspective, how did it go? What were some of the best sessions and learning opportunities?
I thought the conference went really well. I thought the committee and Rebecca and Christy did an excellent job in pulling everything together. New Orleans was a fun venue, in some ways too fun, as there were plenty of things to do outside of the conference. However it is really about what the members want and how they thought it went. We will be looking closely at the evaluations to see what went well and where we can improve. The opportunity to talk with other network leaders is always my favorite part. I personally enjoyed all the sessions. I attended up to the closing and have made many contacts since returning home.
Q: You have served on the NCHN Board as Vice President from 2012 through 2013 and you now serve as President. As incoming president, what would you most like to see NCHN achieve? What programs or services do you want to see strengthened or created?
If ever there was a time to state our message that networks provide value, it is now. Those of us that work in networks know that the sum of the parts is always greater than the whole.
The benefits of collaboration and the body of work, not to mention the actual healthcare savings that can be achieved through networks is phenomenal. I think we are challenged this year to get that message out. As those who provide healthcare are wondering how to provide more with less, and the government grapples with the deficit and how to fund healthcare activities in the future, there is no more important time to state our case.
Q: Which aspects of your NCHN membership are most valuable to you as you work with your network and your members?
The ability to reach out to other networks with similar services has always had great value. Top that off with seeing the exciting things that other networks are doing during NCHN revitalizes me for the next year.
Q: In what areas would you encourage newer members to participate, in order to make the most of their NCHN membership?
With me, I just got involved in a few committees and it just sort of grew from there. It's through committee work that you really get to know your peers a lot better.
Q: MHN has been a NCHN member since 1995 and was recognized as the Outstanding Health Network of 2010. You have seen NCHN grow and change over the years. Your organization, Montana Health Network, was founded in 1987 and has 48 members. That's a pretty large network and provides a broad range of services. Can you discuss its founding purpose and its evolution process (i.e., how the services began and eventually evolved)?
MHN evolved out of need and NCHN has done the same. The important part is to listen to the members either our own members of MHN, or the members of NCHN. MHN started with just one product and it really took a visionary hospital CEO to discuss this option with other hospital CEO's. Together they formed Montana Health Network and as additional needs arose MHN was there to answer. Depending upon the landscape we have to be able to let some products go that are no longer needed and create new ones that alleviate current problems. Probably the biggest change I have seen is the speed at which the healthcare landscape is changing, and trying to keep up with that is a big challenge.
Q: Speaking of broad services, MHN has a number of methods for making healthcare accessible – group purchasing, education, staffing, mobile MRI, etc. You're really working on many aspects of the healthcare delivery system. Looking at the big picture, what are the most significant ways that you see the impact of MHN's work in Montana and Wyoming?
It all comes down to saving health facilities money and providing expertise and service in areas they could use support in. Our facilities trust us, and reach out to us first as needs arise. That has taken time, consistent effort and a trustworthy track record. The main value that these services bring however is an option for our stakeholders to meet around the table and educate one another regarding their own status. It seems like Montana Health Network Facilities, even though they are competitors, share a common strength and a better vision on how to provide care in the region.
Q: When you envision the healthcare landscape for Montana in the next decade, what are the biggest challenges and how can MHN help overcome them?
We have a strategic plan, and that plan is to adapt to change. If anyone thinks they know what healthcare is going to look like over the next decade, don't believe them. That doesn't mean we are not spending a great deal of time trying to figure it out. :)
Leave a Comment