NCHN Blog
Chairs of Network Leadership: Part IV (From the Executive Director, November 2014)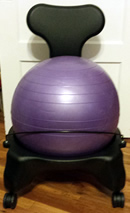 As we enter the holiday season, we recognize and appreciate how busy everyone is at this time of the year. To encourage you to stop and take care of yourself during over the next hectic weeks, our "Network Leadership Chair" for November is my new exercise ball chair! I ordered it online and it arrived on Friday. After assembling the chair base on Saturday morning, I noticed that the instructions said to inflate the exercise ball only to 80% and wait 24 hours to inflate to 100%. Being anxious to try it out, I didn't want to wait 24 hours for that 100%, but my husband insisted. Sunday morning he decided that it really wasn't inflated to 80%, so he added more air and said I had to wait another 24 hour before we took it to 100%. As I typed this article, he inflated it to the 100% and finished the assembly, but told me to wait until Tuesday morning before I tried it out!
As Network Leaders, sometimes we think we should immediately be at 100% with new projects, services, or activities. However, with this little project, I decided to follow the instructions and my husband's encouragement and wait a few hours before jumping on the new chair. And while preparing the article, I found out that Christy has the exact same chair, except with a black ball. Since she has more experience in using the chair, if you have any questions, ask her, not me!
NCHN is happy to announce a new program, "Executive Round Table," or as we are calling it "ER for Network Leaders." Dr. Mary Kay Chess will be kicking off the new program on Tuesday, November 25 @ 11:00 AM ET, click here for more details. We are excited to launch this new service and look forward to the monthly lively discussions and especially the sharing! We all can learn so much from our peers. I encourage you to look at this time as "me" time, even maybe get yourself an exercise ball chair and join the calls. Or, as I've heard some members used to do on the Coffee/Tea Chats, walk on your treadmill while participating on the calls.
On Monday, NCHN hosted a TA call on the new HRSA Rural Health Network Development Planning Grant Guidance. Thanks so much to Amber Berrian, Project Officer for the Planning Program for taking the time to hold the discussion for NCHN members. For those of you that missed the call, a recording is available (details were included in the Save the Date). Also, Amber will be offering another TA call on the guidance on December 3. Some components of the new Guidance included an increase in the funding level from $85,000 to $100,000. The purpose of the Network Development Planning Grant program is to encourage the development of integrated healthcare networks. The application deadline is January 9, 2015 with an estimated start date of June 1, 2015. The project is for one year. One question that was asked about the program, was if existing networks could apply. This is discussed on Page 6 of the FOA, "…existing networks that seek to expand services or expand their service area are not eligible to apply. Existing networks that are proposing to collaborate with at least two (2) outside organizations that they have not worked with before under a formal relationship are eligible to apply." I encourage NCHN members that are interested in exploring potential new projects, with new members, that have questions to contact Amber. I also encourage members that will be submitting applications, to do so early! Do not wait until January 9 to submit your application.
After the 2014 holiday season has ended, a great way to start 2015 would be attending the NCHN Leadership Summit, "Brave Leadership – Maximizing your Network's Potential" will be held in Clearwater Beach, Florida, January 19-20, 2015. This is the premier leadership event for health network leaders. And, I stress, we want the Network Leader to attend, not network staff, not network members, not project managers, not CFOs, but the person that has the responsibility for the day to day management and operation of the network organization. We will provide additional information, including a near final agenda in the next eNews issue. However, registration is open and hotel reservations are being accepted. I encourage you to register early and make those hotel reservations today! The NCHN lodging rate is available January 17-22, based on availability of the hotel.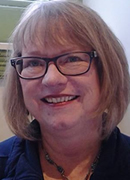 We wish you a wonderful Thanksgiving holiday, a safe Black Friday shopping experience, safe travels if traveling to visit family and friends, and encourage you to exercise and take care of yourself over the next few weeks!
Rebecca J. Davis, Ph.D.
Executive Director
Leave a Comment