NCHN Blog
Chairs of Network Leadership: Part III - Are you sitting too much on the job?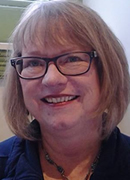 So, I'm standing here at my desk, thinking about what to write for this month's article, when I realize that no one sent me a network "chair story" since Mary Ann Watson's response to the first article. This made me start wondering, if maybe a better article would be "Why do we need chairs?" Are we all sitting too much? I have received requests from NCHN members asking if I had any recommendations on treadmill workstations, etc. I had looked for such options, but decided that I would never be able to walk on a treadmill and type on the computer at the same time. If any of you have found such a model and it works for you, please share! I'm sure others would be interested.
According to an article I found on the Mayo Clinic website, researchers have linked sitting for long periods of time to a number of health concerns, such as obesity and metabolic syndrome. They report that too much siting also seems to increase the risk of death from cardiovascular disease and cancer. I recommend you take a few minutes to read the article, as they talk about how much time we all spend sitting at our desks and in our vehicles!
I started thinking, how much time during a normal work day do Network Leaders spend in their chairs and/or vehicles? I bet we all think probably not a lot – we are always on the move, meeting with our members, facilitating meetings, participating in calls, reaching out to potential new partners and the list goes on and on – but in reality, I bet we all sit a lot more than we realize. I know I do! And I decided to do something about it recently.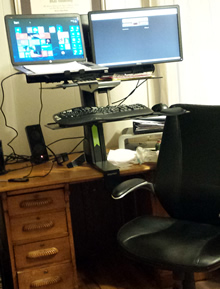 My adventure to find a way to stand more during the work day started at Office Depot. I purchased a rolling laptop cart, but it had to be assembled. When my husband got around to looking at it, he said he thought they had a better option at his office. A quick field trip to his office lead me to juststand.org. I needed something that would accommodate my laptop computer, a second screen, keyboard and mouse and have all these items connected, along with the printer and Internet cable. The rolling cart would have only allowed me to work on the laptop, while it was disconnected from my router. The employees in his office had these great workstations that had everything connected together. The product allowed them to easily move from sitting in their chair to standing and working effectively at their desk.
I purchase an Ergotron WorkFit-S, Dual Monitor Sit-Stand Workstation. We assembled and attached the work station to my antique oak desk. But, atlas, the laptop didn't have a home! Follow-up to Amazon, netted an adaptor for the workstation that allows my laptop to set upon a perch that keeps it even with the second monitor. The overall fit to the antique desk is not perfect, but now I try to stand up more and sit less! I'm hoping that this change in my daily work environment will help reverse some of the medical factors I already have that are related to sitting too much.
Also, I'm thinking it will give my desk chair a break, as I noticed that it was kind of starting to slump to one side! This reminded me of a guy I worked with many years ago –he had sit in his chair for so long that it had distinctly conformed to his bottom! Others in the office would never bother his chair, as it didn't feel right to anyone but him. Sometimes in networks that "conformed" condition can occur. If you retain a program and never make adjustments, update for the times, or evaluation – it may take on that feeling that it only works for certain members!
As we move from fall into the early winter months – let me know if you decide to try standing up more during the work day. If you find products that work for you, please share with me, so that we can share across NCHN. As Network Leaders, we should all be looking for ways to improve workplace productivity, which also improving our own health status and that of our members. Please join me in standing up on the job! And definitely send us photos of you doing so!
Rebecca J. Davis, Ph.D.
Executive Director
Leave a Comment