Leapfrog Adds a New Efficiency Standard to Its Quality Criteria for Top Hospitals and Introduces a Category for Top Rural Hospitals
WASHINGTON, December 3, 2009 – While Congress debates whether health care reform would control health care costs, today employer purchasers point to 45 hospitals that lead through example—delivering the best quality care in the nation while attaining the highest levels of efficiency. Thirty-four urban, eight children's and three rural hospitals have been named 2009 Leapfrog Top Hospitals, based on results from The Leapfrog Hospital Survey. The survey (found at www.leapfroggroup.org) is the only national, public comparison of hospitals on key issues including mortality rates for certain common procedures, infection rates, safety practices, and measures of efficiency.
Qualifying criteria for Leapfrog's Top Hospital Award list remain virtually the same as 2008, with one added dimension: once hospitals demonstrate top quality, they must also rise to the top of the list on efficiency.
"This year's class of Top Hospitals not only hits the mark in areas such as medication error prevention and preventing ICU deaths, but they also use their resources wisely, providing excellent and efficient outcomes for patients," said Leah Binder, CEO, The Leapfrog Group. "Regardless of what happens to health care reform, these hospitals are the future."
New this year, Leapfrog recognizes a new category: Top Rural Hospitals. The award winners in 2009 scored in the top decile nationally for efficiency and are located in Georgia and Maine:
Polk Medical Center; Cedartown GA
Stephens Memorial Hospital; Norway ME
Waldo County General Hospital; Belfast ME
Geography of Unemployment 2007 - 2009: Animated Map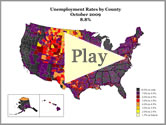 According to the U/S/ Department of Labor's Bureau of Labor Statistics, there are more than 31 million people currently unemployed - that's including those involuntarily working part-time and those who want a job, but have given up on trying to find one. In the face of the worst economic upheaval since the Great Depression, millions of Americans are hurting. The interactive map serves as a vivid represetation of just how much. Watch the deteriorating transformation of the U.S. economy from January 2007 - approximately one year before the start of the recession - through [October 2009].
Source: Map developed by Latoya Egwuekwe; Data provided by Bureau of Labor Statistics, Local Area Unemployment Statistics
2 New Funding Opportunities from the Office of the National Coordinator for Health Information Technology (ONC)
Community College Consortia to Educate Health Information Technology Professionals Objective:
This program makes available $70 million in grants to help develop and strengthen the health information technology (health IT) community by rapidly creating health IT education and training programs at community colleges or expand existing programs. Community colleges funded under this initiative will establish intensive, non-degree training programs that can be completed in six months or less.
Application Deadline: January 22, 2010
Curriculum Development Centers Objective:
This grant opportunity will provide $10 million in grants to institutions of higher education (or consortia thereof) to support health information technology curriculum development. Up to 5 grant awards will support curriculum development to enhance programs of workforce training primarily at the community college level.
Application Deadline: January 14, 2010
For more information, visit HITECH Funding Opportunities
HHS Announces New HIT Grant Program
December 3, 2009 - The Office of the National Coordinator for Health Information Technology (ONCHIT) announced yesterday the creation of the Beacon Community Program, which will provide $235 million in grants for HIT incentive payments to eligible providers. The ONC will begin accepting letters of intent to apply for the program, funded through the American Recovery and Reinvestment Act (ARRA), immediately. The deadline for this set at January 8, 2010, and actual grant applications are due on February 1, 2010. Awards will be announced in March, with the program's official start set for April of 2010.
Awards will be made in the form of cooperative agreements to approximately 15 qualified non-profit organizations or government entities representing geographic health care communities, and eligible entities must be a US-based non-profit organization or a government entity falling into one of the following five categories:
State, local, tribal, or territorial government entity with a public health focus
Integrated delivery network or health system with broad community partnerships
Independent physician association or consortium of medical groups
Public/private partnership aimed at health system improvement and/or community health improvement
ONC-funded regional extension center with the capacity to expand its services
For purposes of this cooperative agreement, stakeholders include, but are not limited to, primary care providers (PCPs), practicing clinicians, hospitals, public and private payers, consumers, local and state public health departments, safety net providers, employers, academic institutions, charitable foundations, industry, laboratories, pharmacies, employers, quality improvement organizations, hospital associations, government entities, and medical societies. Proof of non-profit status is required for all non-profit applicants.
All sentiments aside regarding the negative structure in which the ARRA HIT incentives affect rural providers, this grant announcement is a step in the right direction to adopting systematic HIT and EHR.
For the full grant opportunity announcement and instructions, please click here
For more information on other ARRA HIT grant opportunities and general updates, please visit http://healthit.hhs.gov
From Quality Matters: A bimonthly report on health care quality improvement
November/December 2009
In Focus: Improving the Quality of Rural Health Care Through Collaboration
A number of academic medical centers are using collaborative care models and distance learning programs to broaden the scope and improve the quality of health care services in rural communities. While varied in structure, many of these programs seek to expand the knowledge of local providers and enhance the linkages between urban and rural medical centers, in hopes of reducing disparities in care between the rural and urban populations they serve.
Case Study: Project ECHO Expands Access to Specialty Care for Rural Patients
An innovative project in New Mexico uses telemedicine, case-based learning, and disease management techniques to expand access to care for patients with hepatitis C and other chronic, complex conditions. Specialty providers based at the University of New Mexico help guide rural community providers in applying best practices to manage care. The community providers build their knowledge of particular conditions and serve as expert consultants in their regions.
RUPRI: Reform Proposals Would Cover 93 Percent of Rural America
As Congress continues to analyze and debate key details of health reform, the numbers of people covered under the current plans is receiving increased attention. According to a new analysis by the Rural Policy Research Institute (RUPRI), if fully implemented, the approach to covering the uninsured presented in H.R. 3590, the Patient Protection and Affordable Coverage Act, would reduce the number of uninsured from 8.1 to 3.2 million in rural areas. This increase in coverage would lead to a slightly higher coverage rate for people living in rural areas than for their urban counterparts (93.4% compared to 92.7%), largely because a lower proportion of rural persons are non-citizens who would not be covered under any of the proposed reform approaches but also because the reform proposal reaches more low-income persons who are more represented among the rural uninsured.
The report also provides state-by-state estimates of the effects of the legislation on overall health insurance coverage rates (for both rural and urban persons), as well as estimates of how the previously uninsured would be covered under the provisions of the legislation.