Issue #13 | Monday, November 22, 2010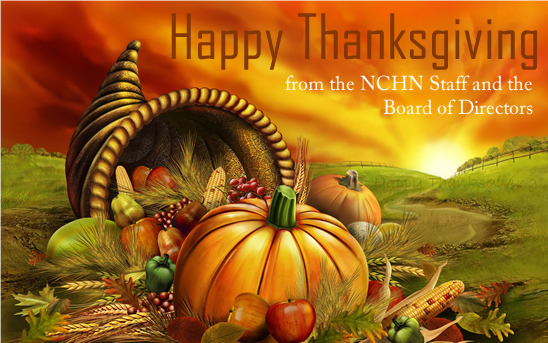 Image background source: Moyea PowerPoint E-Learning Center (http://www.dvd-ppt-slideshow.com/blog/
The NCHN Staff and Board of Directors wishes you all a Happy Thanksgiving.

The NCHN offices will be closed from Wednesday, November 24th through Sunday, November 28th, and will reopen on Monday, November 29th.

>> View the NCHN Calendar for upcoming NCHN calls, events, and the holiday schedule
+ NCHN Upcoming Calls
Upcoming Committee Calls

November 22 @ 3:00 PM ET: Certification Committee Call
December 9 @ 12:30 PM ET: 2011 Annual Conference Planning Committee Call
December 14, 1:00 - 2:30 PM ET: Program Development Committee Call

Other Upcoming Calls

Executive Coaching Training Sessions with Dr. Mary Kay Chess
Monday, November 29, 2010: 11:00 - 12:30 PM EST

Peer-to-Peer Sharing Session with HRSA Network Planning Grantees: Wednesday, December 15 at 1:30 PM ET

Next NCHN Quarterly Membership Call

Date: December 13 at 12:30 PM ET
Topic: Open discussion to review the year and talk about plans for 2011
Registration: NCHN calls are free of charge to members. Registration is required. To register for any of the NCHN calls, email Debbie Comeau at dcomeau@Synernet.net. You will receive dial-in information, instructions, and materials via email prior to the call.
+ NCHN Member News
The Healthcare Coalition of Lafayette County: Wellness Works (November 2010 issue)

>> Submit your news and newsletters to csullenberger@nchn.org for inclusion in the Weekly and the e-News...
+ Submit a proposal to present at the 2011 NCHN Annual Conference
NCHN is seeking presentations for the 2011 NCHN Annual Conference in Scottsdale, AZ

Deadline for Submission:
Friday, December 17, 2010

NCHN invites NCHN members, Business Partners and other individuals with an interest in health networks to submit proposals for plenary and/or concurrent session presentations at our 17th Annual Conference, which will be held in Scottsdale, Arizona in April 2011.

Presentations should be developed for the audience of Network Leaders, those individuals that are responsible for the day-to-day operations of the health network, alliance, consortium, etc. Conference participants, which are predominately network leaders, should leave your presentation with practical, replicable strategies they can take back and implement within their organizations. All presentations should incorporate strategies to ensure the network's endurance.

We are seeking presentations that address the 8 common components of a successful network, as identified by network leaders in an on-line survey this fall. The 8 most common components include:

Engaged and/or Involved Network Members (ownership by members)
Effective Leader
Well Defined Mission, Vision and Values
Practical Strategic Planning
Ability to Adapt to Changing Conditions/Situations
Effective Communication System(s)
Collaborative Process
Formalized Structure

In addition to the above topics, potential presentations could address one of the following challenges facing networks; should include a discussion of the role of the network in addressing the issue; and should provide examples of successful strategies that networks could implement:

Affordable Care Act
Health Information Technology (HIT)
Healthcare Workforce
Financial Performance

NCHN member success stories of innovations; new product/activity development; sustainability; strategic planning; board management; and other topics related to developing and maintaining a successful health network are also welcome.  Such sessions should include steps to replicate the program.

A plenary presentation will be 45 - 60 minutes. A concurrent session will be 75 minutes and should include audience interaction. The concurrent session should be considered a hands-on opportunity and the plenary session a time for information sharing. 

Proposals should be submitted online* by December 17, 2010 and must include the following information:

Name & Title of Presenter(s) & Organization(s) Name
Title of Presentation
Type of Presentation – Plenary or Concurrent
Targeted Network Type:  Horizontal; Integrated; or General Network Topic
Two sentence description of presentation for conference program
One or two paragraphs describing the presentation, including learning objectives of the presentation – what the attendees will take away (This information will be utilized to promote the conference and your presentation.)

Link to online submission form: http://nchn.org/2011submissions.php

The 2011 Annual Conference Planning Committee reserves the right to make final decisions on the selection of all presentations. Presentation applicants will be notified by January 21, 2011 if selected to present, so that travel arrangements can be made.

If selected to present, you (the presenter/s) are responsible for all expenses related to doing the presentation, including travel, lodging and meals, and the conference registration fee; however, non-NCHN member presenters may register for the conference at the membership rate.

The 2011 Conference Planning Committee looks forward to your participation!

>> Submit your proposal online...
>> Download the Call for Presentations (pdf)
>> If you have questions, contact Rebecca Davis at rdavis@nchn.org or by calling 270-925-5611.
+ New telehealth stethoscope makes patient heart monitoring easy from any distance
Researchers at 3M have developed software that enables physicians to listen to a child's heartbeat using a stethoscope from miles away. The 3M Littmann Scope-to-Scope Tele-Auscultation System can transfer digitally captured patient sounds in real-time, from one stethoscope to another, regardless of distance, according to Ingrid Blair, vice president of patient assessment at 3M's Infection Prevention Division. The Bluetooth-compatible software overcomes shortcomings of earlier tele-auscultation products by providing realistic sounds, and allowing use of an actual, doctor-familiar stethoscope, Blair said. "The heart, lung or other body sounds heard at the remote site are the same sounds heard at the patient site," she said. "The result is an exceptional sound experience in tele-auscultation." Ambient noise reduction technology eliminates approximately 85 percent of distracting background noises without filtering out critical body sounds, Blair adds.

>> Read the full story from 3M... (Source: Telemedicine and e-Health News Alert, November 19, 2010)
+ The Two Faces of Rural Population Loss through Outmigration
Over a third of nonmetropolitan counties lost more than 10 percent of their population over the past 20 years through net outmigration. Poverty and low education account for the high net outmigration in some of these counties, but most are relatively prosperous. Their outmigration is related to low population density, geographic isolation, and a lack of scenic amenities. Programs that reduce the disadvantages of geographic isolation and that enhance residents' access to scenic amenities could help slow or reverse net outmigration in many nonmetro counties.

>> Continue reading... (Source: New Policy Topics information @ ERS, email sent November 19, 2010)

>> Related Link: Amber Waves (Vol. 8, Issue 4) released Monday, November 15, 2010
+ CMS advises state Medicaid directors on "health homes"
Beginning January 1, state Medicaid plans can add a health home option for recipents with chronic conditions. The Centers for Medicare and Medicaid Services (CMS) recently issued guidance to state officials for developing these programs.

The health home option includes "a proposal for the use of health information technology in providing health home services…and improving service delivery and coordination across the care continuum (including the use of wireless patient technology to improve coordination and management of care and patient adherence to recommendations made by their provider)." The Medicaid health home was added as part of national health reform and will be funded 90% from the federal government for the first 2 years of each state's program.

Videocast: To learn more about this program and other developments shaping telemedicine in the coming year, register for the upcoming ATA videocast, 'What's Ahead for Telemedicine in 2011' (Tuesday, November 23 @ 2:00pm EST.) This presentation is free for American Telemedicine Association Members.

>> View the CMS guidance letter (pdf)
+ November is National Family Caregivers Month
2010 marks the 10th anniversary of the National Family Caregiver Support Program, which recognizes the value and critical importance of family caregivers who allow countless Americans to remain safely in their homes and communities while receiving quality care.

>> Read the President's Proclamation recognizing National Family Caregivers Month... (Source: HHS.gov Update: National Family Caregivers Month, email sent November 16, 2010)
+ New Affordable Care Act rules give consumers better value for insurance premiums
New medical loss ratio regulations make insurance marketplace more transparent and require insurers to spend premium dollars on care

New regulations issued today by the Department of Health and Human Services (HHS) require health insurers to spend 80 to 85 percent of consumers' premiums on direct care for patients and efforts to improve care quality.   This regulation, known as the "medical loss ratio" provision of the Affordable Care Act, will make the insurance marketplace more transparent and make it easier for consumers to purchase plans that provide better value for their money.

"Thanks to the Affordable Care Act, millions of Americans will get better value for their health insurance premium dollar," said HHS Secretary Kathleen Sebelius.  "These new rules are an important step to hold insurance companies accountable and increase value for consumers."

>> Continue reading... (Source: HHS.gov News Update, HHS Home | ASPA | Newsroom | News Releases, November 22, 2010)
+ Changes Coming to Medicare Medical Equipment Program; What You Need to Know

This information is provided by the United States Department of Health and Human Services.
Medicare patients who use durable medical equipment, prosthetics, orthotics or supplies (DMEPOS) items will soon see changes due to a new program that requires these items to be furnished by a Medicare contract supplier. Health care providers play a key role in helping their patients understand how they will be affected by this change and what they need to do in order to continue to receive the high-quality equipment and supplies they need.

Starting Jan. 1, 2011, if your patients with Original Medicare live in or visit one of the communities listed below, and must obtain any of the equipment or supplies included in the program (also listed below), they will almost always have to use Medicare contract suppliers for Medicare to help pay for the item. 

The first nine areas included in the new program are:

Charlotte-Gastonia-Concord, N.C.-S.C.
Cincinnati-Middletown, Ohio-Ky.-Ind.
Cleveland-Elyria-Mentor, Ohio
Dallas-Fort Worth-Arlington, Texas
Kansas City, Mo.-Kan.
Miami-Fort Lauderdale-Pompano Beach, Fla.
Orlando-Kissimmee, Fla.
Pittsburgh, Pa.
Riverside-San Bernardino-Ontario, Calif.

The products and equipment included in the program are:

Oxygen, oxygen equipment, and supplies
Standard power wheelchairs, scooters, and related accessories
Complex rehabilitative power wheelchairs and related accessories (Group 2 only)
Mail-order diabetic supplies
Enteral nutrients, equipment, and supplies
Continuous positive airway pressure (CPAP) devices and respiratory assist devices (RADs) and related supplies and accessories
Hospital beds and related accessories
Walkers and related accessories
Support surfaces (Group 2 mattresses and overlays in Miami-Fort Lauderdale-Pompano Beach only)

If your patients currently rent oxygen or certain other items such as Continuous Positive Airway Pressure (CPAP) machines, they may be able to continue renting these items from their current supplier when the program takes effect, if the supplier decides to participate in the program as a "grandfathered" supplier. 

Medicare has resources to help your patients understand the new program, including 1-800-MEDICARE and www.medicare.gov.  Consumers can also call their local State Health Insurance Assistance Program (SHIP) for free health insurance counseling and personalized help understanding the program.  If your patient is in a Medicare Advantage Plan (like an HMO or PPO), their plan will notify them if their supplier is changing.  They should contact their plan for more information.

Medicare is suggesting that your patients with Original Medicare follow these simple steps:

Call 1-800-MEDICARE (1-800-633-4227) or visit www.medicare.gov to determine whether:

They live in or travel to one of the first nine areas included in the program (They will need to have the ZIP code handy to check all areas that apply).
Their Medicare-covered equipment or supplies are among those on the list of nine categories that will be impacted by the changes.

Consult the list of contract suppliers on www.medicare.gov (or request a list through 1-800-MEDICARE) to determine whether their current supplier has been approved as a Medicare contract supplier for their area and may continue to supply the equipment and services they need with Medicare coverage.  If their current supplier is a contract supplier for their equipment, they don't need to do anything. 

If they rent oxygen or other covered items from their supplier, they should check with their supplier to find out if they plan to become "grandfathered" through the program. If so, the supplier will continue to furnish rented items to Medicare beneficiaries to whom they were renting these items at the time the program begins. If their supplier becomes a grandfathered supplier, they can keep using that supplier or switch to a contract supplier.  If the supplier does not plan to become grandfathered, refer to Step 4 below.

If their supplier is not a grandfathered supplier or a contract supplier, they should consult the list of contract suppliers for their area, and contact them as soon as possible to ensure continued access to their medical items and Medicare coverage of those items.

If your patients do not work with a Medicare contract supplier or a grandfathered supplier to obtain the listed equipment and supplies, Medicare will likely not be able to help pay for the item after Jan.1, 2011. 

Make sure to let your patients know about the upcoming changes, so that they can check to see if the program affects them. They can call 1-800-MEDICARE or visit www.medicare.gov for more information.
+ Statement by Kathleen Sebelius, Secretary of Health and Human Services, on the Great American Smokeout
Tobacco use ─ which is responsible for more than 440,000 deaths per year in the US alone ─ is the leading preventable cause of death in this country.

Over the years, our nation has made great strides in the fight against tobacco. In fact, our nation now has more former smokers than current smokers. But our smoking rates are still too high: 20.6 percent of adults and 19.5 percent of high schoolers smoke.

Quitting smoking isn't easy ─ but help is out there: Anyone can pick up the phone and call 1-800-QUIT-NOW and get expert assistance. Another resource is http://www.smokefree.gov/  And thanks to our recently passed Affordable Care Act, many health plans will cover the costs of medication and counseling to help people quit.

So consider joining millions of other soon-to-be ex-smokers who are participating in the Great American Smokeout on November 18, by giving up smoking at least for today. Make a commitment to quit ─ start today!

(Source: HHS.gov News Update, HHS Home | ASPA | Newsroom | News Releases, November 17, 2010)
+ Brain Teaser of the Day: Optical Illusion
Optical illusions are often described as visual images that differ from reality - the eyes and brain 'sees' something that doesn't quite match the physical measurement of the image. Optical illusions can work in various ways, they can be images that are different from the objects that make them, they can be ones that come from the effects on the eyes and brain through excessive stimulation, and others where the eye and brain make unconscious inferences.

>> View an optical illusion (the cow)...

(Source: BrainBashers.com | Games | Optical Illusions, accessed November 22, 2010)