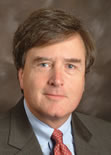 NCHN Member Special Topics Call:
The Impact of Federal Antitrust Laws on Network Operations
AKA "But officer, I didn't really mean to conspire!"
with Heman A. Marshall, III, Woods Rogers PLC
Monday, January 14, 2013 @ 2:00 PM ET
The Sherman Act, the Clayton Act, and other federal Antitrust Laws generally prohibit business conduct that restricts or harms competition.  While this is laudable, as with all things, the "Devil's in the details".  Seemingly benign conduct can sometimes inadvertently cross the line from "legal" to "illegal".  This is particularly true when otherwise separate organizations that currently or potentially compete undertake joint activity.  Of course, the typical healthcare network is just such an arrangement.  Therefore, both networks and members need to be aware of the antitrust "Do's" and "Don't's" to avoid crossing the line.
In addition, we are in a period when mergers, consolidations, affiliations and similar steps to integrate previously separate healthcare organizations are on the rise.  Recent legislative and financial pressures have only increased this movement.  A side effect of this trend has been increased federal antitrust enforcement.  Combining any two previously independent competitors in any market increases the market power of the combined entity, and can have potentially anticompetitive effects, and thus trigger antitrust challenges.
In short, healthcare networks and their members can unwittingly find themselves "targets" of antitrust enforcement.  The best protection is knowledge of the laws and the specific conduct that needs to be avoided.  The purpose of this discussion is to arm you with an overview of the laws and knowledge of the "risky" conduct so that if your organization encounters a situation that raises antitrust risk, you can take steps to avoid mistakes and seek specific guidance.
Call-in details were sent to all NCHN members via a Save the Date email.
If you have questions or need call-in information, contact Rebecca
HCC of Rural Missouri's first newsletter of the year is online here.
NRHA on Facebook: See why NRHA made the Washington Post. Hint: It's good news for rural hospitals.

Promise Healthcare engages MedAssets Revenue Cycle Services to resolve nearly 50 percent of accounts and liquidate $13.9 million in cash (Dec. 2012, MedAssets.com)


While You Were Sleeping, Fiscal Cliff Deal Whacked "Obamacare" Nonprofit Co-Ops (Jan. 7, 2013, Nonprofit Quarterly)
As the nonprofit sector focused its laser-like attention on protecting the charitable deduction from seven to ten cents on the dollar of maximum deductibility, other issues of critical importance to nonprofits slipped through the crevices of the fiscal cliff deal. The biggest issue to take a whack with no response from the generic nonprofit sector leadership organizations was health care reform.

Rural Hospitals Get Relief In Fiscal Cliff Deal (Jan. 4, 2013, Kaiser Health News)
While much of the hospital industry has lamented the deal reached between Congress and the White House because it will pay about half the $30 billion bill to avert a 27 percent Medicare fee cut for physicians, the agreement was cause for celebration for about 200 small, rural hospitals.

Fiscal bill extends a Medicare lifeline to small, rural hospitals (Jan. 7, 2013, Washington Post)
The New Year's Day "fiscal cliff" deal means at least an extra $450,000 this year to tiny Jones Memorial Hospital in rural upstate New York.


IL Physician Named 'Country Doctor of the Year' (Jan. 2, 2013, HealthLeaders Media)
Neil Nelson, MD, wears many hats in Gibson City, the east-central Illinois town of 3,400 or so souls where he grew up and now practices primary care. In addition to being an internist and pediatrician, Nelson, 53, is a licensed pharmacist. He has a deputy sheriff's Stetson that he dons occasionally as a volunteer auxiliary police officer with the Ford County Sheriff's Department. And when he's not helping the sheriff, Nelson can be found helping his 77-year-old mother with various farm chores on their nearby acreage.

Using Shared Savings to Foster Coordinated Care for Dual Eligibles (Jan. 3,2013, Commonwealth Fund)
Policymakers have proposed moving away from fee-for-service arrangements by enrolling dually eligible people into state-designed coordinated care entities (CCEs) that would help manage and coordinate care using a global budget. In a CCE, the federal and state governments, and the CCE itself would share in any financial gains from coordinating care.

Rural America At A Glance, 2012 Edition (Dec. 2012, USDA ERS)
Rural America At A Glance, 2012 Edition highlights the most recent indicators of social and economic conditions in rural areas for use in developing policies and programs to assist rural areas. This year's edition focuses on the U.S. rural economy, including employment trends, poverty, and population trends.

Feds announce funding for 6 new telehealth resource centers (Jan. 3, 2013, mHiMSS)
Federal authorities have earmarked $1.9 million in new funding for the nation's network of telehealth resource centers, paving the way for an additional five regional centers and one national center.

Will Rural Health-Care Providers Pay More for Broadband? (Jan. 3, 2013, Government Technology)
A new order released by the FCC in December will expand broadband access for some health-care providers. But the program may also hamstring the use of telemedicine by doctors who will need to pay more out of pocket to get online.

ONC's Annual Meeting Sees Health IT as Foundation for New Payment Policies (Jan. 4, 2013, HealthITBuzz)
More than 1,200 grantees, stakeholders, and other members of the public cphoto of Nora Superame together December 12 at the 2012 ONC Annual Meeting to discuss the successes, challenges and impacts of the wide-spread health information technology (health IT) adoption to improve care.

Transfer Centers Spell Relief for Rural Docs (Jan. 3, 2013, HealthLeaders Media)
Click here to find out more! It may sound like a bus or train depot, but for America's beleaguered emergency departments, the "transfer center" is becoming more popular as potential relief to physicians and health facilities. And it's a just-in-time concept, since finding an Rx for overcrowded EDs is one of the top hospital issues for the upcoming year.

Letter from Langdon: Who Supported Rural? (Jan. 7, 2013, Daily Yonder)
There have been loads of rumors about which party is standing up for rural interests. Let's look at the record before pledging political allegiance.

Is medicine still a good profession? Reflections of a retired surgeon (Jan. 3, 2013, American College of Surgeons)
It's true that major changes have occurred in medicine in the last six or seven decades, and some of them have been undesirable. However, I really believe that when one considers the amazing advancements that have occurred, it is apparent that every generation of surgeons is part of a golden era.

National Provider Call: Meaningful Use - Stage 1 and 2 (Jan. 16, 2013 | 2:00 - 3:30 PM EST, CMS)

HIE Governance Town Halls (Jan. 17, 2013 @ 12:00 PM EST and Feb. 14, 2013 @ 3:00 PM, National eHealth Collaborative)

9th Annual 340B Coalition Winter Conference (Jan. 23 - 25, 2013, San Francisco, CA, The 340B Coalition)

Introduction to the Obesity Prevention Evidence-Based Toolkit (Jan. 29, 2013 | 3:00 - 4:00 PM EST, NOSORH)

Rural Health Policy Institute (Feb. 4-6, 2013, Washington, D.C., NRHA)