Issue #14 | Monday, December 6, 2010
+ NCHN Upcoming Calls
Upcoming Committee Calls

December 9 @ 12:30 PM ET: 2011 Annual Conference Planning Committee Call
December 14 @ 1:00 - 2:30 PM ET: Program Development Committee Call
January 17, 2011 @ 1:00 PM ET: Executive Committee Call

Next NCHN Quarterly Membership Call

Date: December 13 at 12:30 PM ET
Topic: Open discussion to review the year and talk about plans for 2011
Registration: NCHN calls are free of charge to members. Registration is required. To register for any of the NCHN calls, email Debbie Comeau at dcomeau@Synernet.net. You will receive dial-in information, instructions, and materials via email prior to the call.

NCHN Orientation Sessions

NCHN will be offering two orientation conference calls on Thursday, January 6, 2011 at 3:00 PM ET and Tuesday, January 11 at 12:30 PM ET. The Orientation Session will provide an overview of the programs and services of NCHN and review the benefits of your membership. This will also give you the opportunity to meet other new NCHN members and/or recently hired network directors. (We are using the term "recently" very liberal --as some of the directors may have been in their positions for several months, but not had the opportunity to attend a NCHN conference and/or an orientation call.)

The following items will be discussed: Mission of NCHN; Strategic Plan and Goals for 2010-2013; Membership Benefits; Business Partners Program

January 6, 2011 @ 3:00 PM ET
January 11, 2011 @ 12:30 PM ET

Pre-registration is required: To register for one of these sessions, email dcomeau@synernet.net

Peer-to-Peer Sharing Sessions with HRSA Network Planning Grantees

December 15 @ 1:30 PM ET
January 19 @ 1:30 PM ET

>> More information on Peer-to-Peet Sharing Sessions...
+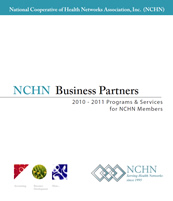 New NCHN Business Partners Booklet Released
NCHN has released the redesigned and updated version of the 2010-2011 NCHN Business Partners Booklet. The booklet includes listings, service descriptions, and contact information for our Gold, Silver, and Member Partners, as well as Strategic Partners (e.g., GrantStation).

NCHN Partners offer their services to NCHN members at a special, discounted rate.

>> Download the NCHN Business Partners Booklet (pdf, 1.54 MB)
+ Reminder: Deadline to submit a proposal to present at the 2011 NCHN Annual Conference
If you are planning to present at the NCHN Annual Conference in April 2011, make sure to submit your proposal as soon as possible. The deadline is quickly approaching.

Deadline for Submission:
Friday, December 17, 2010

NCHN invites NCHN members, Business Partners and other individuals with an interest in health networks to submit proposals for plenary and/or concurrent session presentations at our 17th Annual Conference, which will be held in Scottsdale, Arizona in April 2011.

Presentations should be developed for the audience of Network Leaders, those individuals that are responsible for the day-to-day operations of the health network, alliance, consortium, etc. Conference participants, which are predominately network leaders, should leave your presentation with practical, replicable strategies they can take back and implement within their organizations. All presentations should incorporate strategies to ensure the network's endurance.

More Information
>> Submit your proposal online...
>> Download the Call for Presentations (pdf)
>> If you have questions, contact Rebecca Davis at rdavis@nchn.org or by calling 270-925-5611.
+ HRSA Health Information Technology and Quality Webinar
Overview of Meaningful Use Stage 1 Clinical Quality Measures for the Safety Net Community

Date: Thursday December 9th, 2010
Time: 2pm - 4pm EST

In July of 2010, the Center for Medicare and Medicaid Services (CMS) Electronic Health Record (EHR) Incentive Program Final Rule was published. Since the release of the final rule there are many questions that still remain from safety net providers concerning how to become a meaningful user of health information technology (IT) and how to qualify for the CMS Medicare and Medicaid EHR incentives. One area of concern regards the final rule's Meaningful Use Stage 1 clinical quality measures (CQM). In order to receive the program's EHR incentives safety net providers participating in the CMS program will be required to capture and report CQMs to demonstrate they are using health IT in a meaningful way. This webinar will bring together experts on Meaningful Use Stage 1 CQMs to answer the safety net community's questions on this topic. The presenters will cover a variety of aspects on this topic including: an overview of the inpatient and outpatient CQMs and how they pertain to urban and rural safety net providers, as well as the role of the National Quality Forum in endorsing these measures. In addition, the time frame of the webinar will be extended an extra 30 minutes to accommodate participant questions to the presenters.

Presenters Include:

Seiji Hayashi, M.D., M.P.H., Chief Medical Officer, HRSA's Bureau of Primary Healthcare
Thomas Tsang, M.D., M.P.H., Medical Director, Meaningful Use, The Office of the National Coordinator for Health Information Technology
Helen Burstin, M.D., M.P.H., Senior Vice President for Performance Measures of The National. Quality Forum

Registration Info:

Event address for attendees: https://ohit.webex.com/ohit/onstage/g.php?t=a&d=993728097
Event number: 993 728 097
Event Password: portal

>> Any questions and comments can be sent to HRSA's Health IT mailbox at healthit@hrsa.gov.
+ Healthy People 2020
Healthy People 2020 sets an ambitious, yet achievable, 10-year agenda for improving the Nation's health. Our vision: A society in which all people live long, healthy lives.

>> Learn more at www.healthypeople.gov (Source: HHS.gov Update, email sent Dec. 2, 2010)

Related Funding Opportunity: Understanding and Promoting Health Literacy
Description: The ultimate goal of this program announcement is to encourage empirical research on health literacy concepts, theory, and interventions as these relate to the U.S. Department of Health and Human Services public health priorities that are outlined in its Healthy People initiative.
>> View the Full Announcement...
+ Health IT Buzz Blog Named a Top .Gov Web Page for Health Information
Online LPN to RN has named ONC's Health IT Buzz Blog as a Top 50 .Gov Web Pages To Learn About Your Own Health.
The Health IT Buzz blog is listed as a leading Health and Science web page where people can find out about the impact of health IT on health care. For example, a recent Health IT Buzz post featured the work of ONC's Beacon Communities in using health IT strategies to help prevent and manage diabetes.

>> Learn more about other health IT initiatives and HITECH program activities by visiting the Health IT Buzz Blog today. We encourage you to subscribe to the blog for automatic updates from National Coordinator David Blumenthal, MD, and other ONC leaders. Please join our discussion and our efforts to improve the quality of health care through health IT.

(Source: ONC Health IT, email sent Dec. 2, 2010)
+ Funding Opportunity: Community-Based Partnerships for Childhood Obesity Prevention and Control
Title: Community-Based Partnerships for Childhood Obesity Prevention and Control

Description: The purpose of this funding opportunity is to enhance childhood obesity research by fostering the formation of local, state, or regional teams consisting of researchers, policymakers, and other relevant stakeholders (e.g., community representatives, public health practitioners or officials, educators) in order to identify research questions and hypotheses, design and implement the relevant research, and translate the research into evidence relevant to potential policy efforts in this area.

Last Day to Apply: May 7, 2012
Grant is administered by the: National Institutes of Health
+ Rural Assistance Center Health Update
Date of Release: November 30, 2010

In This Issue:

News from RAC
Recent News
Funding Opportunities
New Documents
Websites & Tools
Upcoming Events

>> View this issue of the RAC Health Update... (Source: Rural Assistance Center Health Update, email sent Nov. 30, 2010)
+ Hospitals aim to learn from national quality networks

By Mark Sanchez, Business Review West Michigan
The involvement of five West Michigan hospitals in a national quality network is the first of what could become many such collaborations with local care providers focusing on specific areas.

The hospitals — Saint Mary's Health Care in Grand Rapids, Mercy Health Partners in Muskegon, Grand Haven's North Ottawa Community Health System, Allegan General Hospital and Carson City Hospital — will work together and with their counterparts nationwide to improve operations in their emergency rooms, reduce language barrier and cut re-admissions rates. The effort is part of the Robert Wood Johnson Foundation's national initiative Aligning Forces for Quality Hospital Quality Network, spearheaded locally by the Alliance for Health.

>> Continue reading... (Source: Mlive.com | West Michigan Business | Business Leaders, Dec. 3, 2010)
+ HIT: Interview with Dietrich Lawson
The article below is excerpted from ComputerWorld.com and includes an interview with a CTO of a company that provids HIT services to "healthcare networks in underserved communities."

By Sara Forrest (ComputerWorld.com, Dec. 6, 2010)

The young and charismatic chief technology officer at FrontlineSMS:Medic, Dieterich Lawson, 21, is committed to his company's mission of using low-cost mobile technologies to advance healthcare networks in underserved communities. Combining the use of inexpensive cell phones with free, open-source software, Lawson and FrontlineSMS:Medic are helping to better organize healthcare records and connect patients with doctors in rural areas around the world.

Tell me about FrontlineSMS:Medic. When was the company started, and what are its goals? The project that inspired Medic started in late 2008, when Josh Nesbit, our CEO, went to work at St. Gabriel's Hospital in Malawi. St. Gabriel's is a rural clinic, and many of its patients live 50 or 60 miles away, without access to cars or motorbikes. A 60-mile walk would be difficult under any circumstances, but for someone who is sick, it can be brutal, potentially deadly. To combat this problem, many clinics have begun training community health workers, or CHWs, who live in these rural communities and provide basic medical care as a proxy for the clinic. Unfortunately, the CHWs have limited supplies and only a few weeks of training and are often as disconnected from the clinics as the patients themselves.

>> Continue reading the interview... (Source: computerworld.com | Mobile and Wireless, Dec. 6, 2010)
+ Interesting news elsewhere: Heritage Health Prize
Heritage Health Network (a managed care network) is working to address a long-lamented problem in the US' health care delivery mechanism: "sick" care vs. "health" care. They have launched a competition that seeks to find an algorithm that will predict hospital admissions, thereby saving money and improving health outcomes. Read on...

From the Website:

The growing availability of electronic health data and increasing sophistication of the analytic capacities of computer systems presents new opportunities for using such capacities to impact health outcomes. Administrative health data has been used for risk stratification of patient populations in the insurance industry, but can it be used in the health care industry to accurately predict which patients will be admitted to the hospital?

To answer this question, the Heritage Provider Network (HPN) developed the Heritage Health Prize, to spur development of new approaches in the analysis of health data and create new predictive algorithms.

This prize is designed to challenge teams to develop algorithms that will, based on a limited set of de-identified patient data, reliably predict which patients will be admitted to the hospital.  The intent of this competition is to later apply this to patient populations prospectively and in real time to alert providers to patients at risk for hospital admissions. In this way, providers can develop new care plans, ultimately reducing the number of patient hospitalizations.

>> Find out more... (Source: Heritage Health Network | The Competition, accessed Dec. 6, 2010)
+ Brain Teaser of the Day: Bulbs
Problem: There are three switches downstairs. Each corresponds to one of the three light bulbs in the attic. You can turn the switches on and off and leave them in any position. How would you identify which switch corresponds to which light bulb, if you are only allowed one trip upstairs?

(Source: BrainDen.com | Logic Puzzles, accessed December 6, 2010)
+ Submit Your News
Submit news or a newsletter from your network to csullenberger@nchn.org