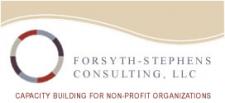 Forsyth Stephens Consulting
Strategic Partners
106 Primrose Drive; Blacksburg, VA 24060
Amy Forsyth-Stephens
540-449-8884
With 28 years of non-profit leadership and development experience, Amy Forsyth-Stephens has launched Forsyth-Stephens Consulting to assist local, state and national health and human service organizations reach their financial and programmatic goals.
Background and Experience
Amy most recently served as Chief Development Officer of a national health care non-profit, and in that role raised funds for programs that facilitate the volunteerism of America's retired health care professionals. Prior to that, she was Executive Director of the Free Clinic of the New River Valley and the Mental Health Association of the New River Valley over a 13-year period of extraordinary growth. She was recognized as local Citizen of the Year twice, in 1998 and again in 2007, for her work in strengthening the health care safety net of the New River Valley region of Virginia. Amy is featured in the 2004 book, The Faces of Public Health, which recognizes 25 individuals across the nation for their effort, energy and accomplishment in the field of public health.
Over her career, Amy has personally written and won 27 program grants and proposals totaling millions from federal and state government sources, private foundations, and corporate entities. She has negotiated major contributions from large international corporations and authored nine successfully funded competitive grants from the US Department of Health and Human Services. Her skill is not only in crafting winning proposals and value propositions, but in program design—the heart of any initiative that makes it from paper to people.
Services Offered
Proposal Writing: crafting the end product from the idea stage through submission, including budgets and attachments
Giving Campaign Design and Execution: capitalizing on the fact that most charitable giving is from individuals
Value Case Preparation: fine-tuning and selling an idea to a variety of potential supporters in formats ranging from a one-page summary to a multi-media presentation
Opportunity Research: exploring prospects using the most advanced technology and a welldeveloped professional network
Fund Development Planning: strategizing and prioritizing opportunities for short-term growth and long-term impact
Business Planning for Non-Profits: traditional and creative strategies for implementing and sustaining a great idea
Grant and Fund Stewardship: preparation of reports and formal requests to funders and stakeholders, budget management, oversight of donor intent
Contact
Amy Forsyth-Stephens
106 Primrose Drive
Blacksburg, VA 24060
Ph: 540.449.8884
Email: amy@forsyth-stephens.com