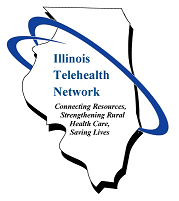 Illinois Telehealth Network
Founded in: 2014
NCHN Member Since: 2016

1215 Franciscan Drive
Litchfield, IL 62056

1215 Franciscan Drive
Litchfield, IL 62056
217.544.6464
217-381-5483
ITN promotes the capacity of Members to improve access to health care, in rural, underserved and disadvantaged communities, through the application of telehealth and telemedicine solutions.
29
The Illinois Telehealth Network (ITN) is a best practice collaboration of provider partners working together to address widespread provider shortages in rural areas resulting in barriers to healthcare access. The ITN provides support to its network members through training, resource sharing, technical support, collaborative grant efforts, networking and sharing economies of scale for purchasing.
Central & Southern Illinois
2016 Rural Health Award of Merit 2017 statewide Excellence in Telehealth Leadership Award for Improved Care for Underserved Populations.

Primary Network Contact
Ms Katie Mueller
Network Director
217-814-7071
kmueller@illinoistelehealthnetwork.org