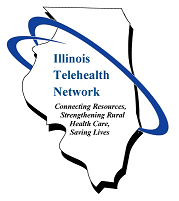 Illinois Telehealth Network
Founded in: 2014
NCHN Member Since: 2016

1215 Franciscan Drive
Litchfield, IL 62056

1215 Franciscan Drive
Litchfield, IL 62056
217.544.6464
217-381-5483
ITN promotes the capacity of Members to improve access to health care, in rural, underserved and disadvantaged communities, through the application of telehealth and telemedicine solutions.
29
The Illinois Telehealth Network is a member-based, voluntary network of independent organizations working together to address widespread medical provider and care shortages in rural, underserved and disadvantaged areas in Illinois through the use of telemedicine. The ITN currently consists of 26 members collaborating to help eliminate barriers to healthcare access. Funded by more than $2.3 million in federal and foundation grants, the ITN is managed by an elected Board of Directors who are supported by a 5-person professional staff team helping members to advance telehealth initiatives throughout the state.
Central & Southern Illinois
2016 Rural Health Award of Merit 2017 statewide Excellence in Telehealth Leadership Award for Improved Care for Underserved Populations.

Primary Network Contact
Ms Julie Edwards
Network Director
217.544.6464
jedwards@illinoistelehealthnetwork.org