First of all, we are discussing the option of moving the NCHN Weekly Digest to a biweekly publication vs. the weekly you currently receive each Tuesday morning.  In reviewing the history of why we started the Weekly Digest, it ties directly to the passage of the Affordable Care Act.  We were receiving numerous notices and updates about the new law and we were passing them along so often that we started hearing "Enough is enough. Quit sending out so many emails each week – put them into a weekly report or something!"  We listened and thus on August 9, 2010 the NCHN Weekly Digest was launched.  Over the course of the past two years the readership of the Weekly Digest and month eNews has averaged about 25% of the folks receiving it actually opening it. Of course, we don't know who is actually reading it!  We started tracking the open rates by groups and are happy to report that since October 2012 the open rate among NCHN members has increased to an average of 37.3%. 
So, tell us: is it time for another change with the NCHN electronic publication?  Would you the members and our guests that read the Weekly be just as happy with a bi-weekly publication?  And maybe a quarterly eNews vs. the current monthly eNews publication?  Is this a change that NCHN should make, or should we leave things the same?  You tell us – please send your comments and thoughts to either Rebecca or Christy. We would love to hear from you!  And we might even buy a cup of coffee or tea for someone that sends us their thoughts.  
Other changes in 2013
Board of Directors:
Each year, a number of seats on the NCHN Board of Directors are open for elections. This year we have four Director positions that are open for elections.  Board Directors are elected by you the membership!  But in order to be elected, folks must submit their name and the required information that is discussed later in this newsletter.  We are looking for a few good Network Leaders to step forward and submit their names for consideration to serve as a Director of NCHN.  Please take a minute and think about who would be a great Director for leading NCHN into the future – and if it is you, please do not hesitate to nominate yourself today! 
Challenge to you for a change in 2013
Each month, NCHN offers a Coffee/Tea Chat with Dr. Chess.  I challenge you to reserve and protect this time on your busy calendars and begin participating in this membership benefit in 2013.  This is your time – do it for yourself and for the good of your network.  This is the one opportunity, once a month, that you can connect with your peers across the nation, share you successes and challenges, ask for support, comfort and feel the love of other Network Leaders for the work you are doing.  Take advantage of this opportunity. The next Coffee/Tea Chat is on Wednesday, February 13 @ 12:30 PM ET.  More details are so located below. 
Two More Changes in 2013: 
After much discussion and research on membership dues of other comparable national professional membership organizations, review of finances and long range planning for the Association, the NCHN Board of Directors voted to increase NCHN dues by 10% for the 2013-3014 year.  Over the years - almost 19 now - NCHN membership dues had only increased once before and that was in 2005.  The new dues policy approved by your Board of Directors is as follows:
The NCHN network membership dues will increased, effective May 1, 2013 by 10% across the three current dues categories for our current members, resulting in the following dues structure:

Less than $250,000 – increased from $500 to $550
$250,000 - $500,000 – increased from $750 to $825
Over $500,000 – increased from $1,000 to $1,100

Any new members accepted will follow the new dues structure and their dues will be prorated for the remaining months of 2012-2013 fiscal year.
NCHN fiscal year is May – April and the 2013-2014 dues assessments will be conducted in the spring of 2013. 
New process for determining dues:  "NCHN annual dues are determined by the member organization's most recent fiscal year's operating expenses, as reported on their 990 form and/or other Internal Revenue Service reporting format, including expenditures for all programs, services, including programs supported by grant funds, and any additional companies that are under the management of the parent organization."
And now, a change that I am not looking forward to in 2013! 
Synernet, one of our founding members, has provided NCHN with Administrative Assistant Services since our inception back in 1995.  I am sad to report that at the end of this month that arrangement will be ending.  What this means to NCHN as an Association and to you as members is that Debbie Comeau will no longer be working with NCHN. I, along with the NCHN Directors & Officers thank Debbie for her service and years of dedication to NCHN.  We wish her the best and will miss her at NCHN events! 
Rebecca J. Davis, Ph.D.
Executive Director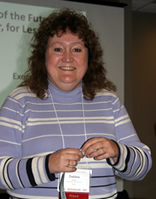 NCHN Bids Farewell to Longtime Staff Debbie Comeau
Debbie Comeau (pictured left at the 2012 NCHN Conference in Denver) has served as the Administrative Assistant for NCHN since we officially became an Association back in 1995 when 13 different health network organizations held the first official meeting of NCHN in Tempe, Arizona.  Since 1995, Debbie has worked with the Board of Directors and Annual Conference Planning Committee.  She has attended almost every NCHN Annual Educational Conference, participated on the Executive Committee and Board calls and be the keeper of NCHN's historical information and identity.  She is one of the few individuals that have been involved with NCHN and our activities for the past 19 years.  Debbie is employed at Synernet, one of NCHN's founding members, and over the years her job has changed and she has moved into Human Resource Management for the network.  With the growth in this area and demands on her time, she felt it was time to end her official relationship with NCHN.  We, the staff, directors, officers, and members will miss her, but we thank her for her continued support and dedication to NCHN over the years. 
February Coffee/Tea Chat
Wednesday, Feb. 13, 2013 @ 12:30 PM ET; 11:30 AM CT; 10:30 AM MT; 9:30 AM PT; 8:30 AM AKST
Welcome to the February, 2013 Coffee and Tea Chat with Dr. Chess. During our conversation in January, we considered "boards" and how to define board roles, how to support the creation of board-specific strategic plans and how to encourage on-going board development. And, we were pragmatic about how much time board members actually have available for this level of engagement. During our February chat, we will switch the focus to network leader development. There is that wonderful reminder we always hear when flying...in the event of an emergency, put the air mask on you first..
We'll consider "air masks" and network leader roles and development in February. Call in information was distributed through a Save the Date notice from Rebecca. If you need or have questions, please let her know.
NCHN Welcomes 2 New Business Partners
The NCHN Board of Directors approved two new Business Partners on their Board call on January 21, 2013.  We are pleased to announce the addition of Virtual Care Works, Inc., and LoneStart Now as Silver Level Business Partners. 
Virtual Care Works, Inc., partnership will afford NCHN members with the provision of secure Internet and guaranteed bandwidth supporting a unified communication platform. The partnership will enhance the Telehealth efforts of quality, access, and cost reduction for NCHN members. 
LoneStart Team Esteem Challenge is designed to instill the essential sense of self-belief necessary for enduring behavior change by creating a realistic opportunity, reinforcing modest but meaningful improvements in daily lifestyle choices and providing a supportive environment where healthy behaviors are learned and adopted, shared and sustained.
More details about their program and services will be forthcoming within the week. 
Call for Nominations for 2013 NCHN Board of Directors Positions (due Feb. 15, 2013)
NCHN is a membership organization and thus is governed by a Board of Directors that is elected by the membership. Serving as a Director of NCHN is an excellent opportunity to expand your leadership skills, interact on a regular basis with your peers, and give back to the Association!
Susan Kunz (Arizona Rural Women's Health Network and the Santa Cruz County Adolescent Wellness Network) Wins NRHA's first McKenzie Legacy Award (Winter 2013, Rural Roads)

RWHC Presentation Available: "RWHC & Rural Health Advocacy" presented by Tim Size, RWHC Executive Director to the Board of Directors of the Wisconsin Medical Society, 1/26/13
Modern Healthcare Selects MedAssets as Recipient for Community Leadership Award (Nov. 19, 2012, Daily Finance)

NRHA to Honor Congressional Rural Health Champions (Jan. 24, 2013, raconline.org)
The National Rural Health Association (NRHA) is pleased to announce the winners of its 2013 Legislative Awards, which recognize outstanding leadership in rural health issues by both members of Congress and congressional staff.
$5.6 Million to Fight Chronic Health Diseases in Delta Region (Jan. 22, 2013, raconline.org)
New funding to help eight states of the Delta region address chronic health diseases was announced today by Mary Wakefield, Ph.D., R.N., administrator of the Health Resources and Services Administration (HRSA). Up to $5.6 million in the first year will focus on managing three health risks—diabetes, cardiovascular disease, and obesity—that disproportionately affect the Delta region.

Rural and Exurban Household Income, 2011 (Jan. 22, 2013, Daily Yonder)
Only 15 percent of rural and exurban counties had median family incomes that were at or above the national median of $50,502 in 2011.

Virtual visits to doctor may be cheaper than and as effective as in-person visits (Jan. 21, 2013, The Washington Post)
A new study suggests that "e-visits" to health-care providers for sinus infections and urinary tract infections (UTIs) may be cheaper than in-person office visits and similarly effective.

Final Rule: Modifications to HIPAA (Jan. 25, 2013, Federal Register)
The Department of Health and Human Services (HHS or "the Department") is issuing this final rule to: Modify the Health Insurance Portability and Accountability Act (HIPAA) Privacy, Security, and Enforcement Rules to implement statutory amendments under the Health Information Technology for Economic and Clinical Health Act ("the HITECH Act" or "the Act")...


AHA Rural Chair: Reimbursement Top Challenge (Jan. 23, 2013, HealthLeaders Media)
Alvin Hoover, CEO of King's Daughters Medical Center in Brookhaven, MS, took the reins this month as chair of the American Hospital Association's Section for Small or Rural Hospitals in 2013. The 24-person governing council represents small or rural hospitals in the AHA's policy process and member services initiatives. Hoover spoke recently with HealthLeaders Media about the challenges that small and rural hospitals will face in the coming year.

Two rural jobs rank among 4 deadliest professions (Jan. 24, 2013, The Rural Blog)
National Public Radio, using information from Planet Money, has created a nice graphic displaying the rate of work-related, on-the-job deaths in 2011 for U.S. workers using Bureau of Labor Statistics data. At least two jobs that take place in rural areas made the four deadliest: logging, second, and farming or ranching, fourth.

Planning for Excellence: Lessons Learned Through RHPI (Jan. 22, 2013, On Center, NRHRC)
My first mentor, and now long-term dear friend, always said, "a plan is better than no plan." This is probably the best advice that I have ever received in my professional life. I have always kept his words in mind when taking on any project. After working with this mentor for almost six years, I always make a plan for just about everything.

Meaningful Use Slowly Increases EHR Use In Hospitals (Jan. 24, 2013, InformationWeek)
The advanced use of electronic health records is starting to accelerate in hospitals, mainly because of the government's EHR incentive program, concludes a new analysis of HIMSS Analytics' Electronic Medical Record Adoption Model (EMRAM) scale.

Report: CMS Community Initiatives Could Reduce Health Costs (Jan. 22, 2013, Kaiser Health News)
A pilot program introduced by the U.S. Centers for Medicare and Medicaid Services to boost quality of care for seniors by developing community approaches to health problems could play a key role in bringing down costs, according to a new report in the Journal of the American Medical Association.

Simple policy change could solve US physician shortages in 25 states, study finds (Jan. 22, 2013, MedicalXpress)
According to a new University of Virginia study, half of the 50 states could end their primary care physician shortages, and save billions annually in health care costs, by a simple policy change: equalizing the licensure requirements for foreign-educated physicians and U.S.-educated physicians.

New GME model strives to keep doctors in underserved areas (Jan. 21, 2013, amednews.com)
Funded by the ACA, it offers medical residents the opportunity to practice primary care as part of an interprofessional team.

Americans Want Deficit Addressed Without Medicare Cuts, Poll Finds (Jan. 24, 2013, Kaiser Health News)
Most Americans want quick action to reduce the deficit, but almost six in 10 oppose cutting Medicare spending to achieve that goal, according to a new poll released today.

HITPC & HITSC Health Information Exchange Public Hearing (Available Online, Jan. 29, 2013 | 9:00 AM - 5:00 PM ET, ONC)

CMS Webinars: The Durable Medical Equipment, Prosthetics, Orthotics, and Supplies (DMEPOS) Competitive Bidding Program ( January 29, 2013 at 2:00 EST / January 30, 2013 at 4:00 EST / January 31, 2013 at 6:00 EST / February 5, 2013 at 2:00 EST)


Introduction to the Obesity Prevention Evidence-Based Toolkit (Jan. 29, 2013 | 3:00 - 4:00 PM EST, NOSORH)

FCC: New Programs to Support Rural Health IT (Jan. 30, 2013 @ 2:00 PM ET; FCC)

Rural Health Policy Institute (Feb. 4-6, 2013, Washington, D.C., NRHA)

2013 Broadband Summit: Broadband Adoption And Usage – What Have We Learned? (Webinar available, Feb. 7, 2013, FCC)

Technology: It Doesn't Always Work (Feb. 21, 2013, Telehealth Resource Center)