NCHN e-News | Issue 16 | October 27, 2010
NCHN thanks its Business Partners for their invaluable support of the Association. Please take a moment to visit the Business Partners and see what they can do for your network.
NCHN News
New Website Features
If you have been on the NCHN home page recently, you probably noticed that there are some new additions. We wanted to make a few of the Members Only features more clearly accessible and provide additional content.

New Content:

Member Profiles (Members & Business Partners | Member Profiles): NCHN has over 60 network organizations. Members can submit a profile of their organization using the NCHN template (doc) - please submit your profile if you have not sent it already. Profiles for networks are listed and can be downloaded from the Member Profiles page. We think this is a great way for our members to find out more about what others are doing with their networks!
For 2010 Network Planning Grantees | Peer to Peer Sharing Sessions: This page has been added as a resource for HRSA's 2010 Network Planning Grantees who have upcoming calls with NCHN members.
Latest News: Provides links to the latest news that we think may have a high priority of importance for members

Quick Links (added to the bottom of the home page)

Conference Presentations (member-login required): a link to presentations used at past conferences, including the Regional Meetings and the NCHN Annual Conferences. These are loaded with useful information and may be a great resource if you are looking for info on numerous network-related topics.
NCHN Calendar: a list of upcoming NCHN events, including committee calls, quarterly and special interest membership calls, and conferences

To be added soon:

Member Network Newsletters: This page will include a link to the most recent newsletters distributed by NCHN members. To submit your newsletter, email the link or document to csullenberger@nchn.org

Visit the NCHN home page

Common Components of Health Networks Survey - Last Chance to Provide Your Thoughts!
Last month, the 2011 NCHN Annual Conference Planning Committee requested assistance in completing a short survey on the commonly shared components of successful health network organizations, regardless of type, size, age, location, etc. We thank the approximately 40 individuals that took the time to complete the survey! And especially the 21 NCHN members, but we need more input!

We are looking for input from network leaders, staff, board members, officers, network members, former staff, and anyone connected to networks, either presently or formerly. The 2011 Annual Conference Planning Committee is planning a number of exciting sessions around "Common Components" --- components that all networks have or should have in place to be successful. These are components of the organization, not characteristics of the network leader. We will share the results of the survey in the November eNews!

Help us collect information from a variety of folks that understand the important work networks accomplish --- please complete the survey today and share the link with your board members and others actively involved in health networks! Jump onto this link and provide your feedback and plan now to attend the 2011 Conference!

NCHN Executive Coaching Program: Applications are still being accepted!
To Participate in the Program: Any NCHN member may apply to participate in the program as a Coachee. You must be a staff member of an NCHN organizational member in good standing. (Dues must be current.) A completed application must be submitted. You must agree to maintain confidentiality between you and your coach and assistance with the evaluation of the overall Executive Coaching Program.

There is no charge to participate in the program; however, as the coachee, you must assume responsibility for the cost of the coaching phone call. (You will call your coach for the coaching sessions.)

If you are interested in receiving coaching please complete the NCHN Coachee Application Form (doc) and return to rdavis@nchn.org

November Call Dates
November 8 @ 3:00 PM ET: Certification Program Development Committee Call
November 11 @ 12:30 PM ET: 2011 Annual Conference Planning Committee Call
November 15 @ 12:30 PM ET: NCHN Board of Directors' Call
November 16 @ 1:00 PM ET: Program Development Committee Call
View upcoming NCHN Member Calls

Call for Committee Members – 2011 Leadership Summit Committee
After evaluation the attendance and cost of the Regional Meeting concept over the past three years, the Executive Committee on their October 18, 2010 call, accepted the 2010 Regional Meeting Committee's recommendation to move from hosting two regional meetings in the fall to offering one educational-focused gathering in the fall. The Regional Meeting Committee is being reorganized as the "Leadership Summit Committee." The 2011 Leadership Summit Committee is forming and is seeking committee members to begin planning the 2011 Summit. The first NCHN Leadership Summit will be held in the fall of 2011. Mary Adams, Pioneer Health Network and Dawn Wichmann, Lakelands Rural Health Network have volunteered to serve as co-chairs of the new committee. The 2011 Leadership Summit Committee will beginning meeting in January and the committee meetings will be held on the fourth Wednesday of the month at 11:00 AM ET.

If you are interested in serving on the new committee, please let Rebecca know via email or call her at 270-925-5611

Healthcare Management
Healthcare Management, LLC is pleased to bring NCHN members programs designed to create network sustainability.  Healthcare Management is a hospital revenue cycle company featuring bad-debt collection and self-pay billing services.  HCM is owned and operated by hospital members of Western Healthcare Alliance, a rural healthcare network in Colorado. Western Healthcare Alliance is a member of NCHN.

Why consider partnering with Healthcare Management?  Every healthcare provider in your network is already utilizing a third-party vendor for revenue recovery.  By partnering with Healthcare Management, we can work with you to provide solutions which are tailored to the needs of your members and affiliated organizations.  These programs are simple for you to implement and we will provide full technical assistance.  Not sure if your members have needs in this area?   We are happy to conduct a needs assessment for you. 

NCHN members receive a revenue share-back quarterly, competitive rates and a patient-friendly program for members.  Work collaboratively with your members to create a win-win program with real gains potential.

Our programs include:

Self-pay Account Billing
Payment Plan Management
Medical Financing for Large Account Balances
Bad-debt recovery collection agency

For more information, contact:
Jessica Taylor, Director of Business Development
(877) 683-5227 toll-free direct       
E-mail:  Jessica.Taylor@wha1.org
Website: www.wha1.org

NCHN Member News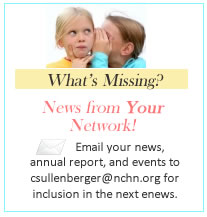 Rural Hospital Summit Meeting Findings
In December 2009, a Summit meeting of experienced rural hospital network leaders was convened in Minneapolis, MN, with the purpose of tapping the collective wisdom of rural hospital network activities, critical success factors and lessons learned.  The Summit was seen as an important step in building a national knowledge center on rural health networks and creating national learning communities of rural health networks.

The Summit was sponsored by the National Rural Health Resource Center and the National Cooperative of Health Networks with funding from the Health Resources and Services Administration, Office of Rural Health Policy.

Review the Summit Summary (pdf)

Healthcare Coalition of Lafayette County Brings Workplace Wellness to 1-70 Hospital
from The HCC of Lafayette County (October 2010 issue)

I-70 Hospital to Launch Workplace Wellness

Creating a healthy workplace is integral to the mission of the Health Care Coalition of Lafayette County. To this end, I-70 is one of 6 facilities that will participate in a wellness program implemented by the HCC, with funding support from the Health Care Foundation of Greater Kansas City.

The HCC, in conjunction with Grace Research Group, will kick-off an employee wellness program at I-70 Hospital later this month. Participants will take a health risk appraisal that serves as the catalyst for a comprehensive intervention program designed to improve the overall health and wellness of those who participate. All wellness programs are designed by a WELCOA certified wellness coach. To learn more about the HCC's workplace wellness initiatives, contact our office at 660.259.9019.

Featured Network: Northland Healthcare Alliance (ND)
Northland Healthcare Alliance is mostly a Provider Based Network comprised of 24 Hospitals, Nursing Homes and a PACE Center. We have one large Tertiary Center 15 Critical Access Hospitals and 8 Longterm Care Facilities. We opened and operate the only PACE Program in North Dakota.

We provide a wide range of services for our members and others as needed including Grants Development and Management, Mobile Imaging (MRI), Account Management (Collections), Infectious Waste Disposal, Group Purchasing of Services ( Natural Gas, Anesthesia Equipment Maintenance, Insurance, Equipment Repair, and Others) We provide education including a wide range of Roundtables for discussion and program development. We operate a full‐time PACE Program and are developing a state‐wide HIT initiative to serve healthcare providers across the state.

We are implementing a Supply Chain Materials Management System in two hospitals and would hope to expand to others in the near future. We own and operate a Medical Waste Processing Plant. Currently we have two large grant programs in operation, one to develop a Workplace Wellness Program in 10 communities and an HIT expansion Initiative.

We provide Medical Records Services and are involved in several equipment maintenance programs including the maintenance of all Sterilizer across the network and we have a BioMedical Equipment Repair and Maintenance program. For large capital equipment we have been involved with Thermo for many years.

We believe in collaboration and will work with any entity that makes sense. Currently two of our most successful programs include partners from the Montana Health Network and MediSota in Minnesota. We also work together with the State Department of Health and the Dept of Human Services and have written several proposal together.

Contact: Tim Cox, President
Email: tcox@northlandhealth.com
Ph: 701-250-0709
Web: www.northlandhealth.com

>> View all network sharing forms...

About the NCHN Featured Network (NEW)
One of the greatest values NCHN can bring to its members is information about what networks throughout the country are doing to meet the needs of their communities. To share information about your network, you can submit your paper to csullenberger@nchn.org using the following template: NCHN Sharing Form (doc). One network will be featured every week. We look forward to sharing more networks as they come in.

Upcoming Events
NCHN Special Interest Call

Date: Monday, November 8 at 12:30 PM ET

Michael McNeely, HRSA, will discuss the Meaningful Use final rules and their impact on hospitals.

GrantStation Webinar

Date: Thursday, November 11 at 2:00 PM ET

Please join Rebecca Davis, Executive Director, National Cooperative of Health Networks Association (NCHN), and Cynthia M. Adams, CEO of GrantStation for this short and informative tour of the GrantStation website. The webinar will review the many tools and resources available on GrantStation to help you identify the right grantmaker for your health care programs, as well as write compelling letters of inquiry and powerful grant proposals. This interactive session will use projects from participants to demonstrate how the GrantStation website can assist you in identifying health care funding opportunities. There will be lots of time for questions. Register online...

Next NCHN Quarterly Membership Call

Date: December 13 at 12:30 PM ET

Topic: Open discussion to review the year and talk about plans for 2011

Registration Details

NCHN calls are free of charge to members. Registration is required. To register for any of the NCHN calls, email Debbie Comeau at dcomeau@Synernet.net. You will receive dial-in information, instructions, and materials via email prior to the call.

AHRQ ePSS Web Conference: Using EHRs to Provide Preventive Services at the Point of Care
AHRQ and the Health Research & Educational Trust of the American Hospital Association will present a free Web conference on Wednesday, Nov. 3, 2010, from 12:30-2:00 PM ET.

The conference is part of an ongoing outreach project by AHRQ to assist health care providers, educators, and other health care professionals in implementing the evidence-based recommendations of the U.S. Preventive Services Task Force (USPSTF).

To make it easier to implement these recommendations in clinical practice, AHRQ has created the electronic Preventive Services Selector (ePSS), a free electronic application that includes the current recommendations of the USPSTF. It can be easily downloaded to a handheld device (e.g., iPhone, BlackBerry), installed as a widget on any Web site, or embedded into EMR and EHR systems. The ePSS allows clinicians to provide age, gender, and behavior-specific health screening, counseling, and preventive services to their patients at the point of care.

David Schulke, Vice President of Health Research & Educational Trust / American Hospital Association will moderate; Dr. Yael Harris, PhD, Director of HRSA's Office of Health IT and Quality, is among conference presenters. At the end of the Web conference, participants will be familiar with the USPSTF recommendations and understand how the free ePSS tool can be integrated into clinician workflow.

Register online...

From NRHA: Come down to the desert for NRHA's Rural Multiracial and Multicultural Health Conference
NRHA welcomes everyone to the 16th annual Rural Multiracial and Multicultural Health Conference Dec. 1-3 in Tucson, Arizona.

Come together for the nation's only conference focusing on improving health for under-represented rural populations to learn about:

The impact of health reform
Successful border and tribal health initiatives
Diabetes and behavioral health solutions
Ethical and environmental factors that contribute to rural health

Visit www.RuralHealthWeb.org/mm to register by Nov. 1 to save.
Before the conference begins, join NRHA on a site visit to Nogales, Ariz., to gain perspective and insight into the issues pervasive in the region and enjoy local cuisine at the Historical Society Museum. Transportation is provided. Tickets are $30 and limited to the first 50 online registrants. Click here to register (registration is within the same link as the conference).

Turn your trip to Tucson into a vacation with sunny days and cool nights in the Sonoran Desert. Southern Arizona has some of the clearest skies in the U.S. - about 350 nights of viewing a year. Tour world-renowned observatories and learn why this area is called the astronomy capital of the world. Stay for the weekend and take in an 1880s Southwest version of the traditional Nutcracker Ballet, featuring dancing chile peppers, coyotes, cavalry and rattlesnakes, and participate in La Fiesta de Tumacacorie, celebrating the cultural continuity of the historic Upper Santa Cruz River Valley. Visit www.visittucson.org to learn more.

Note: NRHA booked this event prior to the passage of the Arizona immigration law (SB 1070). NRHA anticipates the law may have unintended consequences on multiracial and multicultural people seeking needed care, creating a greater burden on Arizona's health care delivery systems. The conference will include activities designed to increase awareness and explore strategies to address the law's impact on public health.

Register online...

Dr. Wakefield at the 2010 mHealth Summit: Nov. 8-10
Date: November 8-10, 2010
Location: Washington DC Convention Center

The mhealth Summit will provide a forum for dialogue among government, academia, not-for-profit, and industry leaders on mhealth technology that can be adapted for communities and countries alike. The Summit is presented by the Foundation for the National Institutes of Health in partnership with NIH and the United Nations Foundation.

Dr. Mary Wakefield, HRSA Administrator, will be participating on a Super Session panel on November 8 that will focus on how comparative effectiveness research can be designed to move the field of mhealth forward. Additional keynote addresses will be delivered by Dr. Francis A. Collins, NIH Director; Ted Turner, Chairman, UN Foundation, Aneesh Chopra, U.S. Chief Technology Officer, and Bill Gates, Co-Chair and Trustee, Bill and Melinda Gates Foundation.

What is mhealth?
According to the UN Foundation, mobile health, also known as mHealth, is the delivery of health care services via mobile communication devices such as cell phones. Applications range from targeted text messages to promote healthy behavior to wide-scale alerts about disease outbreaks. The proliferation of cell phones across the globe, even in locales without basic health infrastructure, is spurring the growth of mHealth in developing countries.

HRSA's Involvement in mHealth
HRSA is a strong promotion partner and is the lead agency for the evaluation of text4baby, a free mobile information service to promote maternal and child health. Text4baby provides pregnant women and new moms with three free, evidence-based text messages a week so they can take care of their health and their baby's health. The program, which was launched on February 4, 2010, is made possible through a broad public-private partnerships. For more information about text4baby, please see www.text4baby.org

Please note there is a $175 registration fee.


Get more information and register...

SNF PPS RUG-IV National Provider Call
Date:  November 9, 2010 @ 2:00 PM EST
Conference Title:  Skilled Nursing Facility (SNF) Prospective Payment System (PPS) Resource Utilization Group – Version 4 (RUG-IV) National Provider Call

The Centers for Medicare & Medicaid Services' (CMS) Provider Communications Group will host a national provider conference call on theSkilled Nursing Facility (SNF) Prospective Payment System (PPS) Resource Utilization Group-Version 4 (RUG-IV).  This toll-free call will take place from 2:00 p.m. – 3:30 p.m., EDT, on Tuesday, November 9, 2010.

This call is one in a series of calls designed to provide information on key aspects of the RUG-IV SNF PPS case mix system, which was put into place on an interim basis effective October 1, 2010.  CMS held three previous calls, which provided details of significant changes related to the RUG-IV payment system.

In June, CMS discussed coding procedures, with emphasis on the appropriate Look-back Period to be used when coding the Minimum Data Set (MDS) 3.0 and how facility staff should separately report individual, concurrent and group therapy for accurate payment, along with changes to the ADL coding requirements and their impact on the assignment of MDS 3.0 records to a RUG-IV group. In August, CMS held a second call, where subject matter experts discussed the transition from RUG-III to RUG-IV. The third call, in September, discussed several SNF PPS policies, including Start of Therapy and End of Therapy Other Medicare Required Assessments and the SNF short stay policy.

For this call, CMS subject matter experts will review some of the significant changes associated with the RUG-IV payment system.

Following the formal presentation, callers will have an opportunity to ask questions of CMS subject matter experts.       

In order to receive the call-in information, you must register for the call. It is important to note that if you are planning to sit in with a group, only one person needs to register to receive the call-in data.  This registration is solely to reserve a phone line, NOT to allow participation.

Registration will close at 2:00 p.m. ET on November 8, 2010 or when available space has been filled.  No exceptions will be made, so please be sure to register prior to this time.

To register for the call, participants need to go to:  http://www.eventsvc.com/palmettogba/110910
Fill in all required data. 
Verify that your time zone is displayed correctly in the drop down box.
Click "Register".
You will be taken to the "Thank you for registering" page and will receive a confirmation email shortly thereafter. Note: Please print and save this page in the event that your server blocks the confirmation emails.  If you do not receive the confirmation email, please check your spam/junk mail filter as it may have been directed there.
If assistance for hearing impaired services is needed, the request must be sent to medicare.ttt@palmettogba.com no later than 3 business day before the event.

Register online... (see instructions above)

Information on the previous calls and future information for this call will be available on the SNF PPS webpage at http://www.cms.gov/SNFPPS/03_RUGIVEdu.asp#TopOfPage.

Registration for Personal Health Records Roundtable
Online registration is now open for the Roundtable on "Personal Health Records – Understanding the Evolving Landscape." This free day-long public Roundtable, hosted by the Office of the National Coordinator for Health Information Technology (ONC), will be held on Friday, December 3 at the FTC Conference Center in Washington D.C.

Personal Health Records — Understanding the Evolving Landscape

When: Friday, December 3, 2010; 8:30 a.m. to 4:30 p.m.
(registration check-in opens at 7:30 a.m.)

Where: FTC Conference Center
601 New Jersey Avenue, NW, Washington, DC 20001
or via webcast

Register to attend in person or via webcast...

Health Reform
Privacy & Security Tiger Team Seeks Your Comments by October 29
The Privacy & Security Tiger Team seeks your comments on how the identities of provider organizations are authenticated for the electronic exchange of protected health information.

Specific questions to consider include:

What strength of provider-entity authentication (level of assurance) might be recommended to ensure trust in health information exchange (regardless of what technology may be used to meet the strength requirement)?
Which provider-entities can receive digital credentials, and what are the requirements to receive those credentials?
What is the process for issuing digital credentials (e.g., certificates), including evaluating whether initial conditions are met and re-evaluation on a periodic basis?
Who has the authority to issue digital credentials?
Should ONC select an established technology standard for digital credentials and should EHR certification include criteria that tests capabilities to communicate using that standard for entity-level credentials?
What type of transactions must be authenticated, and is it expected that all transactions will have a common level of assurance?

Submit your comments on the Federal Advisory Committee Blog. Take the opportunity to join the discussion today. Remember, the deadline for feedback is October 29.

HIT Vendors (Certified by Office of the National Coordinator)
The Office of the National Coordinator for Health Information Technology (ONC) has published the Certified Health IT Product List (CHPL), a comprehensive listing of Complete EHRs and EHR Modules that have been tested and certified under the Temporary Certification Program. Each Complete EHR and EHR Module included in the CHPL has been tested and certified by an ONC-Authorized Testing and Certification Body (ATCB), and reported to ONC by an ONC-ATCB, with reports validated by ONC. Only those EHR technologies appearing on the ONC-CHPL may be granted the reporting number that will be accepted by CMS for purposes of attestation under the EHR Incentive Programs. The listing will be updated as additional products are certified by ONC-ATCBs and reported to ONC for validation.

For more information, please visit http://healthit.hhs.gov/CHPL (Source: HRSA/Office of Rural Health Policy Weekly Announcements, October 21, 2010)

Want to earn Medicare Electronic Health Record (EHR) incentive payments? Act now!
Eligible professionals must have an enrollment record in the Provider Enrollment, Chain and Ownership System (PECOS) in order to receive a Medicare EHR incentive payment.

Did you know?
Billing and receiving payments from Medicare does not necessarily mean that an eligible professional has an enrollment record in PECOS.

Don't wait!

Act now to verify that you have an enrollment record in PECOS.
If you do not have an enrollment record in PECOS, establish your enrollment record now.

If you have submitted a Medicare enrollment application within the last 90 days, and your enrollment application has been accepted for processing by the carrier or A/B MAC, you need not take any additional actions based on this listserv message.  (You will be contacted by your carrier or A/B MAC if additional information is needed.)

How can I find out if I have an enrollment record in PECOS?

Use Internet-based PECOS to look for your PECOS enrollment record. (You will need to first set up your access to Internet-based PECOS.)  Go to Verify PECOS Record for more information. If no record is displayed, you do not have an enrollment record in PECOS.
Check the Ordering Referring Report on the CMS website. If you are of a specialty permitted to order and refer and you are on that report, you have a current enrollment record in PECOS. Go to Ordering and Referring Report.
Contact your designated Medicare enrollment contractor and ask if you have an enrollment record in PECOS. Go to Contractor List for contact information.

I don't have an enrollment record. What should I do?

Internet-based PECOS is the fastest and most efficient way to submit your enrollment application.For instructions, see Basics of Internet-based PECOS for Physicians and Non-Physician Practitioners .  If you encounter problems or have questions as you navigate the system, there is help available.

Find out more about EHR Incentives at the CMS website

New Affordable Care Act grants to help put patients in control of their health care
Nearly $30 million in grants will fund state consumer assistance programs to help consumers see benefits of Patient's Bill of Rights

The U.S. Department of Health and Human Services (HHS) today announced new Consumer Assistance Grants program awards of nearly $30 million to help states and territories put patients in charge of their health care.  These grants will support states' efforts to establish or strengthen consumer assistance programs that provide direct services to consumers with questions or concerns regarding their health insurance.

"The Affordable Care Act's Patient's Bill of Rights gives people important benefits and ends the worst insurance company abuses," said Secretary Kathleen Sebelius.  "These grants will help ensure consumers' rights are protected, and they are another way the new law is putting patients, not insurance companies, in charge of their health care."
Continue reading... (Source: HHS.gov News Release, HHS Home| ASPA | News Room | News Releases, October 19, 2010)

Monthly News Recap
HHS' Office of Minority Health Awards $16.2 Million to Help Eliminate Health Disparities among Racial and Ethnic Minorities

The U.S. Department of Health and Human Services' Office of Minority Health has awarded $16.2 million in grants and cooperative agreements for demonstration projects aimed at eliminating health disparities among racial and ethnic minorities. Among the recipients are states, territories, national and community organizations, organizations serving tribes and post-secondary educational institutions. See the grantee profiles.

Funds come from five different programs and will address access to care, the social determinants of health, HIV/AIDS among youth, support for families in high-risk situations and the strengthening of partnerships between community-based organizations and State offices of minority health.

Read the press release... (Source: Office of Minority Health Information email, October 22, 2010)

Counseling to Prevent Tobacco Use
The Medicare Learning Network® (MLN) has released MLN Matters Article #MM7133 to inform providers that the Centers for Medicare & Medicaid Services (CMS) will cover counseling services to prevent tobacco use for outpatient and hospitalized beneficiaries. 

Effective for claims with dates of service on and after August 25, 2010, CMS will cover tobacco cessation counseling for outpatient and hospitalized Medicare beneficiaries:

1) who use tobacco, regardless of whether they have signs or symptoms of tobacco-related disease;
2) who are competent and alert at the time that counseling is provided; and
3) whose counseling is furnished by a qualified physician or other Medicare-recognized practitioner.

This article is based on Change Request (CR) 7133 and is available at http://www.cms.gov/MLNMattersArticles/downloads/MM7133.pdf (pdf)

Rural Health Network Development Grants due November 12th
Applications Due: November 12, 2010

ORHP is pleased to announce the release of the Rural Health Network Development Grant Program (RHND), Announcement Number HRSA-11-089, CFDA Number 93.912.

This is a program to assist health oriented networks in developing and maintaining sustainable networks with self-generating revenue streams. These networks should provide activities that benefit both network partners and the community served by the network to increase access and quality of rural health care and ultimately, improve the health status of rural residents. Networks should have a significant history of organizational collaboration and must have a memorandum of understanding (MOU) prior to applying to this program. This program is a three year grant program with individual grant awards limited to a maximum of $180,000 per year.

To download this funding opportunity, please visit: www.grants.gov Once you are on this website, please click on Find Grant Opportunities, Basic Search where you can type in the announcement number (HRSA-11-089) or CFDA number (93.912). All applications are required to be submitted electronically- no paper applications will be accepted this year. ORHP strongly encourages applicants submit their applications ahead of the due date to avoid any technical problems.

As you will read in the Network Development guidance under Executive Summary, it is anticipated that there will be a similar one-time funding opportunity in fiscal year 2011 called the Rural Health Information Technology Network Program. The primary objective of this program is to support organizations that wish to further ongoing collaborative relationships among healthcare organizations to integrate health information technological systems. The Rural Health Information Technology Network program is a three year grant program with an equipment purchase limit of 60% each year and individual grant awards will be limited to a maximum of $300,000 per year.

Note: Applicants cannot apply to the Rural Health Network Development Grant Program and the Rural Health Information Technology Network Program in the same fiscal year. ORHP does not currently have any additional information on the new Rural HIT program. Once ORHP has developed the program details, information will be sent out.

For further information on the Rural Health Network Development Grant Program (RHND), please contact Leticia Manning, lmanning@hrsa.gov or 301-443-8335.

HHS announces availability of $3.9 million to support families of children with special health care needs
HHS Secretary Kathleen Sebelius today announced $3.9 million in funding to continue support for Family-to-Family Health Information Centers, non-profit organizations run by families and for families with children with special health care needs.  Funding for the centers was extended through 2012 by the Affordable Care Act.

Created in 2005, Family-to-Family Information Centers provide information, education, training, outreach, and peer support to families of children and youth with special health care needs and the professionals who serve them. The centers are operated by family leaders who have children with special health care needs and expertise in federal and state public and private health care systems, as well as by health professionals. HHS' Health Resources and Services Administration (HRSA) oversees the program.

Continue reading... (Source: HHS News Release, October 26, 2010)