NCHN e-News | Issue 13 | July 30, 2010
NCHN thanks its Business Partners for their invaluable support of the Association. Please take a moment to visit the Business Partners and see what they can do for your network.
From the NCHN Board
The NCHN Executive Coaching Program was developed to enhance the management and leadership skills of Network Leaders, thus improving the effectiveness of networks and ensuring sustainability. Through this program, Network Leaders will strengthen leadership skills, explore the culture of networks, improve management skills, and become more knowledgeable of the resources available within the Association. The NCHN Executive Coaching Program is designed to help members gain a clearer sense of their personal vision for their network, improve their performance and enhance the quality of their career. The program provides support to NCHN members, both new and seasoned Network Leaders, to deal with the day-to-day business of the operation of a successful network. Network leaders face greater challenges than ever before. Resources are stretched and each day presents a new challenge. This program advances NCHN's mission to support and strengthen health alliances across the nation and is supported by the National Rural Health Association.

What is Executive Coaching?: Some have defined it as an efficient, high-impact process --- NCHN's Executive Coaching Program is an effective, targeted program designed to assist Network Leaders on how to focus, generate insights, and make decisions to improve performance. NCHN members are already highly functioning, successful leaders. This program will provide additional support when needed in order to perform better.

Coaching sessions are high-impact. Coaching is delivered in 30–45 minute, one-on-one sessions dedicated to exploring strategies and models to assist the "coachee". The Coach asks questions, provides tools and moves the discussion forward, motivates, and sometimes provides a "reality check" for the coachee. And, as in all competitive events, the coachee must come prepared to participate in the session!

To Participate in the Program: Any NCHN member may apply to participate in the program as a Coachee. You must be a staff member of an NCHN organizational member in good standing. (Dues must be current.) A completed application must be submitted. Once accepted into the program, you must complete a Pre-Coaching Form and continue to complete one prior to each scheduled coaching session; be willing to work one-on-one with your assigned coach; and commit to approximately one hour per month of direct contact with your Coach. You must agree to maintain confidentiality between you and your coach and assistance with the evaluation of the over all Executive Coaching Program.

There is no charge to participate in the program; however, as the coachee, you must assume responsibility for the cost of the coaching phone call. (You will call your coach for the coaching sessions.)

If you are interested in receiving coaching please complete the NCHN Coachee Application Form (doc) and return to rdavis@nchn.org

NCHN Announces Expanded Partnership with GrantStation
Beginning on August 9th you will start receiving a weekly e-newsletter filled with the latest national and regional grant opportunities, as well as upcoming federal deadlines that will assist the serious grantseeker. The GrantStation Insider is delivered every Monday to your in-box via email. The GrantStation Insider provides you with the latest information on new funding programs, upcoming grant deadlines, conferences, webinars, and relevant information for grantseekers.

If you are already a member of GrantStation, you may be interested in taking part in the healthcare resource webinar on August 25th.

Special Pricing
As members of NCHN, both you and your network members can subscribe for GrantStation services for a much reduced rate, negotiated specifically for NCHN members. If you have not taken advantage of this opportunity, please contact Cindy Stinnett today to learn more about the program.

Please email Cindy at cstinnett@nchn.org for details and pricing.
View a sample issue of the GrantStation Insider.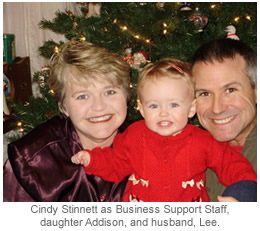 New Staff Member: Cindy Stinnett
NCHN is pleased to announce our newest staff member Cindy Grider Stinnett.  Cindy will be providing Business Support Staff services to NCHN through a partnership with our business entity, Rural Health Network Resources, LLC. She is originally from Bowling Green, KY.  She earned a Bachelor's degree in Management from Western Kentucky University in 2007.  She spent much of her career working for Desa Heating in Bowling Green as a Customer Service Manager overseeing their Call Center, Parts, Warranty, and Technical Services Departments. She trained all new employees on products and procedures and was also responsible for training and updating the Sales Reps on all new products and systems.

Cindy and her family live in Addison, KY, near her husband's family.  In addition to working for NCHN/RHNR part-time, she operates a Direct Marketing business from her home.  The position allows her to be a work-at-home Mom of one daughter, which is just entering the "terrible two's" phase! Cindy enjoys gardening (flowers and veggies), spending time with friends and family, and traveling both domestically and abroad.

Cindy will be handling membership dues assessments, the GrantStation Program, and providing support for overall business operations of both NCHN and RHNR.  She can be reached at cstinnett@nchn.org 

NCHN Welcomes 2 New Network Members
The NCHN Board of Directors and staff welcome our two newest members --- Union County Health and Wellness Network, located in Clayton, New Mexico; and Northern Michigan Primary Care Alliance, located in Petoskey, Michigan. As both networks are 2010 HRSA Network Planning Grantees, they are developing their missions and in the initial stages of forming the network.

Union County Health and Wellness Network (NM) is exploring a mission with its partners that will improve health and wellness outcomes for Union County residents and strengthen Union County's health and wellness system. Potential programming includes K-12 Health & wellness education / school nutrition; Pipeline Elder care in more rural areas; community-wide recruitment & retention of providers; coordination of primary care; and access to specialized care. The network is currently comprised of 8 organizations in Union County.

Contact: Kristen Christy, Network Director
Email: kristen.christy@ucghc.com

Northern Michigan Primary Care Alliance (MI) is beginning with a focus on diabetes education and awareness, while working with Northern Health Plan (a local insurance plan that covers primary care for the working poor that do not qualify for Medicaid) to expand their coverage to cover more diabetes health issues and medical supplies needed by patients to monitor their diabetes. The network currently has five organizations for the planning stage, but has had other organizations show interest in joining the network and plans to expand the network after the planning stage is complete.

Contact: Tracy Andrews, Primary Care Network Director
Email: tandrews@northernhealth.org

Please join me in welcoming Kristen Christy, , with Union County Health and Wellness Network and Tracy Andrews, with Northern Michigan Primary Care Alliance to NCHN!

Career Staff Unlimited
CareerStaff Unlimited is a national, full-service recruiting company for permanent placement staffing for physicians, allied and nursing professionals, as well as locum tenens staffing for physicians. CareerStaff recruits for primary care physicians and all specialties in addition to highly sought after CRNAs, Unit Directors/Managers, Nurse Practitioners, Diagnostic Imaging professionals in all modalities, Pharmacists, Therapists and other mid-level practitioners.CareerStaff Unlimited takes pride in their work, success, ethics and integrity, and welcomes the opportunity to assist you with you recruiting needs.

Why use CareerStaff Unlimited:

Placement guarantee - risk-free results
Non-exclusive agreement - freedom to choose
Professional fees paid are transferable - no lost investments
Extended 90-day warranty on our providers - perfect fit
Our strategic marketing & procurement guarantees our search - national exposure
Search up to 3 recruiting needs within the same specialty - return on investment
Capped, flat-rate fee schedule with no hidden costs - total control of expenses
Month-to-month agreement - cancel any time

Contract Benefits:  As a member of NCHN, you are entitled to a substantial discount, an extended warranty, and CareerStaff Unlimited's placement guarantee.  Additionally, CareerStaff Unlimited will make an annual administrative and marketing fee payment based on professional fees collected from NCHN member hospitals to be distributed equally between NCHN and the participating network.

Contact: Shawn Jordan
6191 N. State Highway | Irving, TX 75038
Ph: 888.993.4599 | Fax: 972.812.3215
E-mail: shawn.jordan@sunh.com
Web: www.careerstaff.com
NCHN Member News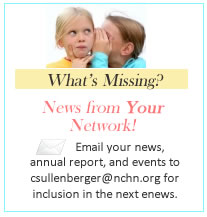 Northern Neck Middle Peninsula Telehealth Consortium (NNMPTC) Featured on Virginia Telehealth Network's Home Page
The Northern Neck Middle Peninsula Telehealth Consortium was featured on Virginia Telehealth Network's home page this month. The article is below.

The Northern Neck Middle Peninsula Telehealth Consortium established a telemedicine outpatient clinic in May 2008 on the campus of Riverside Tappahannock Hospital for patients of the region's rural primary care providers. A year later, NNMPTC arranged an outpatient setting with Rappahannock General Hospital in Kilmarnock, with equipment previously used only in the ER-ICU. Now patients in two sections of the 10-county region -- 45 miles apart -- have regular access to remote specialists at UVa and VCU Health Systems.

Teledermatology consults are usually scheduled once a month. Nursing staff from either Riverside or Rappahannock General use live videoconferencing and digital examination cameras to transmit patient encounters to Dr. Kenneth Greer of the University of Virginia Health System. Dr.  Greer's diagnosis and medical orders are communicated to the local referring physician, who provides follow-up care. Through June 2010, 73 dermatology patients have received teledermatology care at these two clinics.

Visit the Virginia Telehealth Network website
NNMP Contact: Edie McRee Bowles
Executive Director, Northern Neck Middle Peninsula Telehealth Consortium
Tappahannock, VA
ebowles@nnmptelemed.org

Upcoming Events
NCHN Regional Meetings - PPACA: Can we do it? YES WE CAN!
PPACA: Can we do it? YES WE CAN!
NCHN's Regional Meetings in September will focus on the Patient Protection and Affordable Care Act. Since the annual conference in April, we have heard that many members are interested in PPACA. From how to comply with requirements to funding opportunities, the Regional Meetings will address issues related to transitioning your network, as well as seizing funding opportunities. There will also be a session on leadership development and a network luncheon during which you can share a white paper and have 2-3 minutes to introduce your network.

Mark Your Calendar!

Denver, Colorado - Friday, September 17, 2010

Chicago, Illinois - Monday, September 27, 2010

View the preliminary agenda and register online...

Final Hearings: Meaningful Use Workgroup
Care Coordination: August 5, 2010 at 8:00 a.m.

The Meaningful Use Workgroup will hold its final hearing on criteria, on Care Coordination, on Thursday, August 5, 8 a.m. to 3 p.m./Eastern at the Washington Marriott at Metro Center in Washington, DC. Testimony from this hearing will help the Meaningful Workgroup formulate recommendations to the HIT Policy Committee and the National Coordinator on the specified functionalities beginning in Stage 1 of Meaningful Use, which involves electronically capturing health information, and communicating that information for the coordination of care.

Dial in instructions:
Web:

At least 10 minutes prior to the meeting start time, please go to: http://altarum.adobeconnect.com/MU
Select "enter as a guest"
Type your first and last name into the field
Click "enter room"

Audio:

You may listen in via computer or telephone.
US toll free: 1-877-705-2976
International Direct: 1-201-689-8798

Agendas, Materials for the Testimony Hearings are available on the ONC Website at healthit.hhs.gov

NCHN Special Interest Call: August 9th
Monday, August 9, 2010 at 12:30 PM EST

Join NCHN in a discussion of the Patient Protection and Affordable Care Act and how health networks can help with the implementation.

Speaker: Susan Hinck, PhD, RN, Robert Wood Johnson Fellow and former health care policy analyst with the Missouri Health Advocacy Alliance

Susan Hinck will discuss Missouri's creation of the HIO for statewide HIE, Meaningful Use criteria with a focus on providers in offices and clinics, and Meaningful Use resources. She will discuss in detail Missouri's model, including the involvement of consumers and structure. Susan Hinck has worked in Washington on the health reform bill and has been involved in Missouri's creation of the HIE.

There is no cost to participate; however, pre-registration is required to ensure that enough conference lines are available.

To pre-register, please email dcomeau@synernet.net and provide your name and your network's name. Debbie will then email you with the dial in instructions. Handouts will be distributed by email to those on the pre-registration list.

NCHN Quartlerly Membership Call: September 13th
Monday, September 13, 2010 at 12:30 PM EST

Speaker: Michael McNeely, Policy Analysis, HRSA, ORHP

Mr. McNeely will discuss the recently Meaningful Use criteria and lead a discussion on how health networks can assist their hospital members implement the criteria into their facilities.

To pre-register, please email dcomeau@synernet.net and provide your name and your network's name. Debbie will then email you with the dial in instructions. Handouts will be distributed by email to those on the pre-registration list.

GrantStation Members Only: Healthcare Resource Webinar
What: A tour of the GrantStation Website with a focus on finding healthcare funding
When: August 25, 2010 @ 2:00 PM EST (1 hour)
Where: Online webinar


Please join Rebecca Davis, Executive Director, National Cooperative of Health Networks Association (NCHN), and Cynthia M. Adams, CEO of GrantStation for this short and informative tour of the GrantStation website. Learn how to use the many tools and resources on GrantStation to help you identify the right grantmaker for any program or project, write compelling letters of inquiry and powerful grant proposals.This interactive session will use projects from participants to do a few researches to demonstrate how the GrantStation website can assist you in your grant seeking efforts. There will be lots of time for questions.

Register for the webinar...

CMS Education Series for Providers on the Medicare and Medicaid Electronic Health Record (EHR) Incentive Programs
The Centers for Medicare & Medicaid Services (CMS) invites you to join us for a series of national provider calls addressing the specifics of the Medicare and Medicaid EHR incentive programs for hospitals and individual practitioners. Learn the specifics on what you need to participate in the these incentive programs –

who is eligible,
how much are the incentives and how are they calculated,
what you need to do to get started,
when the program begins and other major milestones regarding participation and payment,
how to report on Meaningful Use measures
where to find helpful resources and more.

EHR Incentive Programs for Eligible Professionals: A session just for individual practitioners on the specifics about the Medicare & Medicaid EHR incentive program
Tuesday, August 10, 2010 @ 2:00-3:30 pm EST

EHR Incentive Programs for Hospitals: A session just for hospitals on the specifics about the Medicare & Medicaid EHR incentive program
Wednesday, August 11, 2010 @ 2:00-3:30 pm EST

EHR Questions and Answers for Hospitals and Individual Practitioners:
Have questions? Join this session to have an opportunity to ask a question and hear answers by our panel of experts on the Medicare and Medicaid EHR incentive programs.
Thursday, August 12, 2010 @ 2:00-3:30 pm EST

Visit the CMW Website to Register

Health Reform
Implementing Health Reform: A Patient Bill Of Rights
by Timothy Jost (HealthAffairs Blog - June 23, 2010)
On June 22, the Departments of Health and Human Services, Labor, and Treasury released interim final regulations implementing five of the insurance enrollee protections of the Patient Protection and Affordable Care Act:

the prohibition against preexisting condition exclusions,
the prohibition against lifetime health insurance coverage limits,
the restriction of annual coverage limits,
the limitation on rescissions, and
the provisions guaranteeing direct access to certain types of providers and access to out-of-network emergency care.

In announcing these regulations at a White House ceremony, marking the three-month anniversary of the Act's signing, President Obama stated

"Today, I'm announcing . . .  new regulations under the Affordable Care Act that will put an end to some of the worst practices in the insurance industry, and put in place the strongest consumer protections in our history — finally, what amounts to a true Patient's Bill of Rights."

In fact, these regulations, in combination with other provisions of the Affordable Care Act, do finally implement many of the protections of the McCain-Edwards-Kennedy bipartisan Senate patient bill of rights legislation (and of its House equivalent), which was debated contentiously through the summer of 2001 and nearly adopted before the events of that September changed the nation's agenda. 

Continue reading...
Download the Patient's Bill of Rights (pdf)

Small number of doctors face unique challenges in rural America
Health reform isn't likely to help them either (from the Evansville Courier & Press on July 17, 2010)
ROCKPORT, Ind. — Having grown up in a small town, Dr. Lloyd "Pat" McGinnis was happy to open a private medical practice in Rockport 10 years ago when he retired from the military after nearly 30 years as an Air Force physician.

As one of only five doctors in Spencer County, a rural area of Southwestern Indiana with about 20,000 people, his caseload quickly grew to 3,000 patients.

McGinnis, a family medicine and geriatrics specialist, was excited about being able to continue to practice medicine — unlike some of his colleagues who grew tired of seeing patients toward the end of their military careers.

What he wasn't prepared for were the extra time and hassles that came with treating patients who had little or no health insurance to cover the cost.

Doctors throughout the country are struggling with the same issues of providing quality care to patients with limited incomes in an environment of uncertainly as major provisions of the Patient Protection and Affordable Care Act are phased in over the next five years.

Continue reading...

Health Reform Overview
from The New York Times (updated July 1, 2010)

After decades of failed attempts by a string of Democratic presidents and a year of bitter partisan combat,  President Obama signed legislation on March 23, 2010, to overhaul the nation's health care system and guarantee access to medical insurance for tens of millions of Americans.

Two days later the House and Senate completed passage of a set of fixes to the bills, compromises worked out as part of the complicated legislative maneuvering that allowed Democrats to achieve their long-sought goal despite having lost their filibuster-proof 60-vote "supermajority'' in the Senate in January.

The pivotal moment in the long legislative battle came in a dramatic Sunday evening vote, when the House on March 21 approved, 219 to 212, the health care bill that the Senate had passed in December. Republicans, who voted unanimously against the bill in both houses, vowed to make it a central issue in the fall Congressional campaigns and 21 states filed suit, challenging the requirement that most Americans obtain insurance.

The landmark bill signed by Mr. Obama will provide coverage to an estimated 30 million people who currently lack it. Its passage assures Mr. Obama a place in history as the American president who succeeded at revamping the nation's health care system where others, notably Harry Truman and Bill Clinton, tried mightily and failed.

The measure will require most Americans to have health insurance coverage; would add 16 million people to the Medicaid rolls; and would subsidize private coverage for low- and middle-income people. It will regulate private insurers more closely, banning practices such as denial of care for pre-existing conditions. The law will cost the government about $938 billion over 10 years, according to the nonpartisan Congressional Budget Office, which has also estimated that it will reduce the federal deficit by $138 billion over a decade.

Continue reading...

Monthly News Recap
Administration Announces Regulations Requiring New Health Insurance Plans to Provide Free Preventive Care
(July 14, 2010 - HHS Press Office) The Departments of Health and Human Services (HHS), Labor, and the Treasury issued new regulations today, requiring new private health plans to cover evidence-based preventive services and eliminate cost sharing requirements for such services.  The new rules will help Americans gain easier access to services such as blood pressure, diabetes, and cholesterol tests; many cancer screenings; routine vaccinations; pre-natal care; and regular wellness visits for infants and children.

"Today, too many Americans do not get the high-quality preventive care they need to stay healthy, avoid or delay the onset of disease, lead productive lives, and reduce health care costs," said HHS Secretary Sebelius.  "From the Recovery Act to the First Lady's Let's Move Campaign to the Affordable Care Act, the Administration is laying the foundation to help transform the health care system from a system that focuses on treating the sick to a system that focuses on keeping every American healthy."

Chronic diseases, such as heart disease, cancer, and diabetes, are responsible for 7 of 10 deaths among Americans each year and account for 75 percent of the nation's health spending – and often are preventable.  Nationally, Americans use preventive services at about half the recommended rate.  An estimated 11 million children and 59 million adults have private insurance that does not adequately cover immunization, for instance.  Cost sharing, including deductibles, coinsurance, or copayments, has been found to reduce the likelihood that preventive services will be used. 

"Getting access to early care and screenings will go a long way in preventing chronic illnesses like diabetes, heart disease, and high-blood pressure," said First Lady Michelle Obama.  "And good preventative care will also help tackle an issue that is particularly important to me as First Lady and as a mother – and that is the epidemic of childhood obesity in America today.  These are important tools, and now it's up to us to use them."

"One of the best ways to improve the quality of your life – and control health care costs – is to prevent illness in the first place," said Dr. Jill Biden. "Focusing on prevention and early treatment makes more sense than trying to play catch-up with a potentially deadly disease. Quite simply, these preventative services will save lives."

Under the regulations issued today, new health plans beginning on or after September 23, 2010, must cover preventive services that have strong scientific evidence of their health benefits, and these plans may no longer charge a patient a copayment, coinsurance or deductible for these services when they are delivered by a network provider.  Specifically, these recommendations include:

Continue reading...

NRHA Added to HPSA/MUP Committee
July 22, 2010 - HHS Secretary Kathleen Sebelius has announced a revised membership list for the Health Resources and Services Administration's (HRSA) Health Professional Shortage Area (HPSA) and Medically Underserved Areas/Populations (MUA/P) negotiated rulemaking committee. 

The new list, which has increased from 24 to 28 members, includes National Rural Health Association CEO Alan Morgan as a participant.  Previously excluded from the committee, the NRHA fought to fix this obvious oversight by HRSA.  This effort's success was due in large part to the help of the numerous NRHA members and friends who offered to call and write Dr. Wakefield and their Congressional representatives to ensure broad rural representation on the committee.  For this, we are extremely grateful.  Additionally, the NRHA greatly appreciates Dr. Wakefield and HRSA for their willingness to reassess the committee makeup and their continued commitment to improving health care in rural America.   

So while the NRHA will now have a seat at the table, we still have much to do to ensure any new HPSA and MUA/P guidelines take the unique needs of rural American patients and providers into account.  This committee's final product will have a huge impact on many rural patients and providers.   Please watch for updates as the committee begins its deliberations. 

View the release (RAC website)
View the new committee membership list


Final Rules on 'Meaningful Use,' EHR Standards Released
Secretary Sebelius Announces Final Rules To Support 'Meaningful Use' of Electronic Health Records

Date: July 13, 2010

WASHINGTON – U.S. Department of Health and Human Services Secretary Kathleen Sebelius today announced final rules to help improve Americans' health, increase safety and reduce health care costs through expanded use of electronic health records (EHR).

"For years, health policy leaders on both sides of the aisle have urged adoption of electronic health records throughout our health care system to improve quality of care and ultimately lower costs," Secretary Sebelius said.  "Today, with the leadership of the President and the Congress, we are making that goal a reality."

Under the Health Information Technology for Economic and Clinical Health (HITECH) Act of 2009, eligible health care professionals and hospitals can qualify for Medicare and Medicaid incentive payments when they adopt certified EHR technology and use it to achieve specified objectives.  One of the two regulations announced today defines the "meaningful use" objectives that providers must meet to qualify for the bonus payments, and the other regulation identifies the technical capabilities required for certified EHR technology. 

Announcement of today's regulations marks the completion of multiple steps laying the groundwork for the incentive payments program.  With "meaningful use" definitions in place, EHR system vendors can ensure that their systems deliver the required capabilities, providers can be assured that the system they acquire will support achievement of "meaningful use" objectives, and a concentrated five-year national initiative to adopt and use electronic records in health care can begin.

Continue reading...

Related Articles
Final Rules on 'Meaningful Use,' EHR Standards Released (iHealthBeat - July 13, 2010)
CMS abandons absolutes, adds flexibility to meaningful use (Government Health IT - July 13, 2010)
Stakeholders still assessing final meaningful use rule (HealthcareIT News - July 14, 2010)

Key Points for Rural about HIT Meaningful Use
from the National Rural Health Resource Center
Dear Rural HIT Colleagues,

The American Recovery and Reinvestment Act of 2009 (Recovery Act) authorizes the Centers for Medicare & Medicaid Services (CMS) to provide reimbursement incentives for eligible professionals and hospitals who are successful in becoming "meaningful users" of certified electronic health record (EHR) technology. The Medicare EHR incentive program will provide incentive payments to eligible professionals (EPs), eligible hospitals, and critical access hospitals (CAHs) that are meaningful users of certified EHR technology.

Incentive payments will be made to EPs and hospitals for efforts to adopt, implement, or upgrade certified EHR technology for meaningful use in the first year of their participation in the program and for demonstrating meaningful use during each of five subsequent years. Requirements for meaningful use incentive payments will be implemented over a multi-year period, phasing in additional requirements that will raise the bar for performance on IT and quality objectives in later years. These incentive payments begin in 2011 and gradually decrease. Starting in 2015, providers are expected to have adopted and be actively utilizing a certified EHR in compliance with the "meaningful use" definition or they will be subject to financial penalties under Medicare.

The rule also includes the formula for the calculation of the incentive payment amounts; a schedule for payment adjustments under Medicare for covered professional services and inpatient hospital services provided by EPs, eligible hospitals and CAHs that fail to demonstrate meaningful use of certified EHR technology by 2015; and other program participation requirements. The focus on meaningful use is a recognition that better health care does not come solely from the adoption of technology itself but through the exchange and use of health information to best inform clinical decisions at the point of care.

Below are key points on how the final rule will impact critical access hospitals (CAHs). This criterion applies to Stage 1 of meaningful use. It is anticipated that there will be at least three stages of meaningful use.

There are a reduced number of required meaningful use objectives: The proposed rule for meaningful use had an all or nothing standard with providers needing to meet 23 required hospital objectives and 25 required meaningful use objectives for eligible professionals (EPs) to attain HIT Medicare and Medicaid incentive payments. The final rule has only 14 required objectives for hospitals and 15 required objects for EPs. An additional five objectives need to be chosen from a set of ten menu requirements. Generally, the most challenging objectives are on the menu list rather than the required list.
While Computerized Physician Order Entry (CPOE) remains a required objective, it has been modified to include pharmacist or RN medication order entry: The proposed rule only counted orders entered directly by ordering physicians toward a required 10% CPOE utilization metric to meet the definition of meaningful use. The final rule has raised the utilization requirement to 30%, but orders no longer need to be entered directly by the ordering physician. Any "licensed health care professional" such as pharmacists, registered nurses, nurse practitioners and physician's assistant may enter CPOE orders on behalf of the physicians. This means that these licensed health care professionals (who in most hospitals currently enter handwritten physician orders) can be utilized to meet the CPOE requirement, which postpones CPOE physician adoption challenges into later meaningful use stages.
CAHs are now eligible for the Medicaid incentive: The proposed rule excluded CAHs from participating in the Medicaid program. CAHs that meet the 10% Medicaid utilization threshold are entitled to the full "acute care hospital" amount of the Medicaid formula, just like prospective payment system (PPS) hospitals. CAHs can receive both Medicare and Medicaid incentives but EPs will still need to choose between Medicare and Medicaid incentives.

More information on the incentive program:


The required quality metrics that have been reduced to 15 are endorsed by the National Quality Forum (NQF) and tested for electronic use. Please note that this is different from the NPRM and that the quality metrics reporting is different than the required meaningful use objectives in the first bullet point.
The CAH eligible expense incentive, while not clearly defined, remains broad: by defining a CAH eligible expense as "depreciable costs necessary for the administration of certified EHRs," CMS may have effectively signaled that it intends to provide incentive funding for a large portion of costs necessary for CAHs to implement comprehensive EHR environments, including network infrastructure, security systems, PACS, and other EHR-related depreciable costs.

States are encouraged to build a relationship with the local HIT Regional Extension Center and to be a voice for rural. For a list of HIT Regional Extension Centers and contact information, visit this web site.


• National Rural Health Resource Center's Overview of the CMS EHR Incentive ProgramCMS EHR Incentive Program Fact Sheet
• CMS/ONC fact sheet on the rules
• Technical fact sheet on ONC's standards and certification criteria final rule
• If you have questions in regards to any of this information, please contact TASC at anytime at tasc@ruralcenter.org or at 218-727-9390

EHR developed for long-term care holds promise

COLUMBIA, MO – Researchers from the University of Missouri are developing an electronic health record system aimed at meeting the needs of a population of older adults that's expected to almost double in the next 20 years.

According to the U.S. Administration on Aging, there will be about 72 million older adults living in the U.S. who will require care from a workforce that is already projected to be lacking.

Researchers from MU are currently working on a solution they say may help alleviate some of the burden. They're developing an EHR system that encompasses standard health assessments and those obtained through new technologies. The goal, they say, is to increase efficiency and accuracy, improve patient outcomes and reduce costs for long-term care.

Continue reading... (HelthcareIT News - July 9, 2010)

Rural America's Fiscal Challenge

Declines in state and local tax revenues will have a greater impact in rural America than in the cities. Two Federal Reserve economists suggest how small towns and counties should respond to the coming fiscal crisis.

Fiscal challenges at state and local governments are a potential threat to the economic recovery in rural America.

Rural communities depend heavily on intergovernmental transfers from the states to provide local services. Many people in rural communities rely on the state or local government for their jobs and on Medicaid as a part of their income.

Thus, rural economies are highly susceptible to state budget shortfalls. As state governments cut spending in response to looming budget deficits in coming years, rural America's fiscal problems may also deepen.

Although strong rural real estate markets continue to support property tax revenues, rural governments must still find ways to offset the declines in state and federal intergovernmental transfers.

Rural governments are responding by raising taxes, limiting services, cutting jobs, and improving  efficiency. While many of these solutions can be painful, the challenge has a bright side for rural America―an opportunity to foster a new round of innovation in service delivery through consolidation, cooperation, and privatization of services.

Continue reading... (Daily Yonder on July 6, 2010)

Important New Data Added to Healthcare.gov to Help Americans Understand the State of Quality at America's Hospitals
Due: July 7, 2010


Important new information about the quality of care available in America's outpatient and emergency departments, including how well hospitals care for patients with heart attacks and protect outpatients from surgical infections was added to the new HHS website HealthCare.gov. The information can be found as part of the Compare Care Quality link on the front page of the new site, http://www.healthcare.gov/compare/index.html.  It can also be found on the Centers for Medicare & Medicaid Services' (CMS) Hospital Compare website.

"The more information consumers and patients have, the better the options and choices are for them when it comes to their health care. HealthCare.gov is designed to put the power of information at the fingertips of Americans and our quality compare tools are a critical part of this new website," said HHS Secretary Kathleen Sebelius.  "This new update to CMS' Hospital Compare feature will help patients and their families better compare quality at America's hospitals. And thanks to this new update this year,  for the first time, Medicare patients can see how efficiently facilities use certain types of imaging equipment and keep them safe from exposure to potentially harmful radiation that may not be necessary."

"By reporting data on services provided in hospital settings like imaging on Hospital Compare, we can highlight the importance of this issue for patients and their families," said Acting CMS Administrator Marilyn Tavenner.  "For some time, Medicare beneficiaries have had access to reasonable and necessary imaging technologies, which have revolutionized how well doctors and patients diagnose and treat a host of diseases.  But by adding information to the website today, we can help patients and their families to understand the risks associated with these technologies and talk with their doctors about which hospitals are most likely to help patients reduce those risks."

Continue reading...
Contact: HHS Press Office at (202) 690-6343


The Office of the National Coordinator for Health Information Technology (ONC) has posted a Consumer e-Health position announcement (Policy Analyst) on USAJobs.gov. The incumbent reports to the Director, Division of Stakeholder Engagement and State Policy within the Office of Policy and Planning, with responsibility for developing and managing ONC's national consumer e- program.

3 Funding Opportunities: Grants administered by the National Institutes of Health

Title: ACCESSIBLE AND AFFORDABLE HEARING HEALTH CARE

Description: This grant is intended to support research and/or infrastructure needs leading to accessible and affordable hearing health care. This funding opportunity seeks milestone-driven research applications exploring new or innovative adaptations of approaches designed to increase access and affordability of hearing health care. Applications should be focused on delivering better healthcare access and outcomes and should seek solutions that are effective, affordable and deliverable to those who need them.

LINK TO FULL ANNOUNCEMENT
Last Day to Apply: October 8, 2010
Number of Grants Available: 2

Title: Community-Based Partnerships for Childhood Obesity Prevention and Control

Description: The purpose of this funding opportunity is to enhance childhood obesity research by fostering the formation of local, state, or regional teams consisting of researchers, policymakers, and other relevant stakeholders (e.g., community representatives, public health practitioners or officials, educators) in order to identify research questions and hypotheses, design and implement the relevant research, and translate the research into evidence relevant to potential policy efforts in this area.

LINK TO FULL ANNOUNCEMENT
Last Day to Apply: May 7, 2012


Title: UNDERSTANDING AND PROMOTING HEALTH LITERACY

Description: The ultimate goal of this program announcement is to encourage empirical research on health literacy concepts, theory, and interventions as these relate to the U.S. Department of Health and Human Services public health priorities that are outlined in its Healthy People initiative. Health literacy is defined as the degree to which individuals have the capacity to obtain, process, and understand basic health information and services needed to make appropriate health decisions.

LINK TO FULL ANNOUNCEMENT
Last Day to Apply: May 7, 2013