NCHN e-News | Issue 18 | December 21, 2010


NCHN thanks its Business Partners for their invaluable support of the Association. Please take a moment to visit the Business Partners and see what they can do for your network.
NCHN News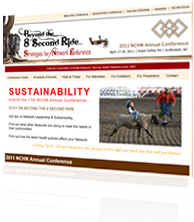 2011 Annual Conference Site Unveiled
It may not seem like it now - in the hustle and bustle of the Holidays - but the 17th Annual NCHN Conference is quickly approaching. The Conference Planning Committee has worked diligently planning the theme, seeking out hot topics for health networks, and outlining activities.

We hope you didn't like that old conference layout we've used in the past. It's gone! The conferences seem to grow each year, both the attendance and the breadth of material, and each year we find ourselves wanting to share more information with you to ensure that you are best prepared to soak up every bit of knowledge and fun. The new layout will allow us to share more information and also, hopefully, give you a more intuitive browsing experience.

Please check out the new site! The schedule has been updated, the registration form is up, exhibitor information is posted, and you can take care of your hotel reservations early so that you are sure to get the conference rate!

One thing you may be interested in (albeit discreetly) is the "Area Attractions" page. It looks like there is a lot of fun to be had in Scottsdale. And, not to begrudge the cold, snowy weather (especially given that 'tis the season to be jolly about it), some sunshine is sounding awfully nice! We hope you will decide to join us in April!

Schedule of Events
Awards
Information for Attendees
Information for Exhibitors, Sponsors, and Advertisers
Information for Presenters

Associate Membership Category Now Available
The Board of Directors has approved a new membership category in an effort to expand meaningful networking and collaborative relationships with both individuals and organizations that support NCHN's work with health networks.

The Associate Member category is designed for any individual or organization that supports NCHN's mission ("to support and strengthen health networks through collaboration, networking, leadership development, and education"). Examples of eligible applicants include the following:

Former Network Leaders of NCHN member organization;
Former staff member of NCHN member organization;
Area health education centers;
State rural health associations;
State offices of rural health;
Similar not-for-profit national healthcare organizations;
Individuals representing any not-for-profit local, state or national organization that supports NCHN's mission.

The benefits of associate membership are similar to those of network membership (i.e., full access to NCHN webinars, calls, and Business Partner rates; networking opportunities, etc.).

We are excited about this new membership category and anticipate that it will further networking goals by increasing collaboration among stakeholders from different health domains and backgrounds.

Get more information about the Associate Membership Program...
Apply to become an Associate Member...

It is hard to believe that we are fast approaching the end of 2010 and it is time to begin collecting membership dues for 2011! You can download the Dues Assessment form here (doc). This year the form is designed so that you can type your information directly into the form, save and then print and fax to me at 270-580-4741, no cover sheet needed, or save and return as an email attachment. Please return by Friday, January 7, 2011.

It has been an exciting year for NCHN. The Board of Directors and Officers have worked very hard to provide programming to meet the needs of our diverse membership. We have attached a power point presentation that was shared with the membership on the December Quarterly Membership Call that outlines some of our accomplishments for 2010.

This year NCHN has provided the following programs and activities:

2010 Annual Conference in San Antonio, TX – Highest Attendance ever – 147 registrants!
2010 Regional Meeting for the third year! – Chicago had 23 participants
The NCHN Executive Coaching Program expanded training opportunities for Coaches --- Eleven (11) members are participating in the special training program, led by former NCHN VP President, Dr. Mary Kay Chess
NCHN Quarterly Membership Calls --- Four regularly scheduled calls were held, along with six special interest calls throughout the year. Topics have included Affordable Care Act, HIT, 340b Drug Discount Program, Business Models of Sustainability for Health Networks, GrantStation Training, and open discussion on Challenges Facing Health Networks in 2011.
Through today, fifty-one (51) questions have been posted to the NCHN List Serve.
Two (2) new Business Partners have been added to the NCHN Business Partner Program. New partners in 2010 are FIVE Career Advisors, Forsyth-Stephens Consulting, LLC. Negotiations are almost finalized for a third new partner that will be announced at the beginning of 2011.
Our continuing Business Partners include - CareerStaff Unlimited; Fukuda Denshi; Healthcare Management; Hylant Group; MedAssets; Medical Recovery Services; Paradigm Learning; PMI; and ThermoFisher Scientific; If you have not accessed the programs or services available through the Business Partner program, we would encourage you to do so during 2011! You should have already received your Partners Booklet for 2011.
The Salary Survey for Network Directors was completed and results distributed to the forty-two (42) members that participated in the survey.
The NCHN committees have been active and meeting on a monthly basis throughout the year.
A total of thirty-two 32 NCHN Success Stories have been posted on the Rural Assistance Center website and can be accessed here.
We currently have 62 network members, which is an increase of five (5) from 2009.
The NCHN Weekly Update was implemented; electronic distribution of eNews increased from 120 to 187 unduplicated recipients: NCHN joined Facebook; and the NCHN on-line forum was implemented.
NCHN partnered with the National Rural Health Association (NRHA) on their Policy Institute in January 2010 and will be a partner again in 2011. The Policy Institute will be January 24-26, 2011.
The Board of Directors was expanded from 9 Directors to 13 Directors at the 2010 Annual Membership Meeting.
The NCHN staff increased to two (2) full-time employees, one (1) part-time employee and the continued contractual services through Synernet that has been in place since the inception of NCHN.

During 2011, NCHN will:

Conduct its 17th Annual Conference in Scottsdale, AZ – "Beyond the 8 Second Ride – Strategies for Network Endurance" on April 17-20, 2011.
The new NCHN Leadership Summit will be implemented and will replace the Regional Meeting concept.
The Executive Coaching Program will continue and coaching strategies will be offered to all NCHN members through special webinars;
Success stories will be collected and shared with Rural Assistance Center;
The new Associate Member Program will be implemented.
Committees comprised of members will continue to meet and plan the work of the Association; and
The Business Partner Program will continue to expand.

The Board of Directors and NCHN staff members hope that you have realized the full benefit of your membership in 2010 and look forward to working with you to expand member benefits and program offerings in 2011! NCHN dues will remain the same as they have been for the past seven years!

Please complete and return the attached 2011 Dues Assessment form by Friday, January 7, 2011, so that invoices can be distributed via email ASAP. Your electronic invoice will be from NCHN@drane-cpas.com

If you have any questions, please let me know. We look forward to working with you in 2011!

Rebecca J. Davis, Ph.D.
Executive Director
NCHN (National Cooperative of Health Networks Association)
400 S. Main Street
Hardinsburg, KY 40143
Phone: 270-925-5611
Fax: 270-580-4741
Email: rdavis@nchn.org
Website: www.nchn.org

Happy Holidays to all of our Business Partners
The NCHN Business Partners bring added value to NCHN Members, offering discounted rates on services that many of our Members need. Please check out our business partners in the 2011 Business Partners Booklet (pdf). They may be able to help you save on services you already have or plan to use.

Gold Level Partners

Fukuda Denshi
Medical Recovery Services
Performance Management Institute
Thermo Scientific

Silver Level Partners

CareerStaff Unlimited
FIVE Career Advisors
Forsyth-Stephens Consulting, LLC
Hylant
MedAssets
Paradigm Learning

Member Partners

Strategic Partners

GrantStation
Safety Net Hospitals for Pharmaceutical Access

For more information, download the 2011 Business Partners Booklet (pdf)
NCHN Member News
We love to share news about our members and partners. Has your network appeared in the local news lately? Have you released a monthly or quarterly newsletter? An annual report? Have you welcomed a new staff member or posted a job opening? Did you recently receive a grant to sustain or expand your programs?

Please share your news with other NCHN members!

Email a link to a story about your network, your newsletter, your network's annual report, etc. and we will post it in the next issue of the NCHN e-News or Weekly.




This week's brain teaser comes to you from Braingle.com.

Can you decipher these common Christmas Carols?

1. Happiness to the Global Ecosystem
2. Small male percussionist
3. I am experiencing nocturnal visions of a colorless holiday
4. Festoon the Corridors
5. A Non-summer fairytale area
6. Oh holiday conifer
7. Ten plus two twenty-four hour periods of holiday festivity
8. Hey tiny city in Israel
9. In a remote location in a barn stall

Featured Network: We need your information
We would like to continue featuring our members, but we need to hear from you to do so.

Please complete this form and watch for your network in future issues…

About the NCHN Featured Network
One of the greatest values NCHN can bring to its members is information about what networks throughout the country are doing to meet the needs of their communities. To share information about your network, you can submit your paper to csullenberger@nchn.org using the following template: NCHN Sharing Form (doc). One network will be featured every week. We look forward to sharing more networks as they come in.

View all network sharing forms...

Upcoming Events
NCHN Orientation Sessions*
Thursday, January 6, 2011 at 3:00 PM ET
Tuesday, January 11 at 12:30 PM ET

*Pre-registration is required: To register for one of these sessions, email dcomeau@synernet.net

Peer-to-Peer Sharing Session (for HRSA Network Planning Grantees):
January 19, 2011 at 1:30 PM EST

Note: The NCHN offices will be closed from December 23 - January 2nd and will reopen Monday morning, January 3rd.

View the NCHN Calendar...

NRHA Rural Health Policy Institute
Date: January 24 - 26, 2011

Location: Washington DC

The Patient Protection and Affordable Care Act, the most significant piece of legislation in decades, now signed into law, will dramatically change the delivery of health care in rural America. Learn how you and your facility will be impacted by the first stages of the new law, how you can take charge and ensure the health care reform works for rural patients and providers.

Register by December 27th to get the early registration rate.


Get more information and register...

When: April 17 - 20, 2011
Where: Scottsdale, Arizona

Please join us in Scottsdale, AZ, April 17-20, 2011 for the annual gathering of NCHN members.  This year's Conference Planning Committee has been working extra hard to plan a conference that promises to make an impact!  With two pre-conference workshop offerings, along with two and half days of educational sessions, all aimed at improving your skills as a network leader, there is something for everyone.  Members of the Conference Planning Committee have strived to provide all conference participants with take home tools that will assist you in boosting the success of your network. 

Register online...

Physicians, Nurses and Allied Health Professionals Open Door Forum
The next Physician, Nurses and Allied Health Professionals Open Door Forum is scheduled for Tuesday, January 11, 2011 from 2pm-3pmET.If you wish to participate dial 1-800-837-1935 Conference ID 29105520. This call will be Conference Call Only.

The Physicians, Nurses, and Allied Health Professionals Open Door Forum addresses the concerns and issues of Medicare and Medicaid physicians, non-physician practitioners, nurses, and other allied health care specialists. This diverse group of providers serves Medicare and Medicaid beneficiaries in almost all service settings, ranging from independent physician offices to specialized departments within larger facilities. The types of issues that come up during this forum are as varied as the providers who participate, but some frequent topics include the Physician Fee Schedule, Stark regulations, care plan oversight, payment and documentation rules, Provider Enrollment Chain Ownership System (PECOS), as well as the roles and responsibilities of different allied health professional staff under CMS regulations. Timely announcements and clarifications regarding important rulemaking, quality program initiatives, and other related areas are also included in the forums.

Get more information...

Health Reform
Quality Measures Workgroup Request for Comment
Deadline to submit comments: December 23, 2010

The request for comment period for the Quality Measures Workgroup's list of prioritized measure concepts will end on December 23rd. Please submit your comments via this online tool: https://www.altarum.net/survey/qmrfc.aspx. Your comments will inform the HIT Policy Committee's work in making recommendations for Stage 2 and 3 clinical quality measures.

Please see the Quality Measures Workgroup Request for Comment posted on the Office of the National Coordinator for Health Information Technology's FACA blog for more details.

ONC has $16 million in grants available for states' 'breakthrough' HIEs

The Office of the National Coordinator for Health Information Technology (ONC) is offering nearly $16 million to 10 states that can develop health information exchange (HIE) "breakthroughs" promoting the sharing of patient records in five currently difficult arenas. The Health Information Exchange Challenge Program will award $1 million to $2 million to each state with HIE programs that improve long-term and post-acute care transitions through HIE; give patients access to their own health information; develop tools and approaches to search for and share granular patient data; and foster strategies for population-level analysis. The new grants will be available only to states that received HIE funding from ONC under the 2009 federal economic stimulus package. The deadline to apply for the grants is Jan. 5, 2011.

Continue reading...

More than half of physicians now use EHRs to handle patient medical records

Slightly more than half of all physicians now use electronic health records (EHRs) to manage patient files, according to a report from the Centers for Disease Control and Prevention's National Center for Health Statistics. The report indicates that 50.7 percent of U.S. physicians use all or partial electronic medical records for patient files in their practices, up from 48.3 percent in 2009. Nearly 1 in 4 (24.9 percent) reported having EHR systems that are effectively "basic," while 1 in 10 (10.1 percent) use fully functional models. That's up from 21.8 percent and 6.9 percent in 2009, respectively. Usage totals in individual states varied. The percentage of physicians using all or partial EHR systems ranged from 38.1 percent to 80.2 percent, while the percentage of physicians having systems that met the criteria of a basic system by state ranged from 12.5 percent to 51.5 percent, according to the report.

Continue reading...

CMS Delays Burdensome Clinical Diagnostic Laboratory Test Requirement

(Email sent by NRHA on Dec. 21, 2010)

CMS has announced that it will delay for 90 days the implementation of a requirement, made as part of its most recent Physician Fee Schedule final rule, that a physician's or qualified nonphysician practitioner's (NPP) signature must be included on requisitions for clinical diagnostic laboratory tests paid under the clinical laboratory fee schedule effective January 1, 2011. CMS, on its website, states:

"Although many physicians, NPPs, and clinical diagnostic laboratories may be aware of, and are able to comply with, this policy, CMS is concerned that some physicians, NPPs, and clinical diagnostic laboratories are not aware of, or do not understand, this policy. As such, CMS will focus in the first calendar quarter of 2011 on developing educational and outreach materials to educate those affected by this policy. As they become available, we will post this information on our website and use the other channels we have to communicate with providers to ensure this information is widely distributed. Once our first quarter of 2011 educational campaign is fully underway, CMS will expect requisitions to be signed."

The decision to delay this proposal is welcomed by the NRHA and other like-minded organizations, as its requirements could prove very burdensome for rural providers. Despite its support for this temporary delay, however, the NRHA will continue to urge CMS to rescind this reduntant requirement.

Monthly News Recap
Season's Greetings from the National Rural Health Resource Center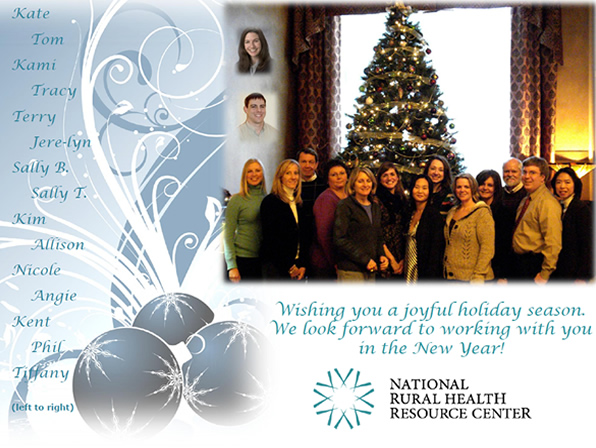 Season's Greetings from the Rural Assistance Center

We enjoyed serving and partnering with you in 2010. As you look for topical information, search for funding opportunities, and keep up with news and policy items affecting rural America in the coming year, please keep us in mind. As always, all of our services are free, including customized assistance from our information specialists.

Thank you for all that you do to improve health care and human services for rural residents. Best wishes for a safe and happy holiday season.

More from the Rural Assistance Center:

View the December 20th issue of the Rural Assistance Center Health Update
View NCHN Success Stories posted on the RAC website
(If you have problems accessing these, click on "Browse by Source" and then select "National Cooperative of Health Networks)

Season's Greetings from the Partnership Center
(Email sent by Alexia Kelley, Director, Center for Faith-Based & Neighborhood Partnerships, Dec. 22, 2010)

Season's Greetings from the HHS Partnership Center! We hope you and your community members have a safe, healthy and happy holiday season.

HHS has developed a monthly bulletin that details new and exciting health reform benefits made possible by the Affordable Care Act. We will highlight these resources in future editions of the Partnership Center newsletter. We feature key points from the December bulletin below.

We encourage you to sign up on www.HealthCare.gov or www.CuidadoDeSalud.gov, the partner site in Spanish, if you want to receive email updates directly from the HHS health reform office. In the meantime, stay updated on health care news so you can share important health reform news with your community members.

Finally, just in time for the peak of the Flu Season, the HHS Partnership Center has translated our Seasonal Flu Guide for Community and Faith-based Leaders into Spanish. Find the English guide here and Spanish guide here.

We have really enjoyed sharing this year with you. Thank you for your partnership on so many fronts this past year, from Haiti to flu prevention to Let's Move and beyond. We wish you and your community a peaceful and healthy holiday season, filled with dear family, friends and neighbors.

ONC Grants Management Resources
To assist recipients of grants and cooperative agreements, a variety of business grants management resources are now available on the Office of the National Coordinator for Health Information Technology (ONC) website. These new resources will help grantees understand HHS, ONC, and other Federal business grants management policies and issues.

Visit the ONC website to read the Grants Policy Statement, view Program Information Notices, and more.

New Affordable Care Act rules shed light on high health insurance rate hikes
New proposed Affordable Care Act regulations announced today by the U.S. Department of Health and Human Services (HHS) will bring new transparency and scrutiny to proposed health insurance rate increases.  These proposed rules allow HHS to work with states to require insurers to publicly disclose and justify unreasonable rate increases.

"Year after year, insurance company profits soar, while Americans pay more for less health care coverage," said Secretary Sebelius. "The Affordable Care Act is bringing unprecedented transparency and oversight to insurance premiums to help reign in the kind of excessive and unreasonable rate increases that have made insurance unaffordable for so many families."

Health insurance premiums have risen rapidly over the past decade, straining pocketbooks for American families and businesses.  Since 1999, average premiums for family coverage have risen 131 percent.

Continue reading... (Source: HHS News Release, December 21, 2010)

More on this: Health and Human Services Secretary Kathleen Sebelius takes to the White House White Board to explain a new regulation that fleshes out the "rate review" provision from the Affordable Care Act to protect consumers from unreasonable rate increases.
Watch the video...

HHS issues new strategic framework on multiple chronic conditions
The U.S. Department of Health and Human Services today issued its new Strategic Framework on Multiple Chronic Conditions ― an innovative private-public sector collaboration to coordinate responses to a growing challenge.

More than a quarter of all Americans ― and two out of three older Americans ― have multiple chronic conditions, and treatment for these individuals accounts for 66 percent of the country's health care budget. These numbers are expected to rise as the number of older Americans increases.

The health care system is largely designed to treat one disease or condition at a time, but many Americans have more than one ― and often several ― chronic conditions. For example, just 9.3 percent of adults with diabetes have only diabetes, according to the Medical Expenditure Panel Survey from the Agency for Healthcare Research and Quality (AHRQ). And as the number of chronic conditions one has increases, so, too, do the risks of complications, including adverse drug events, unnecessary hospitalizations and confusion caused by conflicting medical advice.

The new strategic framework ― coordinated by HHS and involving input from agencies within the department and multiple private sector stakeholders ― expects to reduce the risks of complications and improve the overall health status of individuals with multiple chronic conditions by  fostering change within the system; providing more information and better tools to help health professionals  ― as well as patients ― learn how to better coordinate and manage care; and by facilitating research to improve oversight and care.

Continue reading... (Source: HHS News Release, December 14, 2010)