Doctor, Can You See Me Now? More Hospitals Are Using Video to Connect Patients With Specialists Far Away, Speeding Treatment
In August, Tim Buirge suffered a stroke, leaving him unable to speak or move the right side of his face. That's when he went on TV.
At the local hospital in McCandless, Pa., where Mr. Buirge sought treatment, the 58-year-old lay in bed as a stroke specialist at the University of Pittsburgh Medical Center, 15 miles away, watched him on a giant TV, courtesy of a video camera in Mr. Buirge's room. The diagnosis was critical, since for most stroke patients, a clot-dissolving drug received shortly after arriving at a hospital can reduce the effects of stroke and limit permanent disabilities. But the risk is that for some patients with a certain type of stroke, such a drug can actually increase bleeding in the brain and boost the chance of death.
After reviewing Mr. Buirge's vital signs and a CT scan, the stroke specialist used the remote camera to check such things as the patient's speech and eye movements and his ability to follow commands. The Pittsburgh-based doctor then recommended that the local hospital administer the drug, called tPA.
To continue reading, go to WSJ.com
*******
New Federal Health Grant Notice: HHS is making $16 million available for 350 grants to fund the training of nurses.
INSIDER'S TIP: Funding preference will go to eligible applications that will substantially benefit rural or underserved populations or those which help meet public health nursing needs in state or local health departments. Special consideration will also go to eligible applicants that agree to expend the award to train advanced education nurses who will practice in Health Professional Shortage Areas.
ELIGIBILITY: Collegiate schools of nursing, academic health centers and other private or public nonprofit entities accredited by a recognized body or bodies or state agency, approved for the purpose of nursing education by the Education Dept.;
PURPOSE: The purpose of the program is to provide funding for traineeships that will pay all or part of the costs of tuition, books and fees for advanced nurse education, and for reasonable living expenses during the period for which the traineeship is provided.
DEADLINES: The application process is divided into two phases, with some application materials due Dec. 7 and others due Dec. 21. Also, for those who have applied before, note that the FY 2010 competition has changed.
For more details on this, including contact information and other new private and federal healthcare funding opportunities, just click on or cut and paste the following link into your Web browser:
http://cdpublications.com/freeresources/freedown.php?ID=125

*******
Covering the Uninsured in Rural Areas: Key Elements of Reform: Paper Identifies Reforms Needed to Ensure Rural Residents Get Health Coverage, Regardless of Geography
Rural residents of the United States have a higher uninsured rate than their urban counterparts, and therefore have the most to gain from efforts to reform the U.S. health care system. According to a new issue brief, the differences in health insurance status between those living in rural and urban areas are important to consider in the debate over national reform.
The brief, released by the Rural Policy Research Institute and funded by the Robert Wood Johnson Foundation, suggests that the challenges that rural people face in obtaining health insurance are partly due to the structure of the rural economy: 64 percent of adults working in rural are employed in jobs where health insurance is provided, compared to 71 percent of their urban counterparts. At the same time, rural workers are far more likely to be self-employed. Rural businesses also pay higher premium costs than urban businesses for similar health insurance plans.
Researchers found that health reform proposals that include (i) a subsidy for individual purchase, (ii) availability of insurance plans to individuals and small groups through exchanges, and (iii) expansion of Medicaid would significantly improve coverage for rural populations. In fact, the total number of uninsured people in rural areas would decrease to 1.9 million from the current 8.1 million – leaving only 4.2 percent of rural Americans without insurance, less than the 5.9 percent projected in urban areas.
*******

The Secret to a High Impact Annual Report

We nonprofits often put a great deal of time and effort into our annual reports, especially compared with how briefly most recipients will look at them.
"The annual report is a comic book," a nonprofit executive once told me. "They look at the pictures and glance at the words." The secret reality is that people do only four things with a nonprofit annual report. They:
Read The Letter (typically from the executive director and the board chair)
Check to see if they're listed (if they are a donor)
Read the captions on photos
Look at the financials to see how big you are and if you had a surplus or a deficit.
You know it's true! Yet (with the exception of The Letter) these are the areas that are often done at the last minute and without real thought.
So this year, rather than slave and anguish over the parts almost no one will read anyway, try a new approach...
First Question

Old: Which of our activities do we want to highlight?
New: What are the 2 - 5 accomplishments people would be surprised to hear that we did?

Picture Selection

Old: What pictures do we have? Who should we put in it (examples: volunteers, board members)?
New: What would be 2 - 4 great captions? What photos can we take or get that would be relevant to those captions?

Distribution

Old: Let's send it to board members, funders, volunteers.
New: Let's send it to everyone who is mentioned in the annual report plus nonprofits that we work with. Plus the moms of everyone on staff.

Budget Allocation

Old: By doing a 4-page annual report that we photocopy double-sided and staple, we show how frugal we are with your money (poverty mentality).
New: By having an 8-page attractive but modest annual report, we look and feel like the kind of organization you feel comfortable giving money to (upbeat, confident mentality).

The Letter

Old: "Polite and warm" is the way to go, but sound official.
New: Get personal. Don't hold back. Share something intimate and meaningful in the letter that can give an insight into your work and/or your year. Tell the reader something that makes him or her feel like an insider.

Staff Photo

Old: Show how friendly we look / how diverse we are / how young we are / how big we are (etc.).
New: Include close-ups of individuals at various levels and at different jobs, with captions that say something about the person and accomplishments. Example: "Marisa takes the blood pressure of a young Nicaraguan immigrant -- Spanish is just one of the 11 languages we have on staff."

Final secrets: Put your annual report up on your website and spread out a hardcopy on the walls of your lobby. Have a 10 minute discussion about it at the board meeting. One way to think about the annual report is as a brochure disguised as an annual report: who should this particular brochure go to, and what responses are we trying to evoke from them?
P.S. The image at the top right of this article is from an annual report of CompassPoint Nonprofit Services: each year their report is a poster on one side and the written report on the other . . . which becomes wall art for many nonprofits for the year.
This article is reprinted with permission from Blue Avocado, an online magazine for nonprofits with practical, thought-provoking, and fun articles. Subscribe free by sending an email to editor@blueavocado.org or by visiting www.blueavocado.org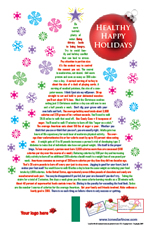 *******
LoneStart Holiday Poster Available!
The Holiday Poster is Here! ...And the holidays are on the way. The LoneStart Wellness annual holiday poster is ready for distribution. If you would like to receive a pdf of the 11 x 17 poster with your logo included, please contact LoneStart. You will need to send your logo in a JPEG format. There's no charge and you can print and distribute as many as you like. It's a great jumpstart to a healthy, holiday season!
--top--