NCHN - GrantStation Partnership Update
NCHN is pleased to announce that several members have taken advantage of the partnership with GrantStation. As of July 1, over 60 NCHN members and their members have signed up for the services. GrantStation is a new resource for NCHN members that will help you identify grant makers - government and private funders - for your programs and projects.
If you have questions about the program or would like to sign up for a subscription, please contact the NCHN office for details and cost.
*******
2009 Regional Meetings
NCHN is pleased to announce that the 2nd Annual Regional Meetings will be held this fall in St. Paul/Minneapolis area and in Albuquerque, New Mexico. The one-day meetings will focus on Health Information Technology with a number of NCHN members reporting on HIT projects they are involved with and/or are planning to implement in the near future.
In addition to the member led workshops, Heman Marshall, III, Principal, with Woods Rogers, PLC in Roanoke, Virginia will be discussing the latest federal legislation affecting HIT projects. He will also assist Regional Meeting participants with general HIPPA compliance issues and other legal issues that may arise as a network undertakes, develops, and implements a HIT project. Also, Cynthia Adams, CEO of GrantStation, will lead an interactive session to help workshop participants identify the best grant makers for HIT programs and projects. Ms. Adams will be joining the meeting via the web, and will use participants' projects to demonstrate the research function of the GrantStation website. She promises this will be a fun, fast paced session. We hope you will be able to attend one of the two meetings and look forward to seeing you this fall. A complete agenda will soon be posted on the NCHN website.
*******
Last Call for Members for 2009 Committees
The 2009 Committees are forming, but there are still some spots left on most committees. Below is a link where you can review the 2009 Committees and sign up to serve on a committee. There is also a description of the work each committee is charged to perform. If you served on a committee in 2008 and would like to remain on the committee, please complete the survey. Also, if you signed up for a committee in Charleston on the sign-up sheet, please confirm your continued interest in that committee by completing the survey. Remember, NCHN is your Association and your leadership and participation is needed at all levels. Committee membership is open to NCHN network members only. Thanks in advance for your support and dedication to NCHN!
http://www.surveymonkey.com/s.aspx?sm=Gn6IxrIV8fzJ3yGpl445zg_3d_3d
--top--

Upcoming Events
Bullet-proofing your Policies & Procedures Training Webinar - Monday July 27 at 12:30 - 2:00 PM ET
Are you concerned that disorganization and/or inattention to HR policies and processes might be leaving your organization vulnerable? No one sets out to create policy risks and personnel litigation. Yet every year a new crop of employee lawsuits are spawned by claims of inattention, inconsistency or unfairness in applying organization policies.
Please join Jay Rush, Manager of Contracts & Legal Affairs with PolicyTech, a Gold Level NCHN Business Partner for a free webinar on July 27, 2009 from 12:30-2:00 PM ET to learn how to avoid the costly loopholes in personnel policy--and potentially save your organization from disaster. This informative seminar helps you learn the basis of good policy and the importance of enforcing it consistently. There are basic rules you must know about workplace grievances and disciplinary issues to limit or avoid litigation.
Grandma was right, you know. An ounce of prevention is worth a pound of cure.
This webinar will cover:
Spotting problem areas in your policies
Recent trends in employee/personnel lawsuits
Strategies to reduce the risk of employee litigation
How to collaborate with attorneys on employment issues
Basic rules to help you handle personnel concerns
Space is limited so register early!
About the speaker:
Jay R. Rush is the Manager of Contracts & Legal Affairs with PolicyTech, a firm that develops leading policy and procedure management software tools. Rush advises executives on policy and procedure, regulation, intellectual property and software licensing. He also writes and facilitates PolicyTech's client seminars on policy creation.

Rush's respected expertise is derived from a diverse professional background. He brings real-world knowledge from his experience as a corporate and government lawyer, labor relations and management consultant, a training facilitator and speaker, a university professor in business and communication, and a corporate manager in contracts and legal compliance.
Please visit the PolicyTech website to learn more about their software.
Space is limited. Register now at https://www1.gotomeeting.com/register/468523953
*******
Quarterly Membership Call – Monday, September 14, 2009
NCHN Quarterly Membership Call will be held on Monday, September 14 at 12:30 PM ET. The tentative topic is grant funding opportunities and the stimulus funds. Watch your email boxes for additional information.
*******
NCHN 2009 Regional Meeting Dates Announced
Mark your calendars and save the dates!
The Regional Meeting Planning Committee is pleased to announce the 2009 Regional Meeting dates:
September 21 – St. Paul/Minneapolis Area
October 5 – Albuquerque, New Mexico --- this is during the Annual Balloon Festival
The focus of the Regional Meetings will be on Health Information Technology. Additional details will be posted on the NCHN website at in http://www.nchn.org/network-conferences.php the near future.
*******
NCHN Board Meeting
The NCHN Board of Directors will be meeting during the ORHP Grantees Partnership Meeting which will be held August 31 – September 2 in Washington, DC. The date, time and location are still to be determined.
--top--
News from NCHN Members
Copper River Regional Community Health Fair: August 1
The Copper River Regional Health Network, located in Alaska, is sponsoring a "Copper River Regional Community Health Fair" on August 1, 2009. The focus will be on health care, prevention and safety. The Health Fair will be a community wide event and is expected to begin at Cross Road Medical Center and extend approximately 1 mile along the Glenn Highway to Glennallen Chiropractic Center.
For information or details please contact Kris Winter, Coordinator, Copper
River Regional Health Network - Telephone: 907-259-2266
*******

WNC Data Link Project – by Dana Gibson, WNC Data Link Director
Western North Carolina Health Network's (WHC Health Network) mission is to improve the quality of health care in their region through collaboration, efficient and cost-effective initiatives. In line with its mission, the WNC Health Network has developed the foundation of a regional health information exchange (HIE) to allow health care providers to securely access and exchange electronic patient clinical data across the region. This project is known as the WNC Data Link project. The project covers all 16 counties of western North Carolina and is fully supported by all 16 hospitals in the region. The hospitals currently fund all operational costs for WNC Data Link. Other funding sources include grants from both the Health Resources Services Administration (HRSA) and The Duke Endowment.
In past years, health care providers entered and stored clinical data electronically to enhance patient care. Unfortunately, their information systems were unable to exchange or aggregate data about the same patient who visited multiple health facilities. While the information at each facility was very valuable, it could not be accessed by other facilities caring for the same patient. WNC Data Link allows authorized physicians and other health care providers to access patient medical information from all 16 hospitals in western North Carolina. Via a secure internet connection, users can view a longitudinal view of patient lab results, medications, discharge summaries, history & physicals, radiology reports and allergies from any patient encounter at a WNC hospital.
The WNC Data Link project aggregates patient data across multiple health care providers, re-formatting the data into a standardized format, and providing the collated data to authorized health care providers via a secure internet connection. The project allows access within seconds to critical patient health records, facilitates the transfer of patients from one facility to another, reduces medical transcription errors, alerts providers to potential allergic reactions, reduces duplicative tests that have already been conducted at another provider, and eliminates the need for patients to constantly provide information to multiple providers. In March 2009, the WNC Data Link was accessed 6,227 times by 383 clinicians within the region.
During Phase I, the WNC Data Link project has achieved great success in sustainability and in linking the 16 independent western NC hospitals. Phase II of the project is in the beginning phases and is designed to link other health care providers in the region to the system. This will provide access to electronic clinical data from physician offices, health departments, freestanding clinics, and other health care providers through WNC Data Link.
In 2008, WNC Health Network hired Dana Gibson to be the Data Link Project Director. Dana is responsible for coordinating WNC Data Link operations, user training, strategic planning, marketing, work groups, and all activities consistent with the objectives and strategic priorities. Dana has a Masters of Public Health degree from the University of North Carolina at Chapel Hill. She is certified as a Green Belt Six Sigma Project Manager (CSSGB), and has also earned both the Certified Professional of Health Information Technology (CPHIT) and the Certified Professional of Health Care Quality (CPHQ) designations. For information regarding the WNC Data Link project, please contact Dana Gibson at (828) 771-4219, or visit the website at http://www.wnchn.org/datalink.aspx. Also, Dana will be doing a presentation about the WNC Data Link project at both NCHN Regional Meetings this fall in St. Paul and Albuquerque.
*******
MEDLearn: Fake Patient Teaches Real Medicine – by Chris Hopkins, Montana Health Network
"SimMan" is the perfect patient. While first responders and health care providers all over Montana prod, inject, medicate and repeatedly resuscitate him, Stan never complains or runs away.
SimMan is the nickname for a human patient simulator offered for hands-on practice by Montana Health Network's Montana Mobile Education Delivery and Learning (MEDLearn) Program. Under the direction of a masters-prepared clinical educator, MEDLearn students participate in an interactive learning situation that includes performing emergency interventions on the full-size, computer-driven mannequin. SimMan travels in a mobile unit to deliver onsite training to facilities in rural Montana and is also used in classroom practice.
The MEDLearn Program was started after an expert panel commissioned by the State of Montana found that the death rate from accidents and injuries in rural Montana is 31 percent higher than the national norm. The goal of the project is to give emergency providers in first contact with accident victims a higher level of clinical proficiency so that deaths will be prevented.
"We have critical access hospitals that may only see one or two patients a day in their ERs, or may have long periods of time between seeing the same types of situations," said Janet Bastian, Montana Health Network (MHN) CEO. "Emergency medical technicians and first responders are volunteers in these areas, and they're usually the first point of contact for the patient."
Bastian said feedback has been overwhelmingly positive. The simulator looks like a real person, and instructors can program it to have a wide variety of reactions such as bleeding, deflated lungs, irregular heartbeats, etc. "We set up a scenario where certain interactions occur and students handle the situation," Bastian explained. "They don't know what pieces we will bring into this situation, and the patient gets better or worse depending on their treatment." The patient can even speak and interact with the students.
Non-existent educational budgets due to financial constraints and long distances between facilities were compromising patient outcomes. Bastian said MEDLearn classes initially focused on emergent-type situations such as trauma, stroke and heart attack, and taught patient stabilization and preparation of patients for transfer to larger facilities.
That focus has since broadened. Some facilities had acquired new equipment, but staff lacked experience operating it. "We've used the simulator to give hands-on experience before the equipment is used on patients," Bastian said. "For instance, we did training at one place on using their new ventilator."
MHN continues to expand the role of SimMan and is currently using him as part of career education classes for local high school students to help recruit and retain students interested in healthcare careers.
The original cost of setup for the simulator program and his trailer was around $120,000 purchased with the help of a grant from the VHA Health Foundation. To help pay for SimMan's continued upkeep and travel costs, MHN members pay a fee for each class and MHN currently subsidizes the rest.
MHN is a collaborative effort of 17 nonprofit health care providers that benefit from mutual networking, including 15 rural providers. It provides services to 46 health care providers that include physician offices, nursing homes and acute care facilities. The majority of those are critical access hospitals. While MHN does offer classes statewide, its primary efforts are targeted at the eastern half of the state. When MHN applied for the VHA grant, Bastian said, "Helping staff maintain clinical proficiency was the most urgent current unmet need identified by rural and frontier providers." MEDLearn was implemented in January 2005.
For more information, visit http://www.montanahealthnetwork.com/medLearn.php or contact Chris Hopkins at (406) 234-1420.
*******
Fight Recession With Health - by Tim Size, Executive Director, Rural Wisconsin Health Cooperative -- Reprinted with permission from RWHC Quarterly Editorial for Member Newsletters & Local Weekly Newspapers, June, 2009
"What is good for General Motors is good for the country." We used to say that. But now it is more like "What is good for we Baby Boomers is good for the country." In any event, this huge generation is aging into becoming patients. The tremors of this shift will hit our country for the next twenty years.
I am an aging "cheesehead" and proud of it. I know all too well Wisconsin's justly famous beer, cheese and brats. But my primary care physician, workplace wellness program and a life event whacked me on the head. I am lucky. This dose of personal health reform has led to overdue lifestyle changes. Hopefully I will stay on track. Multiply my story by millions of fellow cheeseheads and you see the bigger challenge.
Our workforce is getting older. Older workers are more likely to consume more health care as age and habits catch up with us. Poorer health, at any age, makes us less productive at work and increases our use of sick days. This costs employers more. More cost to employers makes them less competitive. Being less competitive means fewer jobs for us and for our kids.
A recent report from the Council of Economic Advisors to President Obama drives this point home. "Slowing the growth in health care spending from 6 percent a year to 4.5 would have enormous benefits for the economy. It would create as many as 500,000 jobs a year and increase annual income for a family of four by $2,600."
No amount of "healthcare reform" can fix our own behaviors. We must work to reduce the amount of care our system needs to deliver. We must get serious about doing what we can to get and stay healthy. We need to do this as individuals, workplaces and communities.
We can speed up making healthy lifestyles a Wisconsin trademark. Rural has an extra challenge. There are 72 counties in Wisconsin. Most urban counties in Wisconsin are among the healthiest counties. Rural counties are often the least healthy. For the last five years, the Governor's rural health council and the state's two medical schools supported a Strong Rural Communities Initiative. Hospitals, public health agencies and employers worked together in six rural communities to help employees and their families become healthier. Changes in diet and exercise are encouraging and the work continues.
Wisconsin's "Worksite Wellness Resource Kit" is a great free online resource for employers. Use Google to find it. The kit focuses on changing behaviors to reduce chronic diseases. Specific activities relate to health risk appraisals, physical activity, nutrition and tobacco use.
Many workplaces are working to help employees make healthier decisions. Employees are more likely to make healthier choices when workplace policies promote health and reduce risk of disease. Employee wellness committees are key to worksite success. All of us are more likely to respond when we hear clear expectations and are part of deciding how they can be met.
A new approach to workplace wellness is sponsored by Thrive. Thrive is a collaborative economic development enterprise for 8 counties in southern Wisconsin. Three dozen major healthcare organizations have developed a bold plan to improve the health of the region's workforce. They are starting with themselves.
By 2011, the target is a 10 percent increase with those having formal wellness programs. The 3-year goal is a 10 percent improvement in employees choosing a healthier life style. The goal is to eat enough fruits and vegetables, be physically active, be at low or no-risk regarding alcohol and tobacco use. The 5-year goal is for 60 percent of workforce to be at a healthy weight.
These goals may seem too modest. But they are a major step towards making our region and our state a healthier place. We have started and hopefully more of Wisconsin will as well.
--top--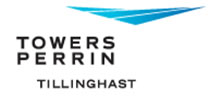 Spotlight on NCHN Business Partner
Towers Perrin – Silver Level Partner
Tillinghast, a Towers Perrin business, provides consulting and software solutions to insurance and financial services companies and advises other organizations on risk financing and self-insurance. For over 30 years, Tillinghast has been at the forefront of risk management, working with clients to develop innovative risk financing solutions, such as self-insurance trusts, captives and group self-insurance programs. Many of the most successful and innovative captives, risk retention groups and public entity pools operating today were developed by Tillinghast.
WHY USE TILLINGHAST:
Risk Financing Design and Implementation. When evaluating the cost-effectiveness of a client's risk financing program, Tillinghast's advice includes both risk management and actuarial expertise. They have experience across a broad range of industry segments. Clients know they can rely on their objectivity and independence.
Captive Insurance Company Consulting. Tillinghast helps clients evaluate both qualitative and quantitative issues associated with the potential formation or ongoing operation of a captive. Their expertise spans a broad range of risks, and their global network of consultants has experience in all of the major domiciles.
Actuarial Analysis. Tillinghast looks beyond the numbers and communicates with clients in understandable terms, exploring possible courses of action to help them improve business performance. Clients rely on the depth and breadth of Tillinghast resources, including their proprietary databases and benchmarking tools.
For more information, contact Jim Swanke:
Phone: (952) 842-5728
E-mail: jim.swanke@towersperrin.com
Website: www.towersperrin.com/tillinghast
--top--