2009 Board of Directors
Three Directors Elected as Class B Directors - 2009-2012
The following NCHN members were elected to serve a three year term on the NCHN Board of Directors at the 2009 Annual Membership Meeting in Charleston, South Carolina:
Jack King, Executive Director, Northcentral Montana Healthcare Alliance, MT
Jon Smith, Executive Director, The Hospital Cooperative, ID
Keith Williams, CEO, Community Health Network, Inc., TN
The three directors elected join these six directors already serving the Association:
Mary Kay Chess, Executive Director, Health Future, LLC, OR
Greg Dent, CEO, Community Health Works, GA
Jason Friesen, Director of Operations, Pioneer Heath Network, KS
Terry Hill, Executive Director, Northern Lakes Health Consortium, MN
Linda Weiss, Network Director, Regional Behavioral Health Network, IL
Carolyn Witherspoon, Executive Director, Coalition of Health Services, Inc., TX
*******
2009 Officers Elected in Charleston
Following the 2009 Annual NCHN Membership Meeting, the following officers were elected to serve the Association for 2009 by the Board of Directors:
President – Keith Williams, CEO, Community Health Network, Inc., TN
Vice-President – Mary Kay Chess, Executive Director, Health Future, LLC, OR
Secretary – Jack King, Executive Director, Northcentral Montana Healthcare Alliance, MT
Treasurer – Greg Dent, CEO, Community Health Works, GA
Immediate Past President – Terry Hill, Executive Director, Northern Lakes Health Consortium, MN
*******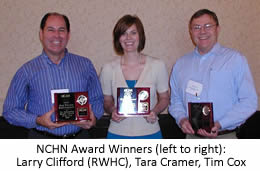 NCHNís Announced First Award Winners
The first recipients of the NCHN Awards Program were announced during the Awards Luncheon on Wednesday, April 22 during the 15th Annual NCHN Conference in Charleston, SC. The Awards Program is designed to honor outstanding individuals and organizations in the field of health networks. Award winners were nominated and chosen by their national peers. The following awards were presented:
Outstanding New and Emerging Health Network Leader of 2009:
Tara Cramer, Executive Director, East Georgia Health Cooperative, Sandersville, GA
The NCHN Outstanding New & Emerging Network Leader of the Year Award recognizes extraordinary leadership activities demonstrated by a new health network leader with less than five years experience in the field. Cramer was specifically recognized for her demonstrated ability to seek out national best practices, to fine tune enhancements to existing service offerings at a cost savings, and to work closely with board members to be certain that all strategies for delivery of these health services met the needs and realities of the local communities they serve.
Outstanding Health Network Leader of 2009:
Tim Cox, President, Northland Healthcare Alliance, Bismarck, ND
The Outstanding Network Leader of the Year Award recognizes a network leader with at least 5 years experience for leadership in managing a successful health network organization. This award is meant to be inclusive of all types of health networks, alliances, collaboratives, and consortiums. Under Cox's leadership, the Northland Healthcare Alliance has been able to secure over $10 million in funding for members and network programs. The Alliance is focused on becoming a form of RHIO (Regional Health Information Organization) with the objective of serving as a clearinghouse for patient medical information for hospitals in the region.
Outstanding Health Network of 2009:
Rural Wisconsin Health Cooperative, Sauk City, WI
The Outstanding Health Network of the Year Award recognizes a network that has improved access to health services in its service area and has improved the coordination of resources for members using particularly innovative and comprehensive approaches. The Rural Wisconsin Health Cooperative was specifically recognized for their understanding of healthcare needs at hospitals and in the surrounding communities, as well as the high degree of successful collaboration with member CEOs.
*******
NCHN - GrantStation Partnership
NCHN is pleased to announce a partnership with GrantStation. Cynthia Adams, CEO of GrantStation recently provided two educational conference calls with NCHN members. The interactive session used projects from NCHN members to conduct searches to demonstrate how the GrantStation website could assist them in their grant seeking efforts.
NCHN members may extend this GrantStation subscription opportunity to their members, which is a much reduced annual fee. This new resource will help you identify grant makers - government and private funders - for your programs and projects. Deb Ranallo, Executive Director of Medi-Sota, Inc. in Dawson, Minnesota participated on the first call. She immediately shared the information with her network members and just signed up Medi-Sota and thirteen (13) of her network members. She reports that her members are very anxious to access this new resource!
If you have questions about the program or would like to sign up for a subscription, please contact the NCHN office for details and cost.
--top--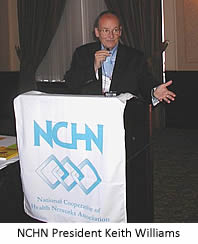 15th Annual Conference Review
The Board of Directors would like to thank all the members that participated in the 15th Annual Conference in Charleston, SC! The Conference Planning Committee pulled together a fantastic program! Special thanks to all the members that participated in the planning and delivery of a very successful conference. If you were unable to attend, you missed a great event. Mark your calendars now for the 16th Annual NCHN Conference in San Antonio, Texas, April 19-21, 2010.
A total of 83 participants pre-registered for the conference and 80 attended. One-half (40 participants) were first time attendees at a NCHN conference. Here's a breakout of who participated in the 15th Annual Conference:
NCHN Members – 23
NCHN Members – First Time Attending Conference – 14
First Time Attendee (Non-member) -- 13
Business Partners – 10 (7 were first time attendees)
Exhibitors – 7 (5 were first time attendees)
Speakers (that didn't fall into one of the above categories) – 6
Federal Employees – 5 (2 were first time attendees)
Staff – 2
In addition to the 80 participants at the conference, we had four individuals that came in on Wednesday afternoon and attended the President's Dinner and participated in the Crucial Conversations® and we were fortunate to have Ron and Ruth Anne Wheeler from Hardinsburg, Kentucky working as volunteers at the conference. Ron managed the presentation collection and had them ready for the presenters at each session and Ruth Anne assisted at the registration table and wherever needed throughout the conference. The grand total of participants at the conference and post-conference workshop was 86.
Conference presentations are available on the NCHN website at www.nchn.org
We are in the process of updating the presentations, just in case any of the presenters made changes to their presentations that were posted before the conference. Please check the site after May 25th for final presentation postings. The presentations will be located in the public domain section until June 15 and then will be moved to the Members Only Section.
*******
Websites from Dr. Renard Murray
Dr. Renard Murray, Acting Regional Administrator, Office of the Regional Administrator, from the Atlanta CMS office provided the following website links that he discussed during his presentation at the conference:
www.cms.hhs.gov – information directed to providers about Medicare programs and policies
www.medicare.gov – information about Medicare for beneficiaries and other end-users. This will also link users to our compare websites (hospital compare, home health compare, nursing home compare, and etc.)
www.hhs.gov/recovery - information about various HHS activities funded through the Recovery Act
www.budget.gov – report from the Office of Management and Budget entitled "A New Era of Responsibility"
*******
Conference Exhibitors and Sponsors
Special Thanks to Our Conference Exhibitors and Sponsors! The following businesses were exhibitors and/or sponsors of the 2009 Conference:
501(c) Agencies Trust
EHS
First Choice Cooperative
Fukuda Denshi – NCHN Gold Level Business Partner
Georgia Health Policy Center
Healthcare Management – NCHN Member Business Partner
Health Workforce Information Center
Lab Corp
Midwest Alliance for Telehealth and Technology Resources & Midwest Alliance for Health Education
Performance Management Institute (PMI) – NCHN Gold Level Business Partner
PolicyTech – NCHN Gold Level Business Partner
Spacelabs Healthcare
Thermo Fisher Scientific – NCHN Gold Level Business Partner
--top--
New Members
NCHN welcomes its newest member!
Prince of Wales Health Network, located in Craig, Alaska is the newest NCHN member. The network was organized in 2008. The mission of the newly formed network is to build a strong and sustainable network of healthcare organizations collaborating to strengthen the healthcare system on Prince of Wales Island and increase access to quality healthcare for all island residents far into the future. The network plans to provide leadership in healthcare; act as a catalyst for improving healthcare and the supporting infrastructure; share information, bring stakeholders together, facilitate discussion about healthcare needs; and leverage the network members' collective influence to improve quality of and access to healthcare services on Prince of Wales Island.

The network has 3 members located in Prince of Wales Island, Ketchikan, and Sitka, Alaska.

Esther Ehrmann is the Network Director. To learn more about the Prince of Wales Health Network please visit their website at www.princeofwaleshealthnetwork.org
--top--
Members News
Great Lakes Hospital Network -- Announces the 4th Annual Quality Symposium
Date: June 11, 2009
Registration - 8:30 AM
Program is from 9:00 AM – 5:00 PM
Location: DeVos Place in Downtown Grand Rapids, Michigan
To register -- go to: www.regonline.com/63375_729376A
Please join us for an exciting day discussing aspects of The Triple Aim™ initiative of the Institute for Healthcare Improvement (IHI): optimizing health, care experience, and costs for populations.

Our keynote speaker is John Kitzhaber, MD, President of the Estes Park Institute and former Governor of Oregon. Dr. Kitzhaber will speak about Oregon's strategy and his ideas for health reform. The afternoon breakout sessions will cover the patient experience, care across the continuum, the medical home concept, environmental sustainability, lean practices in health care and the federal stimulus act.
The Quality Symposium is presented and hosted by the Spectrum Health Regional Hospital Network http://shrhn.org Questions may be referred to Sandy Rose a sandrera.rose@spectrum-health.org (616) 486-6693.
Continuing Education: The Grand Rapids Medical Education and Research Center is accredited by the Michigan State Medical Society Committee on CME Accreditation to provide continuing medical education for physicians. The Grand Rapids Medical Education and Research Center designates this educational activity for a maximum of 6.5 AMA PRA Category 1 Credit(s). Physicians should only claim credit commensurate with the extent of their participation in the activity.
*******
Rural Hospitalist Study Underway
The spread of Hospitalists to Illinois critical access hospitals is underway. Illinois Critical Access Hospital Network (ICAHN) has obtained FLEX grant funds to conduct a study of rural Hospitalists and issue a report to the membership and others on this phenomenon. ICAHN Special Projects Consultant Bill Spitler has polled the membership and interviewed hospitals which report the use of Hospitalists. The Report of the study will be available to member via e-mail and in print by the end of May. While we do not want to give away the "punch line", Spitler reports that he has identified eight ICAHN members with successful Hospitalist programs. Hospitalists exist in the northern-most to the southern-most hospitals and from the largest to the smallest CAHs. No two Hospitalist programs are alike, according to Spitler. The Report will discuss what motivated members to begin these programs and explore the commonalities of successful programs. (Taken from ICAHN CAH News Update, May 2009)
*******
NCHN Members Receive HRSA Rural Health Outreach Grants
The Office of Rural Health Policy, HRSA, recently announced 94 new Rural Health Outreach Grants. We have heard of several NCHN members that received the grant directly and/or are partners on an Outreach Grant. The programs are funded from May 1, 2009 through April 30, 2012.
NCHN members will be providing some innovative services and developing outstanding programs for the citizens of their service area. Here's a summary of some of the new programs NCHN members are involved with:
Northern Neck Middle Peninsula Telehealth Consortium's Rural Health Outreach Project Bridges to Health is a health education and medical care delivery project that uses telehealth technology to target chronic diseases, especially diabetes, in diagnosed and at risk older (55+) adults. This project brings together Network members with five new Partners. The project goals are:

to improve access,
enhance health care delivery,
avoid re-hospitalizations,
provide health information; and
foster independent living for older adults.
The use of telehealth technology will improve access to health information; increase compliance and self-management of chronic diseases; help patients seek earlier care for complications; support more coordinated information exchange between providers; and reduce inappropriate emergency room use, or reliance on higher levels of care. The Bridges to Health project proposes to serve over 32,000 older adults who reside in a rural northeastern Virginia (counties of Essex, King William, King and Queen, Northumberland, Middlesex, Gloucester, Mathews, Lancaster, Richmond, and Westmoreland).
The Northeastern Rural Health Network was also awarded a HRSA Outreach grant (via a Network member and fiscal agent, CareSouth Carolina). The project is "CATCH HOPE: Community Action to Create Healthy Hearts, Open-minds & Personal Excellence." The Network will be directly involved in implementing the grant, as Network Coordinator, Melinda A. Merrell will serve as the Project Director. The project will serve Chesterfield and Marlboro Counties, South Carolina and will provide awareness and education to the community about the connection between cardiovascular disease and behavioral health conditions. The project will aim to meet this goal through providing several services: (1) health screenings in the community and at workplaces, (2) a series of "wellness" classes to help people manage their physical and mental risk factors for disease, (3) the integration of social workers into the local hospital cardiac rehab programs, and (4) a peer support program that allows for people in the community to help each other find resources and give emotional support to those suffering from these illnesses.
Community Health Network (CHN) will use their Rural Health Outreach Program to bring a pilot for pediatric subspecialty services to Middle and West Tennessee. The Project will establish the South Central Tennessee Telehealth Consortium. Partners in this effort include CHN, Hardeman County Community Health Center, Lifespan Health, Perry County Medical Center, and the Monroe Carell Jr. Children's Hospital at Vanderbilt. The project will establish and provide specialty telehealth services for pediatric patients at members' health center sites located in southwest and south central Tennessee. Pediatric specialists who are located in Nashville and in Jackson and are affiliated with Vanderbilt will provide the services. The project's three focus areas are pediatric type 1 and type 2 diabetes (education and treatment), child obesity (weight management through exercise, nutrition and lifestyle changes), and pediatric psychiatric diagnosis and treatment services. Significant service gaps exist in all three of these areas within the target communities and the need for these services continues to be high. There also will be a significant focus on community education using the telehealth system. Specifically, the goal would be to empower the providers in local communities – some of which have a federal designation as health professional shortage areas – by increasing the knowledgeable resources within the community. In this way, educational services for rural providers and staff, as well as families and caregivers, will keep educating long after the outreach effort is done.
If your network was a recipient of a new Rural Health Outreach Grant or a partner on a newly funded grant, please let us know. Send information about your program to rdavis@nchn.org for inclusion in a future issue of NCHN eNews!
--top--
Spotlight on NCHN Business Partner


Policy & Procedure Managerô: Making Policy Management Manageable
Policy & Procedure Manager™ (PPM) is an award winning web-based software application that automates the management of policies and procedures for healthcare organizations. PPM version 4.5 eases the complex task of tracking staff comprehension, linking to regulatory standards, and reducing policy document turnaround time and workload, while increasing the likelihood that policies and procedures are being followed and understood.
Track Staff Comprehension
Policy & Procedure Manager provides healthcare staff with instant access to the policies and procedures needed to accomplish critical tasks. The software also notifies employees when they are required to read important documents and can help verify that staff understand them through electronic sign-offs and quizzes. Reporting tools can then show the level of compliance for each department.
Link to Regulatory Standards
With a click of a button you can also organize documents according to any regulatory compliance standards such as the Joint Commission, CAP, CLIA, HIPAA, URAC etc. to make audits a snap.
Reduce Turnaround Time and Workload
After creating a document, the software can reduce the time of the review and approval process by more than 50%. Additionally the system automatically reminds all reviewers and approvers of tasks so there is no constant follow-up needed by the author. Healthcare facilities that implement Policy & Procedure Manager™ will quickly see how the software saves them so much time, money, and headache. Compliance was never so simple, and organizations have never run so smoothly.
Company Highlights
Over 700 clients in all 50 states and across 6 continents
Extremely high customer service satisfaction ratings
Tailored approach to fit healthcare facilities of any size and structure
For more information or to set up a product demonstration visit www.policytech.com or call Larry Wilson, Director of Sales; Phone: 208-359-8123 ex. 700; E-mail: lwilson@policytech.com
--top--
Upcoming NCHN Events
2009 NCHN Committees Sign Ups
Looking for Committee Members and Future NCHN Leaders!
The 2009 Committees are forming. Participation on a committee is an excellent way to become involved with NCHN and learn more about YOUR Association! Committees plan and deliver the Annual Conference, Regional Meetings, Business Partner Program, and other member benefits. You will discover how the organization functions, interact with your peers across the country, develop leadership skills, learn about NCHN programs and resources and much more! Please consider joining a committee today!
Committee membership is a benefit and privilege of your NCHN membership. Watch your email box for details on how to sign up for the 2009 Committees. A description of committees, estimated time commitment and meeting dates will be provided.
NCHN 2009 Regional Meeting Dates Announced
Mark your calendars and save the dates!
The Regional Meeting Planning Committee announces the 2009 dates:
September 21 – St. Paul/Minneapolis Area
October 5 – Albuquerque, New Mexico --- this is during the Annual Balloon Festival
The focus of the Regional Meetings will be on Health Information Technology. Additional details will be posted on the NCHN website and featured in eNews!
NCHN Quarterly Membership Call
NCHN Quarterly Membership Call will be held on Monday, June 8 at 12:30 PM ET. The topic will be "Managing the Risk of the Uninsured/Underinsured & Reducing Uncompensated Care Costs." Larry Kuk, former NCHN member and Partner with CCS Group, LLC will be one of the presenters. NCHN members are encouraged to distribute the information about the call to their individual hospital CEOs and CFOs so that they may participate in the call. Call in information will be distributed before the call. Participants must pre-register. Watch your email boxes for additional information.
The presentation objectives for the call are:
Understand the root cause of the current problem of the uninsured and underinsured;
Review the risk that hospitals are exposed to relative to their regional/local uninsured population;
Review of hospital tactics to address unsponsored care payments (revenue cycle management activities)
Identify programs that mitigate the risk of providing care to the uninsured;
Review methods to manage the hospitals' risk associated with the uninsured.
Collaborative Community Solutions Group (CCS) is an organization made up of specialists in the fields of health & welfare underwriting, administration, health care management, and program development. Our clients include hospitals/hospital systems, insurance carriers, insurance agencies, associations/affinity groups, and governmental entities. Headquartered in the Chicago metropolitan area with consultants in several states, CCS serves a national clientele.
Presenters:
Jack Hill has over twenty years of experience in the insurance and employee benefits industry providing services to insurance agencies, physicians, hospitals, Union Funds, HMOs, insurance companies, Third Party Administrators, and other insurance related organizations. Jack's experience includes senior executive and ownership positions within the reinsurance, managed care and employee benefits consulting industries. Jack is the author of numerous publications for the employee benefits and healthcare industry, most notably "Electronic Data Interchange: The Physicians' Guide" written for the American Medical Association, and has written for the Health Insurance Underwriter and Self Insurer publications. Jack is a graduate of Taylor University and has completed postgraduate work at the Wharton School of Business and Ball State University
Lawrence Kuk, FHFMA, "Larry" has over twenty years experience related to the financing, delivery, and management of healthcare services and benefits. His experience includes leadership positions with an HMO, an integrated academic multi-hospital health system, a regional provider sponsored managed care network, and a regional provider sponsored administrative services organization. Larry's most recent experience as a hospital network executive was focused on leading diverse industry participants inclusive of hospital administrators, physicians, employers, third party insurers and vendors in collaboration to realize compatible and overlapping goals and objectives. Additionally, Larry has provided strategic leadership and support regarding health care budget development, contract negotiations, revenue cycle management, IT risk management, compliance, and insurance and managed care product development. Managed care negotiations, product development, and implementation have included solutions for the commercial, Medicare, Medicaid and uninsured market segments. Larry has earned an MBA from the University of Detroit and a BS from Wayne State University. He is a Fellow in the Healthcare Financial Management Association, and is a participant within the Health Information Management and Systems Society and the American College of Healthcare Executives.
Mark your calendars and save the dates!
--top--
Elsewhere in the News
Georgia Health Policy Center Technical Assistance Call
The Georgia Health Policy Center Technical Assistance Team invites NCHN members to participate in the next quarterly technical assistance webinar scheduled for Wednesday, May 20th at 2:00 - 3:30 PM EDT. The topic is Mediation and Conflict Resolution. The call will focus on problem solving techniques using the principles of mediation and conflict resolution for those who work in or manage teams. The presenter will discuss how to rethink conflict and effectively use communication, negotiation and problem solving skills to manage conflict more effectively.
Registration is required (see link below). This call will incorporate the use of the telephone (for the audio portion) and the internet (webinar for viewing the PowerPoint presentation on-line). The audio dial-in and pass code information is below and will be included in your confirmation email. So, please disregard the "Audio has not been set up for this meeting" statement in your confirmation email. If you have any questions regarding these calls or experience difficulty in registering, please contact Sabrina Chapple at 404-413-0306 or alhsrc@langate.gsu.edu
Call Details:
Event Title: Mediation and Conflict Resolution Webinar
Event time: May 20, 2009 from 2:00 - 3:30 PM (EDT)
Registration Link: https://www.livemeeting.com/lrs/8001610535/Registration.aspx?
pageName=hjnw2lzs1vmf1csh
Audio Dial-In Information: 1-888-677-8358
Pass code: GEORGIA HEAL
The presentation and materials will be posted to the HRSA Technical Assistance website a couple of days before the call. http://networkassist.ruralhealth.hrsa.gov/granteecalls.shtml
*******
Scholarships Available for Consumers to Attend 2009 National Association of Rural Mental Health Conference
There are consumer scholarships available to attend the 2009 NARMH Annual Conference – June 18-20, 2009 in Albuquerque, New Mexico. If you know of any consumers that would be interested in applying for the scholarships provided by CMHS, please email: Lu Ann Rice at the contact information provided below. The scholarships would pay for travel and the conference registration. If you want to recommend someone for the scholarship, please do so immediately.
Lu Ann Rice
National Association for Rural Mental Health
300 33rd Avenue South, Suite 101
Waite Park, MN 56387
Telephone: 320.202.1820
Fax: 320.202.1833
Email: info@narmh.org
*******
South Carolina Rural Health Research Center Announced Final Reports
The SC Rural Health Research Center is pleased to announce that all of their final reports are available for immediate download on their website at http://rhr.sph.sc.edu.
In addition, the SCRHRC has created a blog to keep folks informed of news and events that might not be "big" enough for a formal release. If you wish to track their "goings-on and thoughts," and add your own commentary, visit http://scrhrc.blogspot.com/.
*******
2009 NIFS Annual Conference * June 14-18 * New Orleans, LA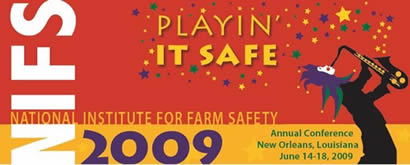 NIFS is a non-profit organization dedicated to the professional development of agricultural safety and health professionals, providing national and international leadership in preventing agricultural injuries and illnesses to the agricultural community.

The specific objectives of the annual conference are to:
a) exchange and disseminate information on agricultural injury and
health prevention research and activities;
b) provide opportunities for professional development through an
environment conducive to networking, collaboration, and linkage-building

You can access conference documents, hotel information and link to register at:
http://agrisafe.org/education/nifsconference/

If you have questions about the NIFS 2009 Annual Conference, please contact:
Wendell Miley Ann Carruth Natalie Roy
(225)922-6208 (985)549-3379 (985)845-1116
wendellm@lfbf.org acarruth@selu.edu nroy@agrisafe.org
--top--