From the Board of Directors
Announcing NCHN's Awards Program
The Board of Directors is pleased to announce the NCHN Awards Program, designed to honor outstanding individuals and organizations in the field of health networks. NCHN members are invited to submit nominations for the 2009 Awards. Nominations should be made by completing and submitting the nomination form along with your written narrative no later than March 18, 2009. The application guidelines and application form are located in the Members Only Section of the NCHN website.
Awards Categories:
The Outstanding Network Leader of the Year Award recognizes a network leader/director for leadership in managing a successful health network organization. The Outstanding Health Network of the Year Award recognizes any network or entire network organization that has improved access to health services in its service area and coordination of resources for network members through innovative, comprehensive approaches.
The Outstanding New & Emerging Network Leader Award recognizes extraordinary leadership activities demonstrated by a new network leader/director in the field of health networks (network leader less than five years).
Honorees will be announced during the Awards Luncheon beginning at 11:45 AM on April 22, 2009, at the NCHN Annual Conference in Charleston, South Carolina.
*******
New Website
The new Website is live! If you haven't stopped by yet to take a look at the new NCHN website, please do so today! Check it out at www.nchn.org. Special thanks to Christy Sullenberger for her work on designing the site and to the Program Development Committee for their oversight of the project.
*******
NCHN Blog New
The NCHN Sharing and Learning Corner is the newest addition to the NCHN website … check it out and leave a message or start a conversation! The blog is a place for members to post events, ask questions, and share information. You can access the Blog through the NCHN website or at http://nchn-rebeccaandmembers.blogspot.com/
--top--
15th Annual Conference - Register Today!
Tom Morris, Associate Administrator for Rural Health Policy, HRSA will open NCHN's 15th Annual Conference on April 20th in Charleston, SC, with a discussion on the "Challenges and Opportunities for Rural Health Networks in 2009." The Conference Planning Committee, under the direction of co-chairs, Keith Williams, Community Health Network, Inc, TN and Linda Weiss, Regional Behavioral Health Network, IL, have put together an exciting opportunity for all NCHN members. NCHN's Annual Conference is the only national level event dedicated to providing educational, leadership, and sustainability programming support to network leaders. Participants receive the latest information on policies affecting networks, opportunities for networking, peer learning, and access to vendors that support the leadership of health networks.
Conference agenda, registration materials, and hotel information are available on the NCHN website at www.nchn.org I encourage you to register today and to reserve your room as Charleston is the place to be April 20-22! The deadline for early bird registration is March 31. The hotel cut off date for the conference rate of $166, plus taxes, is March 26 -- so make your reservations today!
*******
President's Dinner
In celebration of NCHN's 15th Annual Conference, NCHN will be honoring our past Presidents. The Association has developed and grown from the initial group of five to seven dedicated network leaders to a national organization with over 60 members today. Please join us in Charleston on Wednesday, April 22 to honor these former leaders of NCHN!
*******
Crucial Conversations®
When: April 23-24, 2009
Where: The Francis Marion in Charleston, SC
Cost: NCHN Members - $925 and Non-Members - $1,050
Register at http://nchn.org/conference_registration.php?id=15 or by calling 270-925-5611
Patient safety, quality care, productivity, employee morale, and leadership effectiveness are all key elements that every health care organization must keep in focus if it is to achieve its goals. Even with the best laid plans, many organizations still struggle to accomplish the results they envision.
What are the conversations that you are not holding or holding well, that are preventing your organization from getting the results you want? Many problems that plague organizations are rooted in the same cause: perplexed staff who are not quite sure how to bring up touchy, controversial, and complex issues and resolve them. These problems are especially pronounced when emotions are involved, opinions vary, and the stakes are high.
Wipfli uses the power of Crucial Conversations® Mastery Course by VitalSmarts® to help individuals, teams, and organizations. Step and hold crucial conversations well, thereby beginning to achieve the performance they seek. Tina Sundly, Health Care Strategic Alignment Manager, with Wipfli, is a certified trainer of Crucial Conversations® and will be providing the training in Charleston for NCHN.
--top--
Members News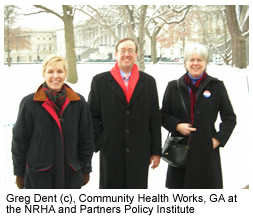 NCHN Members Attend NRHA and Partners Policy Institute (January 26-28, 2009 in Washington, DC)
NCHN members, along with approximately 350 other rural health advocates met in Washington, DC to experience first hand the excitement of "Change" in the nation's capitol. Tim Size, Rural Wisconsin Health Cooperative summed it up, "…what a historic time to be in DC!" NCHN was well represented by the fifteen (15) members attending. Networks from New Hampshire to Alaska, Wisconsin to Georgia and many states in-between were present. The three day event included an outstanding line-up of Congressional members and federal agency representatives from Capitol Hill. You can download the presentations at the following link on the NRHA website: http://www.ruralhealthweb.org/go/left/programs-and-events/nrha-conferences/policy-institute/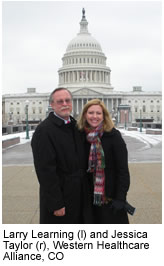 Larry Leaming, Western Healthcare Alliance stated, "I think that the NRHA / NCHN Policy Institute was a very worthwhile experience. I've been to DC a number of times to talk to our congressional leadership and frequently they, and their staff, are just too busy to talk to you. Visiting with a group of home state constituents and mentioning the NRHA and the Rural Health Policy Institute seemed to open doors and attract the attention of the representatives and their health policy staff. It was especially impressive when you consider that it was barely a week after the Presidential Inauguration and the $800+ billion dollar economic stimulus package bill was being actively negotiated."
NCHN members enjoyed a time of networking and sharing over Sunday evening dinner. Special thanks to Jon Smith, The Hospital Cooperative, ID for treating the members. Plan now to attend the 2010 Policy Institute … January 25-27!
*******
NCHN Welcomes Four New Members Since the First of the Year
Arizona Rural Women's Health Network located in Payson, Arizona was our first new member in 2009. The statewide network was organized in 2008 and focuses on coordination and improvement of health outcomes for rural and underserved women in Arizona. The Network's 12 members include representatives from all five (5) Arizona's AHECs (Area Health Education Centers), three (3) state agencies - Director of Women's Health, Border Women, and Tribal Women, the RHO, two (2) community health centers, and Mogollon Health Alliance.
The Network was a recipient of a 2008 Network Planning grant and is still in the development stage. Their current major project is working with the state to ensure that the rural women have better access to state programs in rural Arizona. Holly Crump is the Director.
Copper River Regional Health Network, located in Copper Center, Alaska recently joined NCHN. The network was organized in 2006 and its mission is to develop a comprehensive, coordinated health care delivery system that maximizes resources within the region by commitment to ethical and respectful partnerships. The network has 12 members located in its geographic area, which is the Copper River Region of Alaska. Kris Winter is the Network Coordinator.

The Network is focusing on the following programs:
Elder Care
Facility Planning
Health Needs Survey
Northeastern Rural Health Network, located in Chesterfield, SC is NCHN's newest member. The network was organized in 2007 and consists of 9 members from Chesterfield and Marlboro counties. Melinda A. Merrell is the Network Coordinator. Its mission is to develop a collaborative, economically viable health network to improve the health status of the citizens in their region.
Samaritan Scotland Putnam Rural Health Network (SSPRHN), located in Macon, Missouri joined NCHN in January. The network was organized in 2008. Its mission is to maintain a network of Critical Access Hospitals that identifies and implements collaborative strategies to improve health delivery, health of the community and network sustainability.
Network collaboration will focus on the following programs and services:
Workforce
Financial
Performance Improvement
Information Technology
Health of the Community
Other issues related to the sustainability of the network members so that they can be the center of community health care in their service areas
The network has 5 members located in its geographic area, which includes Macon, Milan, Memphis, Unionville and Hermann, Missouri. Angela Bruner is the Network Coordinator.
--top--
Member Success Stories
Community Health Network - New Telehealth Partnership Offers Medical Translation to Patients in Rural Tennessee
In partnership with the Community Health Network (CHN), Health Assist Tennessee is now offering translation in 13 languages across the CHN Telehealth Network, currently installed in 55 locations across the state. The Telehealth Network uses specialized computer video equipment and digital medical devices to connect patients in rural areas with medical specialists in larger cities. But mid-January marks the first time this equipment has been used for medical interpretation in Tennessee.
"Health Assist Tennessee offers interpretation in twelve other languages statewide," explains Belma Ismailovich, coordinator of Health Assist Tennessee's Interpretation Services. "But it's impossible to do a sign language interpretation over the phone." According to the Tennessee Association of the Deaf, more than 500,000 Tennesseans are deaf or hard of hearing. It can be hard to find trained interpreters in urban areas, and in rural areas, they are even rarer.
Health Assist Tennessee's telehealth equipment will not be used just for sign language interpretation, but for all the languages they offer. As Dranda Whaley, executive director of Health Assist Tennessee, notes, "Interpretation means more than literally translating words. Physical and cultural cues are integral to communication, and accurately interpreting that level of communication can make a huge difference in treatment recommendations and health outcomes."
For more information about the organization, call Health Assist Tennessee's Community Awareness Coordinator at 615-313-9841 x. 304. You can read the complete news release at: http://www.communityhealth.net/index.php?page=health-assist-1-21-009
--top--
Spotlight on NCHN Business Partner
Performance Management Institute – New Gold Level Business Partner
NCHN is pleased to announce Performance Management Institute (PMI) as our newest Gold Level Business Partner!
PMI, an affiliate of Stroudwater Associates, works with more than 180 hospital clients in 29 states. PMI partners with numerous state networks and hospital systems to provide a platform for monitoring and performance. PMI offers a broad range of technology and consulting services to link healthcare organizations' performance improvement programs to strategy and operations.
The work of PMI is strongly rooted in the Balanced Scorecard methodology for strategy execution as developed by Kaplan and Norton. Through extensive work in the field, PMI offers rich perspective, helping organizations translate their strategic vision into clear objectives. They link these objectives to measurable indicators and initiatives, a process that enables performance monitoring and improvement. The Balanced Scorecard integrates four critical perspectives: quality, finance, operations and satisfaction of customers, physicians and staff. The powerful RPM platform is PMI's solution for customized and benchmarked performance monitoring. Understanding that each project is unique, PMI utilizes the flexibility of the Balanced Scorecard to deliver custom solutions. There are some areas in which PMI may advise organizations to adopt best practice indicators. This enables performance benchmarking of affiliates in an appropriate, relevant manner.
Michael Topchik is the contact for NCHN members. You can locate additional information about PMI and their services at www.pmi-healthcare.com
--top--
Upcoming NCHN Events
Quarterly Membership Call
The next NCHN Quarterly Membership Call will be held on Monday, March 9 at 12:30 PM ET. The topic will be the "How Health Networks Assist Their Members in Dealing with the Current Economic Challenges." Mary Kay Chess, Ph.D., Health Future, Inc, OR, will be leading the discussion. Call in information and more details will be distributed the first of March.
*******
2009 Regional Meetings Survey
The Regional Meeting Planning Committee posted a survey to finalize the details for the content of the upcoming meetings. Please take two minutes and click on the following link and provide some important feedback to the committee.
http://www.surveymonkey.com/s.aspx?sm=vWLsDveN2OZgl2hmQnN3Jw_3d_3d
The 2009 Regional meetings will be held in:
St. Paul/Minneapolis - September 21
Albuquerque - October 5
Mark your calendars and save the dates!
*******
Special GrantStation Tour for NCHN Members
Please join Rebecca Davis, Executive Director, NCHN, and Cynthia M. Adams, CEO of GrantStation for this short and informative tour of the GrantStation website. Learn how to use this new resource to help you identify grant makers - government and private funders - for your programs and projects. This interactive session will use projects from participants to do a few researches to demonstrate how the GrantStation website can assist you in your grant seeking efforts. The personalized tour will be on Tuesday, March 24 at 2:00 PM ET. Additional information will be coming to your email boxes.
--top--
Elsewhere in the News
Health Workforce Information Center
The Health Workforce Information Center (HWIC) – a new HRSA program with support from several of HRSA's bureaus and offices was launched the first week of February.
The HWIC, www.healthworkforceinfo.org, will provide free access to the most recent resources on the nation's health workforce in one easy-to-use online location.
Operated by UND's School of Medicine and Health Sciences, the center will offer the latest on:
health workforce programs and funding sources;
workforce data, research and policy;
educational opportunities and models;
best practices; and
related news and events, also available through e-mail updates.
In addition, information specialists will be on hand with customized assistance to locate statistics, create data-based maps, develop lists of possible funding sources, supply publications and connect users to the right organizations or federal programs. Users can contact the specialists online or by phone or fax.
This will be an important tool for you and your network members. We are pleased that Laura Trude, HWIC Information Specialist will be attending the 15th Annual NCHN Conference and will be doing a presentation on Monday, April 20 at 1:30PM about the Health Workforce Information Center and their services. Laura will also be available in the exhibit area to discuss the Center and services with you on an individual basis. You can register for the conference at www.nchn.org
*******
Peanut Butter Recall
We need your help to spread the word about the recall of peanut butter and peanut-containing products. By adding the CDC's recall widget to your organization's Web page, you can allow your site visitors to check the FDA database to make sure the products in their cabinets are safe to eat. Users can either search for products by brand name or browse product categories through the widget without ever having to leave your Web site.
Recalled products in the widget will be updated automatically by the FDA so the content will always be current, giving your site access to the most up-to-date recall information. To add this widget to your page, please visit www.cdc.gov/widgets.
You can also find info on the peanut butter recall at
http://www.accessdata.fda.gov/scripts/peanutbutterrecall/index.cfm
--top--