NCHN Blog
Member Q&A with Heather Fuller, Executive Director of Sunflower Health Network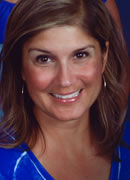 This week, we interviewed NCHN's President, Heather Fuller, Executive Director of the 2011 NCHN Network of the Year, Sunflower Health Network. We asked some questions about her membership with NCHN and experience on the Board, as well as what has made SHN so successful. Heather has been a member of NCHN for over 7 years and has served as President since April 2012.
Q: You have led the Board as the 2012 – 2013 NCHN President. That gives you a unique perspective on both the organization and its members. How do you see NCHN growing and in what direction would you like to see the services move toward?
A: NCHN has grown so much over the past 7+ years that I have been involved- due in large part to NCHN's executive director, Rebecca Davis, and dedicated staff. NCHN has become more involved on the national level with partner organizations such as NRHA and ORHP. I look forward to more and even stronger partnerships and collaborations on projects that will benefit our members.
Q: What do you most value about your experience on the Board?
A: From my 3 years on the board, I absolutely treasure the contacts and friendships I have made. I can pick up the phone and call any of them if I have a question or need advice on an issue. Being on the board has also made me aware of all of the benefits and opportunities that NCHN has to offer.
Q: What is/are the most valuable aspects of your membership in NCHN?
A: I think I might need more space to answer this question! There are so many valuable aspects of NCHN. Obviously, the people are the biggest value. NCHN members are always so willing to share resources and help a friend. I also think the annual conference is a huge value. I look forward to it each year to learn new ideas, see friends, and hear what is going on at the national level. I also appreciate the membership calls, list serve, coffee chats, and leadership learning calls.
Q: Sunflower Health Network was the recipient of Outstanding Health Network of the Year in 2011. What factors have made SHN successful and sustainable?
A: I think what has made the Sunflower Health Network sustainable over the last 20 years is our board of directors. There is such a high level of trust among the members and a commitment to making sure healthcare in the region is as effective and efficient as possible.
Q: What advice do you have for newer or newly forming networks and network leader?
A: My advice would be to get involved: attend the NCHN conference, join a committee, network with other leaders-anything you can! The more involved you are, the more you will learn and gain from the organization.
Q: What do you most look forward to at the NCHN Conference next month?
A: I am looking forward to the NCHN annual conference next month to see old friends, meet new network directors, and learn new ideas from the great sessions that have been planned by the conference planning committee! I'm also looking forward to a little warmer weather!
Q: What are SHN's main areas of focus? What new projects are you considering?
A: The purpose of the SHN is to improve the effectiveness and efficiency of healthcare in our region. We offer many programs and services including physician recruitment, group purchasing, group health insurance, equipment maintenance, department director education (radiology, lab, materials, nursing, quality, IT, CFO, clinic managers, etc.).
Over the next year, we plan to offer LEAN training for members; explore palliative care; and education on physician-hospital relationships and what we can do as a network that we can't do individually. We also plan to partner with one of our members to work on drug/alcohol detox in the region and evaluate the need to offer a credentialing service to our members.
Leave a Comment