NCHN Blog
Member Q&A with Carolyn Witherspoon, Coalition of Health Services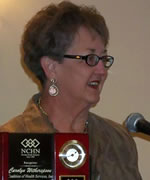 For this feature, we interviewed Carolyn Witherspoon, Executive Director of Coalition of Health Services in Amarillo, Texas. Carolyn has served on the NCHN Board for seven years and served as President from 2011 through 2012. This year, Carolyn was recognized as NCHN's Outstanding Network Leader of the Year.
Q: The Coalition of Health Services has been around since 1996. Can you talk a little about its beginning and its growth into an organization that provides many valuable services to the Texas Panhandle? Throughout the process, how has the vision evolved?
The Coalition of Health Services was organized in February 1996 and incorporated as a 501(c)(3) not for profit organization in October 1997. There are currently 14 hospital affiliates, serving twenty-six counties. These hospitals are geographically located from Dalhart in the northwest Texas Panhandle to Childress, Texas in the southeast. The administrative office of the organization is located in Amarillo, Texas.
The purpose of the Coalition of Health Services is to enhance rural health through coordinated and collaborative efforts of the member rural health care facilities, their partners and to support ongoing rural health initiatives in individual communities. This effort includes preventive and public health endeavors, as well as, primary health care delivery through the establishment of comprehensive medical homes for every resident. Opportunities have arisen to provide basic public and preventive health services, the institution of services that were new to specific sites (such as prenatal care), and the simultaneous infrastructure development and modeling of a successful network of rural health entities. These entities now serve over 400,000 people living over a sparsely populated 26,000 square miles.
COHS' vision is, "Strengthening healthcare providers to build healthier communities." The vision continues to evolve as we explore opportunities which will benefit providers and communities of the Panhandle of Texas.
One of the forces which drew the Coalition together originally in 1996 was the Title V program. It was determined this project would better serve the communities and health care facilities if the dollars were administered thru one agency rather than each provider or clinic requesting the funds individually. This grant served 41 counties of Public Health Region 1 and 1 county in Region 2, over the years as programs have decreased so have the number of counties. The Coalition currently employs 14 fulltime and 2 part time employees.
Q: COHS' coverage area is quite large. Did the network form with the intention of covering the 32 counties that you now serve or did the network's coverage area expand over time? How do you coordinate services for 32 counties and overcome the transportation barriers that are inherently involved in doing so?
We administer or subcontract the following services in 26-32 counties:
PRIMARY HEALTH CARE
The PHC program provides prevention-oriented, education-based primary health care to Texas residents who otherwise could not receive such care. Eligibility is limited to those residents whose gross family income is at or below 150% of the Federal Poverty Income Guidelines (FPIG) and who do not qualify for any other programs or benefits that provides the same services.
BREAST AND CERVICAL CANCER SERVICES
The BCCS program targets women 50 – 64 who are at or below 200% of poverty. It enables women to access quality screening and diagnostic services for breast and cervical cancer and assistance with accessing treatment for qualifying breast or cervical diagnoses. This is accomplished through an extensive network of contractors and private and public stakeholders. BCCS funds provide for early detection for women at highest risk of dying from breast and cervical cancer.
TEXAS HOME VISITING PROGRAM
The purpose of this program is to support the development and implementation of home visiting programs in at risk communities in Texas; and contributes to the development of a comprehensive early childhood system that promotes maternal, infant, and early childhood health, safety, and development, and strong parent-child relationships in these communities. Potter County was one of the selected communities and the Coalition has partnered with three agencies for these services.
CARE for KIDS
This program offers outreach and education for children's Medicaid in 26 counties. Contact is made to each new or recertified client thru telephone, mail or in person to assure the client knows the resources available to them. Though we do not determine eligibility for this program, we do offer assistance with the application process as well as information about the program.
UNITING PARENTS
This program is a parent case management program for families of children with chronic illnesses and/or disabilities. Uniting Parents offers a network of support to families caring for children with chronic illnesses and/or disabilities. Staffed by a program director, administrative assistant and trained parents, Uniting Parents provides families in the upper 32 counties of the Texas Panhandle the resources they need to help their children. The program is designed to empower families and enhance their children's quality of life providing information, education, training, referrals, networking and support.
CSCHN RESPITE
This program provides opportunities for families of Children with Special Health Care Needs enrolled in the Uniting Parents program to participate and receive access to short –term respite. Respite assists parents to keep their child at home, preserve and strengthen the family, provide care during short term emergencies, rebuild marital relationships, reduce stress, provides opportunities to participate in other activities and more. The mission of CSCHN Respite is to strengthen the family unit by providing respite and resources while allowing the child to be a part of his community not apart from his community.
In addition to the above services we work closely with the Benefit Bank of Texas to assure residents are receiving benefits they are potentially eligible to receive. We continually look for opportunities to implement other programs or projects in addition to partnering and collaborating with other organizations.
Q: In your time as Executive Director – and from your perspective – what are your greatest accomplishments?
The fact the organization has been in existence for 17 years and maintained the majority of the original members is a major accomplishment. Three of the original programs have also been in existence since the Coalition was formed. I recently celebrated my 15th year having first started as Quality Assurance Coordinator and moving 2 years later into the role as Executive Director. The collaborations and the partnerships we have been able to establish have been very beneficial both personally and professionally. The challenges have and continue to be funding.
Q: You are just ending a seven year term on the NCHN Board of Directors. That included serving as NCHN President from 2011 through 2012. What is the biggest change you have seen in NCHN over the years you have served on the NCHN board?
I joined NCHN a couple of years after I became ED. This has been one of the best organizations I have ever been associated with. At the time I became a member I was learning (and still am) what it was to be an Executive Director of a nonprofit organization. The synergy in the room at my first meeting was unbelievable and when I saw the "bullwhip" being passed to the new president I knew I wanted to learn more and become involved. I have always enjoyed the networking which occurs at meetings, learning of other networks programs and models which have been shared all across the country.
One of the biggest changes I have seen over the years has been in the NCHN leadership from the involvement of the Board of Directors, to the members to the phenomenal leadership of our current Executive Director Rebecca Davis. When I was serving as your President it was Rebecca who kept everything on track and made my job easy. Having just completed my Board term and as I reflect back on the years of my service it is difficult to think what my life is going to be like. NCHN is doing great things through the partnerships and programs which have been implemented and I know it is only going to get better. It has been a privilege and honor to serve and work with such great people. A Big Thank you to all of you, it takes each one being involved to sustain and continue the work of NCHN.
The future success of NCHN is going to be upon each of the members including myself. I challenge each of you to get involved, serve on a committee, participate in the quarterly calls, attend the leadership summit AND the annual conference. NCHN is YOUR support center!
And a personal note from Carolyn:
Dear NCHN Board of Directors, Awards Committee and Members,
Words cannot begin to express my appreciation for being selected as the 2013 Network Leader of the year. I am humbled and honored to be joining the previous recipients whom I have looked up to since the inception of this award.
It has also been an honor to have served on the Board of Directors for seven years. This has been a remarkable group of people whom I have had the privilege to work with and serve.
My prayer is for God to Bless each of you Abundantly during this coming year as you serve your communities.
I look forward to seeing all of you at the Leadership Conference in the fall and the annual conference next year.
Sincerely,
Carolyn
Leave a Comment