NCHN Blog
From the Executive Director (March 2013)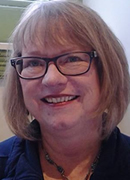 Oh my, did you realize there are only 29 days until we meet in New Orleans for the 2013 NCHN Annual Educational Conference – All that Jazz! If you haven't registered already and secured your room, I recommend you hop to it! Thanks to Christy, details are provided elsewhere in the eNews or you can access directly at the NCHN website. Also, if you have not taken a look at the 2013 Conference webpage - please take a minute to do so. It includes lots of information to assist you in preparing for your journey to New Orleans, along with a listing of our Conference Sponsors, exhibitors, and advertisers. These companies and individuals help make the annual event possible.
I would like to thank the members of the 2013 Annual Conference Planning Committee, under the direction of Chris Hopkins, NCHN Vice President for the great work they have completed in putting together an outstanding conference agenda! We are so excited to have Jessica Lipnack, CEO and co-founder of NetAge, as our opening session speaker. NetAge provides expertise and tools that allow their clients to collaborate more effectively in virtual teams, cross-boundary organizations, and networks. Watch for a special email notice about Jessica and her presentation in New Orleans.
Also, I would like to encourage you to register for the pre-conference workshop that will be on Tuesday, April 16. There are still a few spaces left in "Got Outcomes? What's Your Evidence?" session. Participants will have the opportunity to work on their own examples during the second half of the workshop with individualized assistance from the presenters, Dr. Gwen Martin and Becky Melzer. Martin and Melzer have collaborated on numerous projects over the past eight years. They bring energy, insight, and common sense to the often-misunderstood elements of program evaluation and research. We all know that networks have outcomes and after participating in this workshop, network leaders will be creating and incorporating appropriate evidence-based outcome measures for their organizations.
And, lastly, related to the conference, but also an exciting first – NCHN is offering a small lodging scholarship to a first time attendee at the 2013 event. Details are included in this edition – so if you have never attended a NCHN conference and was thinking about attending this year and need a little extra incentive and support, this is for you. Deadline to apply for the Lodging Scholarship is Friday, March 29, so be sure and apply today! We thank our conference hotel, Omni Royal Orleans for providing this assistance.
Other upcoming NCHN membership activities to be aware of – watch for details about the 2013 Annual Membership Meeting and election of Directors to the NCHN Board. Members that are unable to attend the Annual Membership Meeting can still participate in the process by returning your proxy voting instrument that will be included with the notice for the Annual Membership Meeting. These will arrive to NCHN members in a separate email. Also, coming soon to NCHN members' email box – your organization's 2013-2014 dues assessments. As a reminder, NCHN changed its fiscal year to May – April, so dues assessments will be sent out by the end of March. 2013-2014 dues will be payable after April 1.
See you in New Orleans!
Leave a Comment